Last updated on August 7th, 2019 at 04:17 pm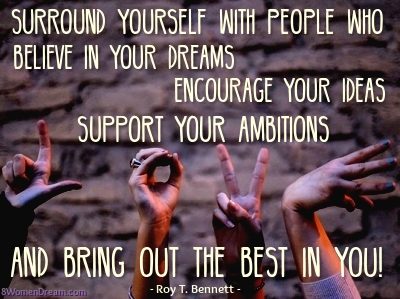 On this rainy and cold morning in Ohio, I'm writing with my dogs laying at my feet and coffee in one hand thinking that in two weeks I'm moving from Ohio to California to embark on the next chapter of my life.
The big move feels weird but also exciting at the same time. I want to say this was possible only through my own hard work, but that would not be true. To find and get a job was a task I took on by myself, but I would have never been able to get a dream job without help from other people.
Those other people are my supportive circle of influence.
To have people cheer you on, support you, encourage you, believe in you, and help you makes accomplishing your dreams–and life in general–much more manageable.
I know people who claim they have accomplished a big dream without the help or support from anyone–and if valid, it is truly amazing– but I don't recommend this way of working on your big goals. Successful dream achievement means being able to recognize that there are people who can and will help you, and you should be open to accepting it.
Believe it or not, some people care about you and what you're doing with your life. It may be twenty people; or one person. Regardless of the number, look for people around you who will help you. I call these "helpers" your supportive "circle of influence."
In American educator, best-selling author, businessman, and keynote speaker Stephen R. Covey's book, The 7 Habits of Highly Effective People, there's a format outlined for personal success in seven distinct habits. The seven practices are proactivity, beginning with the end, first things first, win/win, understanding before being understood, synergy, and sharpen the saw.
My favorite habit is the sixth habit of synergy.
Covey writes that synergy is: "Innovate and problem solves with those who have a different point of view."
"To put it simply, synergy means "two heads are better than one." Synergize is the habit of creative cooperation. It is teamwork, open-mindedness, and the adventure of finding new solutions to old problems. But it doesn't just happen on its own. It's a process, and through that process, people bring all their personal experience and expertise to the table. Together, they can produce far better results than they can individually. Synergy lets us discover jointly things we are much less likely to discover by ourselves. It is the idea that the whole is greater than the sum of the parts. One plus one equals three, or six, or sixty–you name it."
Collaboration is what having a circle of influence is all about; learning from people's ups and downs, from people's failures and successes, and accepting their words of wisdom pulled from their experiences. People in your circle of influence should encourage you to pursue your dream while offering feedback you will need to view your dream in ways that prevent you from failing and giving up on your dream.
Your circle of influence will not only help you find the tools you need to live your life to the fullest, but they will also be your champion when you need one. They will encourage you, support you, and (if you need it) pray for you when you don't know what to do next.
Your circle of influence will have your best interests at heart and believe in your ability to face your fears and move forward on your big dream. Their support doesn't mean they will always offer you fluffy, happy advice. Those in your circle of influence should speak the truth to you even when you don't like what's being said–but it should be conveyed to you with compassion.
Your circle of influence is the people who tell you when they are concerned about you, share when they are scared about what you are trying or not trying, and point out what they see as a potential stumbling block. They are realistic about your dream goals. The people you choose for your circle of influence should not only give you encouraging pep-talks, but they should feel free to voice their concerns.
However, their feedback must come from a place of love and respect for you.
And when they offer their observations, please be thoughtful and embrace their advice. Take in what they say and evaluate it. And value their opinion by thanking them for their input. I am blessed to have a relatively large circle of influence who have been nothing but supportive and encouraging; specifically, as I embark on my big dream journey to California.
Moving across the country to start my first big job after college is a huge transition, and people in my circle of influence has offered more than congratulations; one offered me her home for my first few months in California to allow me the opportunity to look for an excellent apartment in San Francisco, others have offered their words of wisdom for big city living, and some have extended prayers for my success.
I made a lot of friends while I was in college, but it's my few reliable close friends and family who are in my circle of influence. They not only encouraged my new move, but they have offered their help and insights–providing me with valuable advice about matters I didn't initially think about when relocating to another state.
Because I am lucky enough to have supportive parents, they have also been included in my circle of influence.
While packing for my move, they've encouraged me to relax and enjoy some quality family time since we will be living so far away from each other. As much as my parents push me to continue sprinting toward my big dreams and goals, they also remind me when and why it's essential to slow down now and then.
Surrounding yourself with people who believe in your dreams and believe in you makes your dream journey more comfortable and fulfilling. And in the end, you have more people to help you celebrate your dream-come-true moment.
It's vitally important to regularly remind those in your circle of influence how much you appreciate them and value their opinions so that they continue to offer you new ideas and their support. Don't dismiss any of the advice they offer–even if it's advice you don't think you will follow because you've decided on another plan. You don't want to hinder the flow of ideas and inhibit their support. You want them to offer whatever advice they feel will help you move forward on your big dream. And their advice should never make you feel bad about yourself.
Think about how star athletes have coaches and training partners to help them become elite athletes. Your circle of influence should operate like a great sports coach and personal trainer. Stephen R. Covey says,
"All things are created twice, but not all first creations are by conscious design. In our personal lives, if we do not develop our self-awareness and become responsible for first creations, we empower other people and circumstances outside our Circle of Influence to shape much of our lives by default. We reactively live the scripts handed to us by family, associates, other people's agendas, the pressures of circumstance–scripts from our earlier years, from our training, our conditioning."
This week, begin to expand your circle of influence simply because you and your big dreams are worth it!
Andi Teggart
Andi Teggart is a mom, business owner and digital marketing strategist now residing with her husband, daughter, and dog in Nashville, Tennesee, who dreams of being a certified life coach and motivational speaker.

Enjoy this special 8WomenDream Guest Contributor story submitted by new and experienced big dreamers throughout the world, edited and published to capture a dream perspective from different points of view. Do you have a personal dream story to share with 8WomenDream readers? Click here to learn how to submit dream big articles for consideration.
Note: Articles by Guest Post Contributors may contain affiliate links and may be compensated if you make a purchase after clicking on an affiliate link.