Last updated on April 2nd, 2012 at 01:11 pm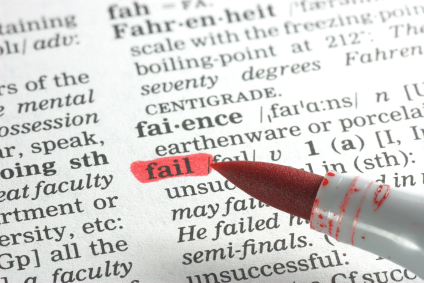 Taking an entrepreneurial dream break is good – as long as its not too long. Have you ever noticed that when you stop doing something how long it takes to get back on track to doing it? I know this has applied to my life when it comes to working out, filing, and all those fun little things we need to do on a daily basis to keep life and health in order.
Do you notice any of these causing you to be a dream loser?
Feel lethargic or everything seems like a chore?
Typically late for appointments or forget important papers for the meetings?
Your schedule doesn't allow you to actually get anything done
Can't concentrate or focus?
Sign me up for all of the above at different points in my life. Getting sidetracked is human nature and entrepreneurial ADD is a very common problem. At least that's what I'm blaming it on recently.
It is very easy to fall into the trap of beating yourself up for losing ground on your dream. Its not something you can pass off to anyone else for not getting done, right? If you really want it, you'll work on it. Which is a perfectly acceptable and reasonable response when you aren't caught up in one of the dream loser issues so conveniently listed above.
I've had several opportunities to feel like a loser while pursuing my dreams. Some of the more recent drawbacks have been health related, and just lacking the energy to do even the most basic life events, never mind the mounting extras that a dream can entail. What amazes me is the ability to continue to beat myself up, regardless of the situation.
What personal trait makes you feel like a dream loser?
Suffering from procrastination
Feeling like a couch potato
Stuck between two paths
Just can't make a decision
Getting feedback from negative people
Laziness in general
Letting your previous failures get in the way
Still looking for your life's purpose
Looking at that list, I can definitely relate to most, but I've noticed a pattern. There's always a combination of those items listed that usually kicks my dream momentum into neutral.
So what do you do when you find your dream on the back burner?
Time to take a deep breath, give yourself a break and change something to get back on track.
What traits are keeping you from your next dream accomplishment?
– Heather
Heather's dream is to have multiple streams of income, starting with launching an e-commerce website that showcases her couture jewelry, which are crafted by her. You can find Heather online at For Your Adornment and Twitter And Beyond Dot Com. She also teaches Social Media tactics for business, besides being CEO of her own web design company. Heather's post day is Friday.

Heather Montgomery is a fitness writer, triathlete, and serial entrepreneur who is devoted to sharing what she has learned about becoming a triathlete after age 40. She uses her Metabolic Training Certification to help other women struggling to get fit in mid-life. She lives and trains in Santa Rosa, California, the new home of the Ironman triathlon. You can find her biking the Sonoma County wine trails.
Note: Articles by Heather may contain affiliate links and will be compensated if you make a purchase after clicking on an affiliate link.