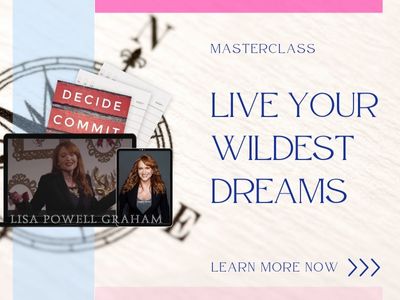 Is it really possible to have a new perspective on your dream life and a new vision for your future in just 90 minutes?
Join me (dreamer Lisa Powell Graham) for my Live Your Wildest Dreams Masterclass on Tuesday, April 4th, at 8 p.m. EDT / 5 p.m. PDT and find out.
In this 90-minute experiential adventure together, we'll dive into some of the coaching strategies, paradigm shifts, mindsets, guided meditations and visualizations, and tips and secrets for activating inspired action that I have used to manifest my wildest dreams.
And honestly, beyond what I could have ever even imagined helping you bring yours to life!
I'm a Martha Beck Certified Life Coach, a Harvard-trained strategic planner with my MPA from the Harvard Kennedy School, and a meditation instructor.
More importantly, I've been living my bucket list dreams out loud for decades now and am passionately dedicated to helping other women worldwide do the same.
It will be so much fun! Join us!
Tuesday, April 4th at 8 p.m. EDT / 5 p.m. PDT
*EDT = Eastern Time / PDT = Pacific Time
Please do your best to arrive on time or a few minutes early. Be sure you are somewhere comfortable and not driving. We'll meditate together during the second 1/2 hour of the Masterclass. Feel free to bring a journal or notebook to take notes. And feel free to pour a favorite beverage, whether that is water, coffee, tea, or wine. We'll take a bathroom/dance break!
Please be comfortable – and ready to dream big!
All you need to do to sign up is send the class investment amount of USD 297.00 via any of the following:
Venmo: @LisaPowellGraham
PayPal: lisa.powell.graham@gmail.com
CashApp: $LisaPowellGraham
Zelle: 4156326815 or
Credit card: GoddessDestinationRetreats.com
Whether it's landing your dream job or contract, finding your ideal partner, or buying your dream home, the potential for infinite returns on your investment in your dream is endless. By taking action and investing in yourself today, you can set yourself up for success and make your dreams a reality.
So don't let fear or uncertainty keep you from pursuing this Masterclass. Take the first step and make a small investment in yourself today. Your future's possibilities are infinite, and with the right mindset and effort, you can achieve anything you set your mind to.
I know because I've done it and witnessed other dreamers do it too!
Lisa Powell Graham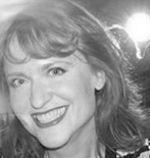 Lisa P. Graham is an inspirational writer, life coach, TED motivational speaker, and globe-trotter whose passion is to help others to find happiness and meaning in their daily lives. A political activist at heart, Lisa would like to empower more women to run for political office as a way to create positive change in the world. You can find her on her website or watch her TEDx speech on YouTube.
Note: Articles by Lisa may contain affiliate links and may be compensated if you make a purchase after clicking on an affiliate link.