Last updated on February 10th, 2020 at 05:39 pm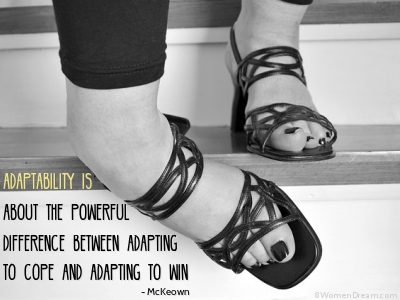 Dreamers interested in having a motivational speaking career ask me all the time how I got to be the in-demand, well-paid speaker I am today.
I do scratch my head and wonder how to answer the question.
You see, I didn't have a plan, and what little plan I had, didn't go the way I planned. In most careers, you know the path to take. Like if you want to become a teacher, you simply get a degree and a certification. You then fill out an application at a school of your choice. You go to an interview and hopefully land the job.
But a public speaking career doesn't quite work that way.
Every speaker follows a different path and a varied career model–each one as unique as the speaker–which makes it hard for me to tell you how to make your speaker dream work for you.
Plus, I don't want to talk about how to make your public speaking dream work for you; it's more important to discuss what to do when your plans don't work. I want you to think about what you'll do when your big dream collapses and when it feels like it won't come true.
The Cold, Hard Truth About the Public Speaker Dream
1. Public Speaking success won't follow your plans. Ever.
It's just the way it is. Accept it. Embrace it. Own it as part of the process. Doors you wish would open won't. Doors that open get closed again. And sometimes you can't even find the right damn door.
But here's the hope:
2. When one door closes, another one truly does open.
I know it sounds cliché, but it's true. Public speaking dreams rarely turn out the way you envision, but you will still find yourself somewhere grand. Sometimes you even find yourself someplace even better than you could have imagined. I've set out with speaking goals I've never reached, but I've reached places I never knew existed. Keep dreaming. Keep planning. Keep going.
And here's your homework:
3. When an unexpected door opens, walk through it. You never know where it will lead, and often it's somewhere great.
I didn't map out every speaker path I've taken. But now that I am a success, I look back and see that every way I traveled brought me to where I am today. No action was wasted. No lesson not applied. I was provided with everything I needed when I needed it. And not one second sooner.
Keep your faith:
4. Speaker dreams don't die. They merely take a different shape–if you don't give up.
You may start out wanting to be a motivational speaker and end up becoming an entertainer or a coach. You may find that you don't like traveling all of the time and living in hotels–what you really love is running small workshops near to your home base. Or maybe you prefer giving your speeches in front of your computer and uploading them to YouTube. Perhaps you become an influencer. Whatever your dream morphs into is still your big dream coming true. It just looks different. And that's OK!
To answer the question about how I got to where I am today …
I will say that I listen to my gut instincts, and I work hard not to take rejection personally. I roll with the punches and adjust my dream to suit what works. I don't "white-knuckle" my plans and insist that it has to look or be a certain way. I'm flexible. I look for the opportunity in every situation. When I say yes to something, I honor that commitment. I don't flake-out or quit because I don't feel like doing it anymore. I do what I say I am going to do. I show up early. I am well-prepared with backup plans for unforeseen problems. I am a professional. I respect other people's time and efforts.
And when setbacks happen, and they do, I think about when you get to the end of your days on earth–to that somewhere over the rainbow–and you get a chance to peek back at your life. Instead of seeing the things you didn't get because of the closed doors, you're shown all that you were protected from because those doors were closed to you.
Your life was a great success, after all, so get out there and just do it!
Kelly Swanson
Kelly Swanson is an award-winning storyteller, motivational speaker, published author and TV personality who is passionate about helping women harness the power of their stories to connect, influence, and get the results they dream of accomplishing. Laughing the whole way, Kelly teaches women how to master the art of connection through the power of strategic storytelling. You can find her on The Fashion Hero show airing Fall of 2017 on Amazon Prime or on her website MotivationalSpeakerKellySwanson.com.
Note: Articles by Kelly may contain affiliate links and may be compensated if you make a purchase after clicking on an affiliate link.