My son's high school football team won their first football game this weekend.
Brian sacked the quarterback, his favorite big dream accomplishment.
To anyone watching the game, one might think that the difference in the team's success is due to a change in coaching, but really the story goes much deeper — and further back in time — like all dream stories.
My son's big dream to be a top football player and great athlete began in the 4th grade. He was a gangly, awkward kid whose feet were longer than his legs.
Kids teased him, which caused him to withdraw into himself. In an attempt to help Brian gain athletic confidence, his father tried coaching him in soccer, but all that did was give my ex-husband and my son a reason to fight every Saturday in front of people.
By the time he entered 6th grade, he'd quit all sports, including pop-Warner football.  It seemed that he had given up on his big dream. No amount of coaxing from his father or myself, would change his mind.
That was, until a warm Saturday afternoon in 2007, when a large grey truck pulled into our parking lot and a larger-than-life man stepped out on to the sidewalk to change the way my son looked at himself.
His chest seemed to stretch the length of his truck and for a brief second it was difficult to tell who was bigger — the hood of his truck or him.  He carried himself like a champion and smiled a wide grin as he peered through the courtyard at the children playing and screaming about the lawn.
For a moment it seemed like time stopped as he walked down the long sidewalk to his new front door.
We would soon find out that his name was Rob Gatrell, a former NFL and Fresno State lineman, who at the time was playing for the Las Vegas Gladiators under the Arena Football League. The moment my son laid eyes on this massive blond-haired, 6'5″+ 300 pound lineman walking by our home, he froze in mid-play.  Rob smiled and said hello to the kids.  By the expression on my son's face, you would have thought that he was seeing King Arthur resurrected from the dead.
His mouth fell open so wide that it appeared as if you could see what he'd eaten for breakfast–still digesting in his stomach!
Rob and his wife were moving in just across the way from us.
My son would come to idolize Rob, running to stare at him from the lawn as he'd exit his massive truck, or racing to his bedroom whenever he would hear Rob's truck drive into the parking lot after dark.  He'd leap on his bed and run to the window just to watch Rob walk by. We had a front row seat to what life was like for a football gladiator.
Rob in turn would pay special attention to Brian and talked with him about playing football.  Brian couldn't get enough of this gentle giant of a neighbor.
Professional football was exacting its own price on Rob.  We'd see him icing injuries and dragging travel bags to and from his truck. If you hadn't watched all that Rob went through and how often he had to leave his wife, you might believe he lived a charmed, dream life.
As tough as Rob's football career appeared to us as he passed by our front door, my son decided that he wanted to be just like Rob. They do rather look like brothers and I was happy that my son idolized such a fine example of a man.
But I really wasn't enthused about the idea of football.
No decent mother wants to see her child become a gladiator.  But how do you tell a child that they can't have their dream?
In his freshman year of high school my son went running back to football. In that first season he spent a lot of time standing on the sidelines watching other boys get their chance to show their stuff.  By this time, many of the boys on his team had been playing football for years. Brian could see that if he was ever going to get his chance to be a star he'd have to work harder than anyone else.
Brian made the decision to devote his off seasons and summers to working out –doing everything from cycling to swimming, and lifting weights. He even allowed his dad to coach him in speed drills without getting mad.
During these years Rob left Arena Football, went for his master's degree, became the football coach for another local high school, then was offered a teaching and coaching job at Moreau Catholic, a high school 80 miles south from us in the bay area town of Hayward, California. Brian sadly watched his idol move away.
But Rob left my son with a very special gift: a real vision for how big dreams are accomplished.
Brian became the high school football player he dreamed of becoming and now he has set his sights on what he needs to do to be a better athlete for college.  He's determined to ramp up his dream to the next level of excellence. And I know Rob was with him in spirit each time he ran after that quarterback on Friday night.
The reason I've chosen to share this little story of my son's big athletic dreams is because dreams are never simple, nor easy.
Just because my son decided that he wanted to be a respected football player, it did not mean that right then and there he suddenly became one.  It has taken years of hard work, heartache, dissolution, and setbacks before he realized some success with his big dream. And for him, it's only just beginning.
I have seen good writers start blogs, and after less than 18 months they think of quitting because nothing seems to be happening like they thought.  They question why they aren't yet famous, or wonder why agents and publishers alike aren't beating down their door to offer them a book deal.  Some have believed that success would happen for them like the movie, Julie and Julia.  But even Julie's real-life story was not as easy, or as sweet as the movie implied. (She graduated from college in 1995, started the blog in 2002, published the book in 2005 = 10 years. The book became a movie in 2009 = 14 years.  And Julia Child hated her blog).
Big dreams will test your grit and exact a price from you equal to what you will receive.

Best selling author, Malcolm Gladwell, wrote about his 10,000 hour rule (10 years of time) for being a phenomenon  in his book, The Outliners. He studied successful people and found that it took each of them about 10,000 hours to become great at what they loved and to be considered an expert in their field.
This is why here in year four of 8 Women Dream I am not worried about where this blog is in respect to being considered an Internet phenomenon. We haven't put in our 10,000 hours…yet.
Simply starting a blog, or writing a book doesn't guarantee massive success — unless you are close to your 10,000 hours of work.
For example, I work on the site, EFTUniverse. The website gets a lot of traffic from Google.  The original site was launched many years ago, and prior to that, the owner worked in his area of study for decades. The site has over 10,000 pages, which makes it a big, huge authority site for its niche.
Think about that again: over 10,000 pages.
They average between 15,000 – 20,000 page views a day.
To give you some perspective, 8 Women Dream has been publishing since late 2008 and is at 1500 pages. Imagine where we'd be if we'd all written two posts a day… but this does give you an idea of the size sites need to be to compete at the top.

Like my son, it's not that you lack the drive, commitment or the talent to become a top blogger, writer — or whatever you dream of being. It's that you must be willing to pay the price of time, whether you do it in long hours everyday, or in years — or both. The more time you spend working at your dream, the better you become at it, even if you are very good at your dream when you begin.  You increase your chances of big success the longer you work at it.
If you are considering a top blog dream like mine, I am here to tell you that it's more than just great writing.  You must learn technology and good website design. You must learn what the public likes and doesn't like to read on the Internet along with how they like and don't like to read it.
You must learn how to craft your posts in a way that search engines understand what you are saying so that they index you correctly, which is more than simply writing something good and hitting publish. You must learn marketing, creating great post titles and how to get your stories shared around the world. And that's just the basics.
You see, there are millions of good writers and even millions more are blogging.  In order to rise above them, you must work extra like my son did for football.  You must work at being the best — at ALL aspects of blogging — not just the written words.  You must "work your off season" more than the competition does.
It's like going to college for your master's degree in dreaming and then having to compete in the pros for a spot.
The funnel gets tighter and tighter the higher you go.
Keep in mind, when you first start your dream journey, regardless of how talented you are, it's like you've entered middle school with 8 – 10 years of work ahead of you.  And there will be hundreds of times along the way that you will think of giving up.
But don't you be one of those who quit.  Stay with it — just as my son has done with football.  And before you know it, you'll be on your own professional team with people wanting to interview you to hear how you accomplished your big dream.
In the meantime, come to this site often and think of 8 Women Dream as your very own "Rob Gatrell."
I'm sure my son won't mind.
Catherine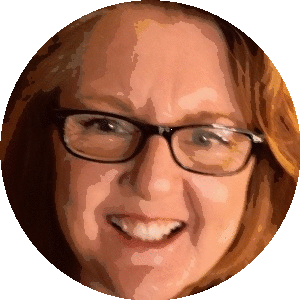 Catherine Hughes is the founder, content director and editor-at-large of 8WomenDream. She is passionate about helping women step out of their own way and strike out into a world waiting for their special talents. She's a published author and a former award-winning mom blogger. Catherine has helped companies both large and small create engaging web content, social media narratives, and unique blogging platforms. She claims to be a redhead, but don't hold that against her.
Note: Articles by Catherine may contain affiliate links and may be compensated if you make a purchase after clicking on an affiliate link.