Last updated on February 7th, 2013 at 05:13 pm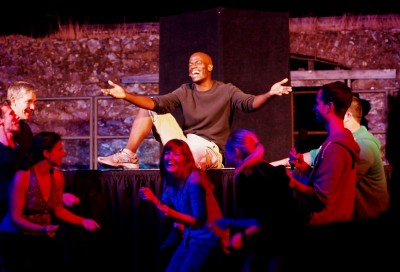 Hello Photography Dreamers
Author Bob Burg wrote a book a few years back called "The Go Giver" – in it there is story about Joe, a guy who is desperate to figure out the secret to being successful in sales and creating happiness in his life.
Ultimately Joe learns that by changing his focus from "getting" to "giving" — putting others' interests first and continually adding value to their lives — ultimately leads to success and happiness in his own life.
Trusting my gut, I set a goal this year inside of 8 Women Dream with that idea in mind – that the more I give, the more I will get.
When I set that goal, I really had no idea what it meant.  I have been an organizer of a photography group for 3 years, and for all my time, money and effort – I gain experience and joy. But being this group's organizer gives me access to some amazing talented people, and I knew that would be an opportunity in my favor.
I could get others involved in my dream of giving back.  How cool.
After an hour or so on the Internet I found 2 local organizations – a non profit theatre company and our county sheriff chaplaincy. Without a lot of thought, plans or fanfare just emailed them, told them about my work with 8 women dream and our photography group and simply asked, "would you like our help?"
"YES!" – immediately from both.
And so it began.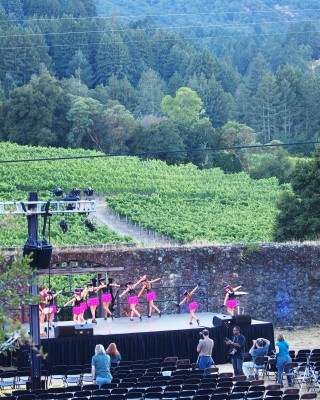 For Transcendence Theatre Company, we set up a series of night shoots to capture their dress rehearsals.  They gave us access to the performers, their sound and stage crew, backstage and the surrounding areas – and we gave them images to use in their promotional and marketing materials, with a photo credit mention in writing anytime one of the images was used.
For some of the photographers in our group, it was a no-brainer and they jumped at the chance to give of their time and talents.  They got to see some incredible actors perform on stage in an outdoor theater, practice night shooting with lighting and movement challenges, and learn some 'shooting etiquette' while moving around in a live performance.
This kind of shoot was not going to be for everyone, and I knew that.  But  we did one, and then scheduled 2 more.  By the final dress rehearsal we had close to 30 members out there, supporting our local non profit theater company, all giving back their time, energy and images in exchange for the experience.
The group was grateful, gracious and somewhat in disbelief that a bunch of photographers would be willing to do all of that, all in the spirit of learning and giving.
I was humbled that my simple, but intentional goal of volunteering photography created such an impact for everyone involved.
My second volunteer effort will be a few days from launching as this post hits – the Sonoma County Chaplaincy holds their 2nd annual "Tour de Fuzz" bike ride through the beautiful wine country in Northern California.
They are expecting a few hundred riders on Saturday.  Thanks to the incredibly talented and generous members of the SoCoPhoGro, we will have over 30 photographers strategically placed along the routes of this tour, as well as a handful of us back at the start / finish line to capture all of the pre and post race activities.
All of the images we donate will be available for purchase after the race, money that will go directly to help our local Sherif's Department and their chaplaincy programs.
In talking with the event organizers, they too are a bit overwhelmed with the group's generosity of just being willing to show up on a weekend day, EARLY, shoot for a few hours and donate their best images so that the Department can make money.
Although I don't know what it will mean for everyone individually, I have to believe that by giving, we will all eventually get back more in return – how could we not?
So where are you on your dream path, Dreamers?
Are you finding it hard to set any kind of goal and stay on track with it?  Not sure how to start or continue living your dreams?
Dreamers, you don't have to do anything more than just look for opportunities to give – they are literally right there in front of you.
I promise you, focus on giving and you will get back – in spades.
Seek to do good, and you will find that happiness will run after you.  ~James Freeman Clarke
Until next photo, be a "go-giver",
Rem

Enjoy this special 8WomenDream Guest Contributor story submitted by new and experienced big dreamers throughout the world, edited and published to capture a dream perspective from different points of view. Do you have a personal dream story to share with 8WomenDream readers? Click here to learn how to submit dream big articles for consideration.
Note: Articles by Guest Post Contributors may contain affiliate links and may be compensated if you make a purchase after clicking on an affiliate link.