Last updated on September 30th, 2012 at 11:59 pm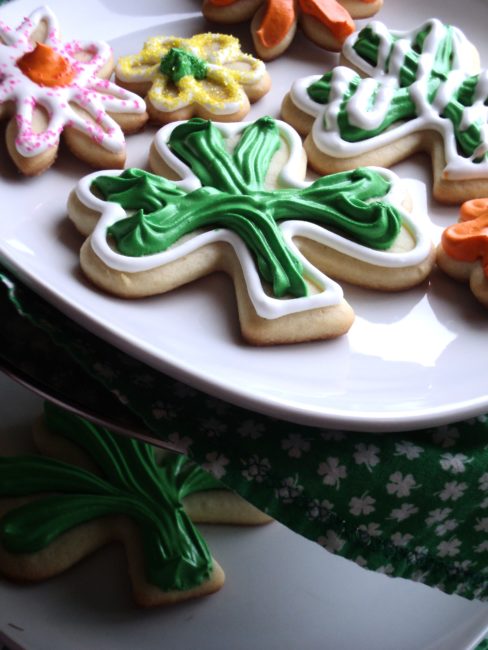 Creating traditions in our family has become a tradition.
My favorite traditions are those that combine spreading joy, expressing gratitude and incorporate my passion for my children and for baking.
This is year two of the kiddies and me delivering home made shamrock cookies to our local firehouse, accompanied with a hand-written, "Thank You" note which we all signed and tucked inside a beautiful box that my little daughter decorated.
The greatest thing about baking is the time it requires.
I simply adore getting all caught up in thoughts of the people I am crafting the goodies for when I scoop and sweep the flour and set it to one side, cream the softened butter with the freshly split and scraped plump vanilla beans and turn on my favorite kitchen appliance, my stand mixer.
Scraping down the sides and taking in the gorgeous aromas of Tahitian vanilla and almond extract make me positively drunk with happiness.  "This is good living" I whisper out loud as I introduce the eggs, fresh from our hen house, to the butter mixture, one at time.
In the moments I slowly, yet, steadily blend the carefully pre-measured dry goods into the dough, marking that instant it all begins to cling to the paddle attachment and pull away from the sides of the bowl, I am gratified by how far I've come, cooking-wise.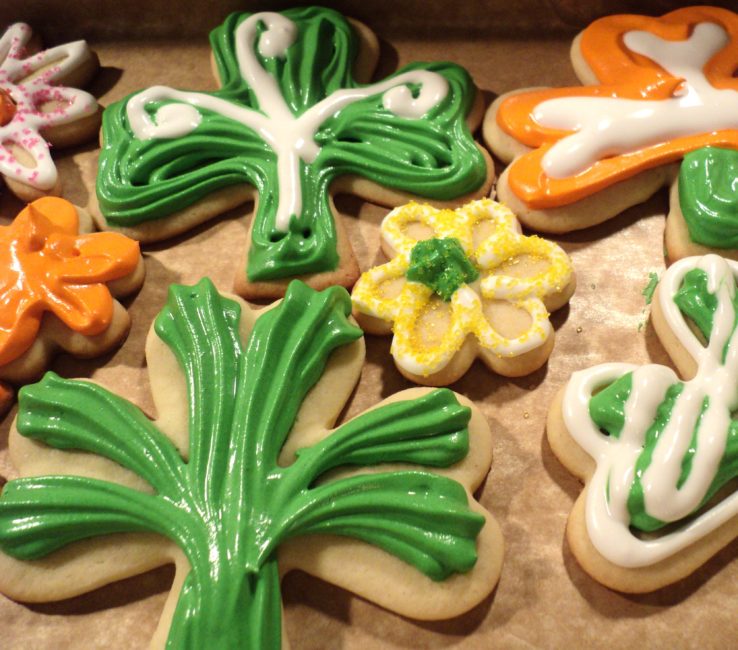 My childhood home was not filled with delicious aromas or flavors.
Mother was more of an open a can, schlopp the stuff into a saucepan and heat'er up kind of person.  Baking wasn't her deal and never, ever happened in life unless I popped out our front door, eyes wide with admiration at what our next door neighbor's mom was often doing in her kitchen with chocolate chips or her fresh preserves.
I so vividly recall, in smell memory form, the luscious plum jam bubbling up on the stove and walking in the front door of this home and instantly having my salivary glands and olfactory system begin to rule my world.
If you have never had the experience of perfect plum jam cooled on a big spoon, and then lovingly introduced to your taste buds by the person who grew the tree, picked the fruit at the perfect second of its ripeness and created its delectable extraordinary-ness, then I am truly sorry for you, because it is in one word:
Heaven.
Certainly, having Mrs. Bird as our next-door-neighbor was a blessing.  Beyond the obvious, however, is that I am sure I developed my love of great food by being exposed to such incredible gastronomic feats, and hoping one day that they might be my experience.
I believe I equated good cooking and baking for a family with good mothering.
Working in the world of fine dining through college and beyond is not where I learned how to cook or bake.  In fact, at the age of thirty I couldn't even make mashed potatoes — a favorite of mine.
No, it was during my first pregnancy that I studied cooking and baking with an insatiable hunger.  I had piles and piles of books from James Beard to James McNair with were rife with emphasis on the how to's and plate presentation.  I devoured multiple baby and toddler food cookbooks, falling asleep with one or two perched on my big, beautiful belly.
The Food Network and PBS were the necessary, daily treats where I made new connections watching every episode of Julia and Friends,  Good Eats,  Paula Deen, Giada DeLaurentis, Rachael Ray and Iron Chef, religiously and falling hard for the culinary world.
Some eleven years later and I now create many of my own recipes or add my own style or techniques to this wonderful pleasure that not only fills my family's tummies, but fills my soul.
As I gather up the cookie dough and gingerly tuck it into a gallon size freezer bag to chill for thirty minutes or so, I start planning the artwork portion of our thank you treats, and consult the children.
The colors of the Irish flag for the icing and some fun piping tips it is.
We drink in a little creative inspiration by sipping on our Irish breakfast tea with a couple of "tastes" of the cookie icing we made.  Quality control is very important.
Singing a happy little ditty while we roll out the chilled dough to ½ " thickness has us all giggling and adding the most important ingredient of joy to the mix.
"She is my dear my darlin' one, my smilin' and beguilin' one, I love the ground she walks upon, my pretty Irish lass."

"He is my dear my darlin' one his eyes so sparklin' full of fun, no other, no other, could match the likes of him."
OH!, some delightful smells permeate our home and waft out of the pre-heated  375* oven after about ten minutes, and when all the batches are cooled we share in the adorning of our shamrocks and some wee flowers cookies we cut out of the small bits of dough around the edges.
Once again, in the trusty mini van, we load up our little beauties and are off to the firehouse to tuck year two of St. Patrick's Day cookie delivery to our amazing and brave men and women of fire service under our belts.
I remind the babes as we drive out down our long gravel drive, that we do this kind of thing because it feels so good, because it's a really sweet way to say "Thank You," and to honor their Papa Dave, a Chico, California firefighter of more than thirty years.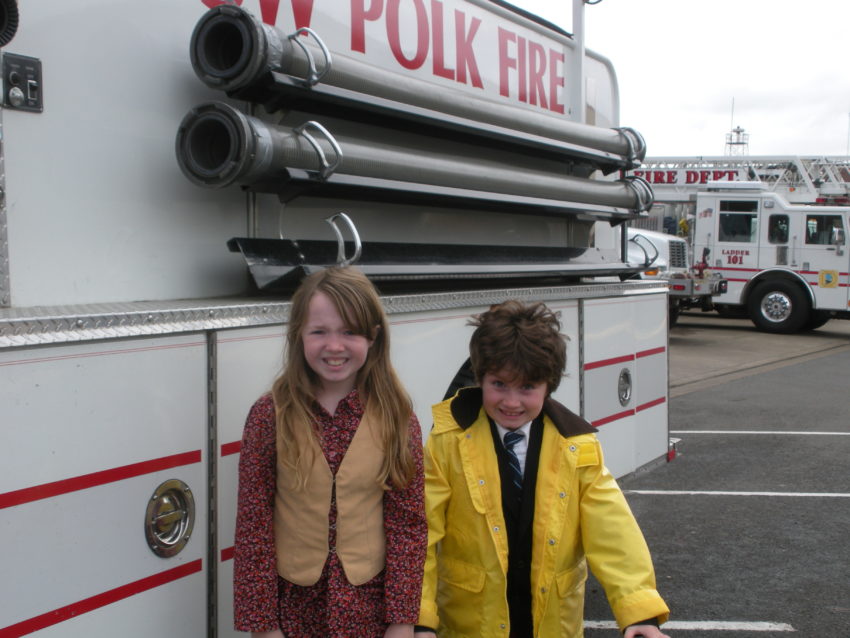 Just before I hop back into my driver's seat, after having locked the vineyard gate, I notice the rainbow that straddles the home where we will return to in an hour to the faint smell of vanilla still hanging in the air, and settling in the kitchen curtains —My Pot O' Gold, Indeed!
Until next Sunday,
"May the Best Day of your Past be the Worst Day of your Future" ~Irish Blessing
Shellie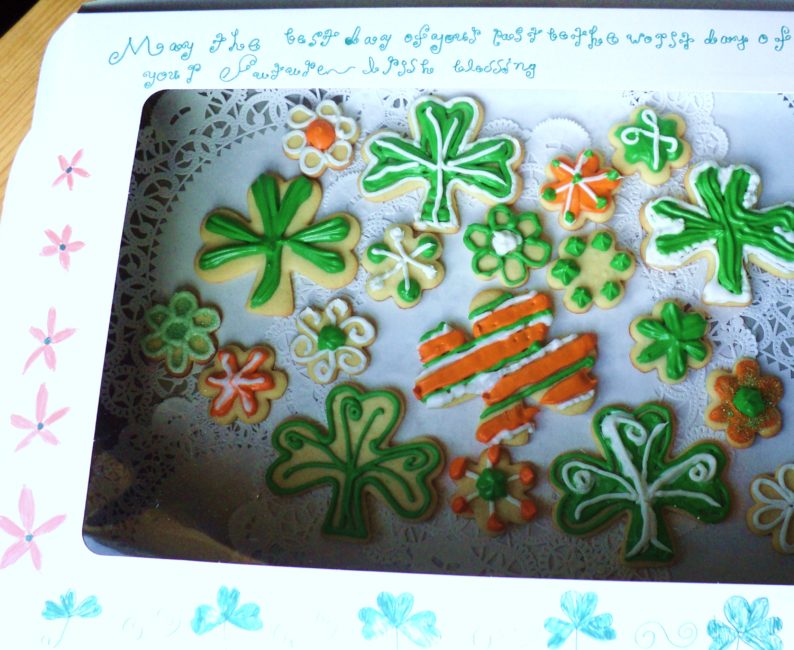 Enjoy this special 8WomenDream Guest Contributor story submitted by new and experienced big dreamers throughout the world, edited and published to capture a dream perspective from different points of view. Do you have a personal dream story to share with 8WomenDream readers? Click here to learn how to submit dream big articles for consideration.
Note: Articles by Guest Post Contributors may contain affiliate links and may be compensated if you make a purchase after clicking on an affiliate link.