Last updated on September 30th, 2012 at 11:59 pm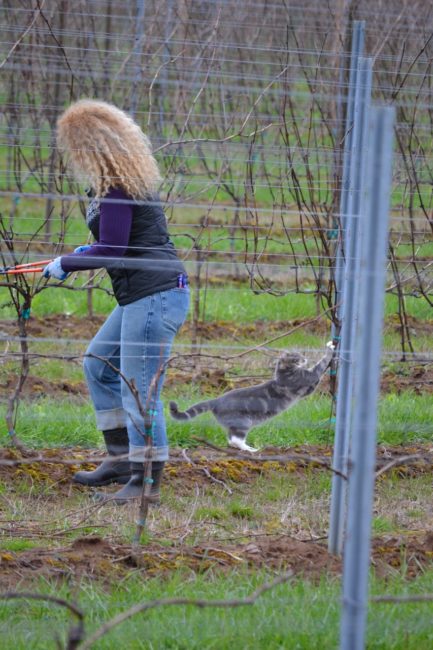 As my dream idea continues to evolve into dream living, I realize that I have a few good people to thank for encouraging me along the way.
I have some "not-so-good" people to be grateful to for things like teaching me how to bend without being broken and for some serious character building to boot,  but best of all,  I have some people I embrace as mentors.
The word "mentor" as defined, is:Â  "A wise and trusted counselor, teacher or master."
Richard (Dick) Proenneke was an amazing human being and at this moment in my life serves me very, very well as such an incredible mentor.
This special man who lived "Alone in the Wilderness,"  in his beloved and breathtaking Twin Lakes Valley of Alaska, has profoundly affected me and my daily take on life out here in the country where my husband, two children and I make our home in Oregon.
Dick recorded both in journal form and on film, his awe-inspiring experience of building a dream life, with his own two hands and whole natural-world-loving heart, beginning in 1968 at the age of 51.
51!
Dick was an extraordinary, intelligent and beautiful soul driven by the question that drives me — "What was I capable of, that I didn't know yet?"
This week, I repeated this personal query as my mantra every morning and on this past Wednesday through Friday on a seemingly hourly basis.
Among the many passions I've cultivated in an effort to live a more self-sufficient life, I have become obsessed with thoughts of  learning more about pruning and caring for the vines that wrap around our little home in the middle of the big vineyard.
I would deeply love to master this newly acquired skill and learn all that I can about how best to nurture this plant that gives us the fruit which we craft into Pinot Gris, Chardonnay, Riesling and Pinot Noir.
The wonderful grapes from these vines allow my winemaking husband and me to live our dream out here in Willamette Valley's wine country with our two children and begin to create and grow a family business as part of our American Dream.
Time spent outdoors this time of year, can come at a price.  I paid what I knew I could afford this week and then a little bit more.
The rain hit hard at times, followed by clearing and intense, (still winter) sun that literally blistered my lips, which I then damaged further by thwacking myself in the mouth with one of the vines I was trying to pull down and through the trellis wires.
Flurries of snow would swirl around my boots when my little vineyard buddy "Dogcat" was not trying to lie across them for a tummy rub, and my fingers just ached from the cold when I had to remove the gloves to sharpen my clippers.
Reluctantly, I came inside. Not to warm up so much as to prepare my home for a visit from my two favorite grown ups, my parents-in-law, flying in from Santa Rosa, California for brunch here on Friday.
I am house proud and make no apologies for being so.
I never anticipate any silly sort of "white glove" test from my mother-in-law, I just love to have the beautiful home her son has provided for me and our children be spic and span.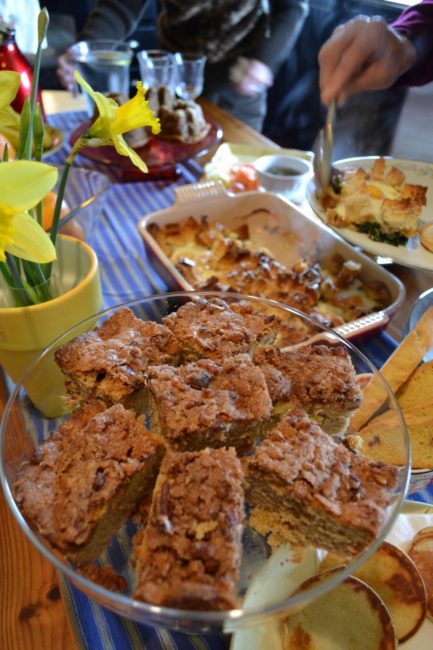 I also want our home to smell of heavenly baked goodness, to adorn it with the apple branches I recently collected and "forced" into blossoming and daffodils which were so kind to pop up for our special company.
My intention is to have our home be warm and inviting enough to encourage more and more visits from these wonderful, important, darling people whom I love with all of my heart.
We're home-schoolers, so after whipping up lunch of kalamata olive foccacia bread and salad for the kiddies, finishing off the dishes, tending to Mount Washmore and reviewing the workbook page assignments, I leave my daughter to her crocheting, my son to his computer time, bundle up and trek back out in the freezing cold to take on the hen house.
All five of my sweetie-gals are laying again and because of the joy they add to my life, I spend the next twenty minutes freshening their roosting spot by shoveling their poop and some straw into the waiting wheel barrow to push around to the back garden to the compost heap.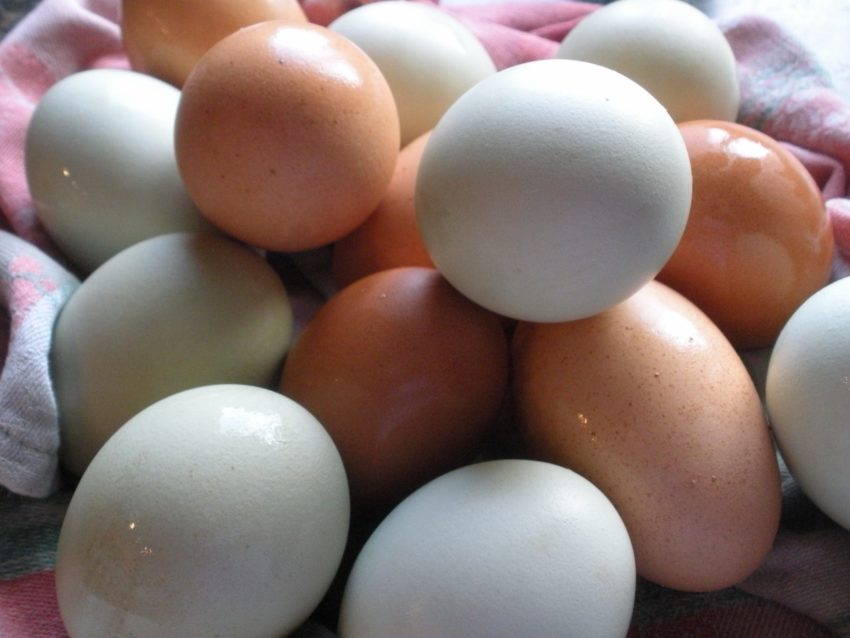 While turning the pile of compost and adding some dried leaves with my pitchfork, I have to focus on tightening my abdominals because I can really feel some intense soreness in my lower back from the position I have to assume while I am pruning the vines.
Before my return trip back out into the vineyard, however, I still have to swing back to the hen house where I break through the ice that has formed on the top of the animal's drinking water, scoop the old out and scrub the basin clean.
I spy our cute bunny taking shelter under the lavender bushes and decide to run out to the vineyard and pick some clover and some sweet peas, which are grown here as a cover crop, and feed her the green treats before I take my basket of gorgeous eggs.
While I hand-feed this white as the driven snow critter, I smile at the thought of my dad-in-law having this experience when he's here on Friday.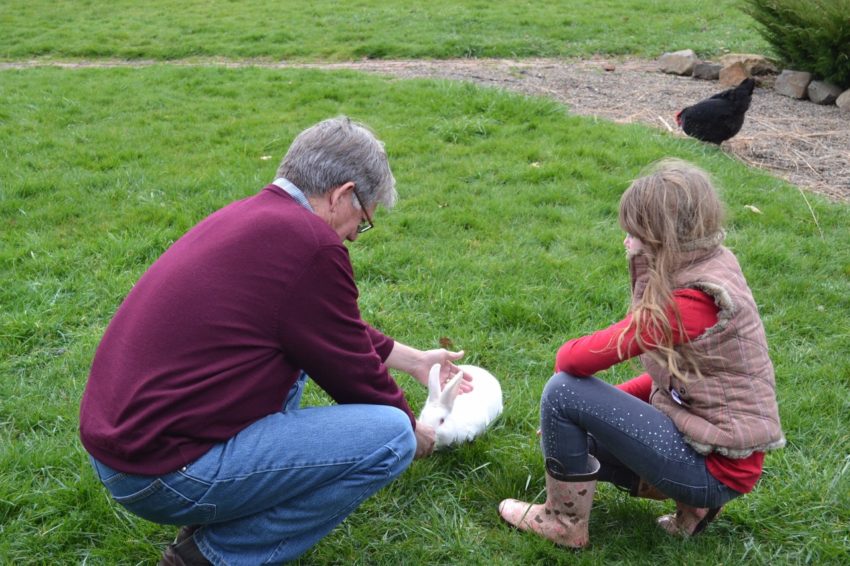 The wet snow begins to steadily fall now, and our porch kitties are getting gently doused, so I hook up their electric blanket in the garage, and they meow their gratitude for the kindness.
"You're welcome, I love you, too,"  I say like a kooky cat lady as they snuggle down just before I take in the eggs and some herbs from the garden to wash and use in my cooking.
Watching the snow begin to accumulate, I am reminded that although the fluffy flakes are so pretty, there's a good chance that we will lose power in these extreme weather times out here in the country.
It's a one hundred percent certainty that I will lose my internet connection soon, so, while multi-tasking in the kitchen, I check the email "request" from the office at the winery, for me to please submit two recipes (due immediately) paired with the Riesling and Pinot Gris that have both received some great press and will be featured in an upcoming issue of an important wine trade magazine.
I freshened my mug of coffee and gave it my very best effort. It was extremely satisfying to check something like this off of my list that wasn't on the list to begin with.
Now it looked as though my best course of action was to attend to my painful, bleeding blister, apply some aloe to my sunburned forehead, cook and bake and clean until I could seize the next opportunity to suit up and get back out to the vines.
So I did just that.  All of it, all day…and on Thursday morning we awoke to enough snow to enjoy a little sledding before breakfast.
Carpe Diem!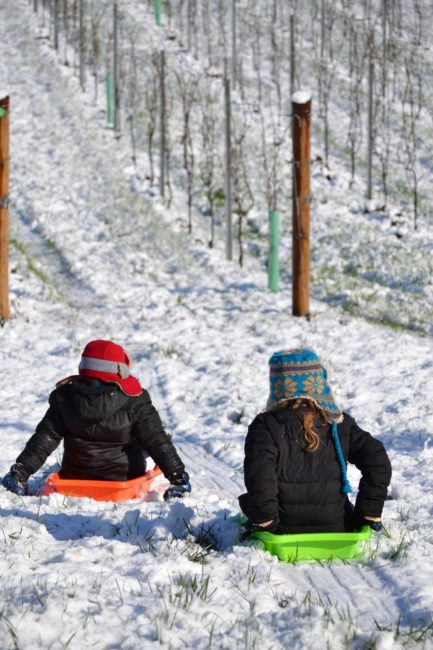 Children who don't go to traditional school love a snow day just as much as every child, and every child at heart.
While I didn't completely abandon our studies, chores or projects on this bright and shiny morning, I certainly did participate by being present for the fun of it and making room for this rare and special time.  We squeezed all of the happiness I could out of the March 1st vineyard sledding fun, knowing it was probably the last of the season.
Like my inspiration, Dick Proenneke, I record all of the big-little events of daily life in photos and by writing, which has become an integral part of living my American dream.  Not only do I love to share, I love to look at our life this way.
I never want to miss a thing.
Recording all of the precious bits, to me, really is akin to enjoying a fine multi-course meal that you linger over for hours.  It's simply a delicious experience for the senses and the occasion itself is the celebration of good living.
Back and forth, in and out, loading and unloading, the work was good.
"Proofing" yeast for the baked goods and doubling recipes for cousins in Portland to have some yummies, delivered by gramma and grampa is always part of my "to do's."
The whole time I was working, I was so happy. I just kept pushing myself with the question, the mantra. "What was I capable of?"  Even in these simple chores and tasks, what was I capable of?
Pondering this had a way of making me stand up straighter.
A few feet from me was my little daughter, bless her, helping with the laundry.  Her small eleven-year-old arms were pulling on the clothing and struggling with the wet and heavy jeans and work shirts out the top of the washer, trying to transfer down into the dryer.
"Ugggghh, stuuuupid shirt!"  she groaned.

"I sometimes have a really hard time with things, too."Â  I said gently, as I sidled over to lend a hand.

"If it's so hard why do we have to DO these things?"  She wondered in frustration.
I shared with her that oftentimes I think it's in life's difficulties that we can find out what good stuff we're really made of.
Rubbing her little shoulders in encouragement, I further expressed that if the challenging thing we're doing is something born out of love, be it the love of learning, love of  people, love of life itself, then the difficult can become easy and if given the chance, quite fulfilling and even joyful.
As we finished the laundry together, I realized that I was mentoring my girl.  Not in the art of home keeping or baking or Algebra,  but perhaps, in the art of living.
Just as we tucked our oh-so-tired bodies into bed, counted our blessings and before we read our story, I offered up the question for my angel to ponder…"What might you be capable of that you didn't know yet?"
With heaps of respect and gratitude to the incredible, Richard Proenneke, I thank you for being, for doing, for sharing.
Shellie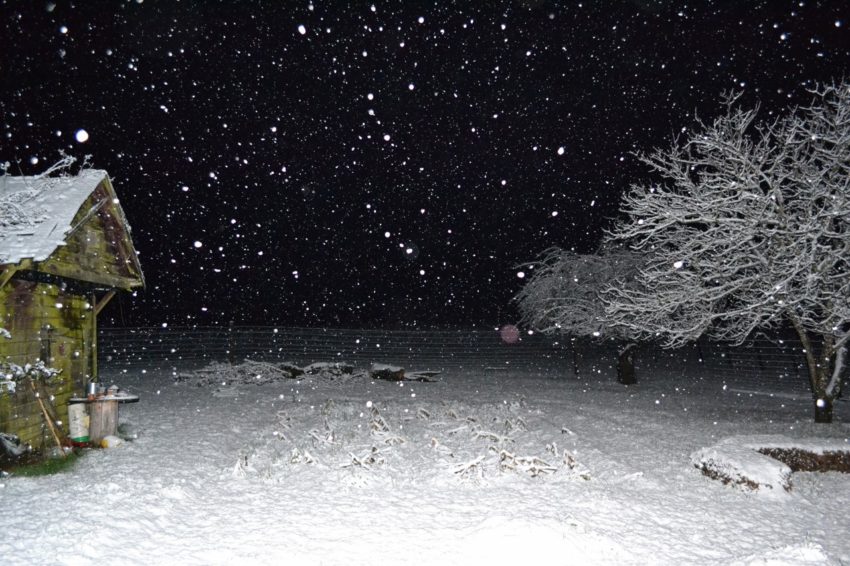 Enjoy this special 8WomenDream Guest Contributor story submitted by new and experienced big dreamers throughout the world, edited and published to capture a dream perspective from different points of view. Do you have a personal dream story to share with 8WomenDream readers? Click here to learn how to submit dream big articles for consideration.
Note: Articles by Guest Post Contributors may contain affiliate links and may be compensated if you make a purchase after clicking on an affiliate link.