Last updated on October 19th, 2011 at 01:35 pm
In last week's post,  Patrick Schwerdtfeger Speaks Out For His Big Dream – Part 1, I talked about what it was like hearing Patrick speak for the first time at Social Biz World.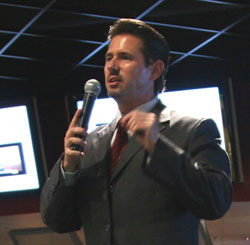 If you haven't already guessed, it takes a lot of work to make your big dreams happen.
In Patrick's case he started with podcasting, then a book, then speaking engagements and being willing to travel almost anywhere to speak about his passion: small business marketing online.
He will agree that you have to put in the big hours to earn your successful dream stripes.
Here at 8 Women Dream we focus on the path to making dreams come true, so I had to ask Patrick: How did you get to where you are now?
With any path, there's usually a really good story. Patrick described a plane trip that gave him time to think and have this epiphany:
You should try and build your entire life around
things you're good at.
I know most of think we are probably already doing this. For example, I think I'm pretty good at online marketing and can make a pretty necklace. But to really focus on just the things I'm REALLY good at?
Patrick took his idea to heart and made a list of all the things he does well.  He soon realized that it would take more than one lifetime to really focus on all the individual items. Eventually the concept of becoming a public speaker rose to the top of the list.
Was Patrick's road to becoming an incredible, professional public speaker easy?
Not at all, but I really appreciate his honesty for all the mistakes he made, including one of the worst titles for one of his early talks, "Touching a Younger Audience."
We enjoyed a good laugh over this, and in Patrick's defense the title made sense at the time. The presentation he was working on was targeted to community organizations to help them draw in a younger demographic. I have to applaud him for sharing this mistake.
What is Patrick's BIG dream for next year?
I did pick his brain on that and his answer was great. He told me it's time for him to find something that will give back to the community and benefit the world.
Needless to say, I truly appreciated Patrick taking the time for the interview, and offering so many insights on his path. I know this will be a benefit as I kick off my own adventure into public speaking.
Here's a glimpse of Patrick in action –
You can connect with Patrick on his blog at www.tacticalexecution.com/blog
What are you really good at that you can turn into a successful dream life?
What do you love to spend time doing?
Can you make a living at it?
~ Heather

Heather Montgomery is a fitness writer, triathlete, and serial entrepreneur who is devoted to sharing what she has learned about becoming a triathlete after age 40. She uses her Metabolic Training Certification to help other women struggling to get fit in mid-life. She lives and trains in Santa Rosa, California, the new home of the Ironman triathlon. You can find her biking the Sonoma County wine trails.
Note: Articles by Heather may contain affiliate links and will be compensated if you make a purchase after clicking on an affiliate link.