Last updated on July 1st, 2022 at 03:18 pm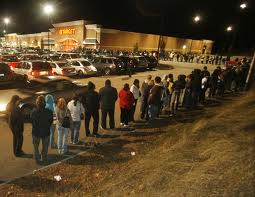 The term "Black Friday" — the unofficial start of the holiday shopping season- started in the 1960s to mark the kickoff to the Christmas shopping season.
"Black" refers to stores moving from out of  the "red" and into the "black."  From a loss to a profit.
Based on consumer trends this year, it appears as though this could be a very important shopping day for many businesses.
For this week's post, I've asked a few of our dream contributors to share their thoughts and suggestions on how to approach Black Friday with our own spin on dreaming through the holiday season.
1.  Shop for something that will bring you closer to your dream – Catherine
Whether it's a dream board, a journal for your writing, a calendar where you schedule monthly goals to complete, a hairstyle for your new dream – find something that makes you feel like next year is going to be your year to dream big.
2.  Entrepreneurs – Get your own merchandise out there now! – Heather
Your entrepreneurial tip for Black Friday (or its online counterpart — Cyber Monday) — get your stuff out there!  Post, plan, burn the midnight oil, but take it from me, it is a HUGE mistake to miss the holiday shopping season. Learn from my mistakes and get that marketing done.  Do you have a product that can be personalized? Now is the time to let everyone know.
3.  When it comes to special gifts, remember yourself – Veronica
Why not visit a nice lingerie department and invest in your own dating dreams?  To successfully date at any age, self-esteem is essential.  How we present ourselves and how we feel about ourselves inside and out is incredibly important. Maybe it's time to invest in some special undergarments – for instance, visualize how you feel when you are wearing large unattractive white panties or a bra that has lost its ability to be supportive.  Now visualize how you feel when you are adorned in a black lace demi-bra and matching thong, or a beautiful silk slip and camisole. When you feel beautiful,  it shows.
4.  Rest up, do some dreaming, and shop on "Small Business Saturday" instead. – Rayne
Instead of running around like a consumer with my head cut off on Black Friday, I plan to use that day to map out the home stretch of my dream and what it will look like as we head into 2011. Then I'll do my shopping on Small Business Saturday and support the small retailers on my town's main boulevard. Times are tough for dreamers AND small business owners and I like the idea of helping them out with my holiday shopping and skipping the chain craziness and concentrating on my passions.
5.  Watch out for the real deals – Remy
This is the day for big discounts.  If you are shopping for cameras and photography equipment make sure to compare the deals.  Sometimes buying camera bundles – like a camera body, a basic lens, bag, batteries, and chargers all in one box – seem like a good deal. But with a little more research and patience you may find those items separately for much less.  Gifts for the wannabe photographer at any age are photography books, flashcards, filters, cool bags, and tripods. Of course, a gift card from your local small business camera store is always a great gift!
And as you start to decorate your Christmas tree, write your dream on a little piece of paper and tie it to the tree – a reminder through the season that next year — will be your dream year!
Remy Gervais

Enjoy this special 8WomenDream Guest Contributor story submitted by new and experienced big dreamers throughout the world, edited and published to capture a dream perspective from different points of view. Do you have a personal dream story to share with 8WomenDream readers? Click here to learn how to submit dream big articles for consideration.
Note: Articles by Guest Post Contributors may contain affiliate links and may be compensated if you make a purchase after clicking on an affiliate link.