Last updated on April 2nd, 2012 at 11:31 am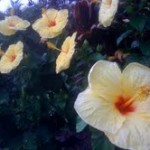 I'm just back from Hawaii where I visited a really ritzy hotel in Kona for a luxurious massage. I was seduced by an ad in the in-flight magazine. Who could resist?  It had everything: the lush setting, the koa wood lockers, and a private cabana deep in a leafy oasis.
Driving along a black lava moonscape I got that sinking feeling that I would probably be disappointed. So often there is that wide chasm between print ad and reality.
So imagine my happiness when it was even lovelier than I could have dreamt. Plus for once I was wearing a super cute outfit with perfect little red sandals even Dorothy of Oz would have envied.
Massages can be tricky things. Each masseuse has an individual style and vibe. Growing up in a family that spent weekends at Wine County hot springs, I know a good massage and I've come to expect a restorative experience.
I always chat up the masseuses.
I usually ask what they like about their work, what they don't, what has been the strangest thing that has ever happened. One masseuse told me that you can't be squeamish about bodily functions.
When people relax they can begin snoring, many burp or pass gas and it is not uncommon for massage clients to cry or burst out laughing. The massage table is where I say to myself,
Self, you deserve a nice massage. You are so hard on yourself. Let this nice person help you to release some of the anxiety that you carry around in your neck and shoulder muscles.
I also have massage revelations — jolts of personal insight that I SWEAR I shall carry away with me like a shield for the rest of my life.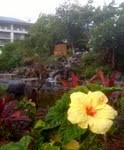 It was a sunny day with a soft breeze. The thatched cabana had open windows all around and a fan spinning lazily above. During the set up I was asked to pick out my oil from three tiny sample vials.
The trio were very similar in scent tone; nice botanicals without nauseating chemical duplicates of floral smells. The Alice in Wonderland choices were labeled "healing," "earth" and "balance." I've been off a little bit off-kilter lately, so I chose balance.
And then the fun started.
Did you ever have a massage so good it was scary?
This masseur did things I'd never experienced yet instantly craved like a baby wants milk. He rotated my limbs individually in this hypnotic rhythm, sort of working them loose and then clicking them back and forth until the clicking stopped and they settled back into place, only better.
I always wear panties during a massage 'cause I'm too body conscious to free ball. Most masseuses will respect the elastic at the waist like a barbed wire fence.
Not this guy.
He started at my shoulders and rubbed down my back and under my panties cupping my seat because that's what he does and I needed it. It was like I have these funny ticks that limit me and he knew it and he did his best work whether I was up for it or not. (Relax! My Mister was on the next table.)
He didn't let my weirdness compromise his work.
His sureness allowed me to relax enough to daydream. Of course, this book project popped up. It has been adding to my stress in that it's a structured promise that has been forcing me to look at things in my past.
Recently, I asked myself what was the worst thing my mother ever did to me. I mean, really, what is her big sin? It's a hard one because there are so many daily sins, so many small cruelties that I don't even want to think of the big picture.
What are worse, the doubts she planted or the dreams she tried to smother?
I'd like to answer that question, yet at the same time I don't want to hand anger an anchor by obsessing about it.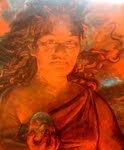 In Hawaii the dominant female superhero is Pele, the volcano goddess. She's everywhere in song, street signs and music.
I started thinking, Mother Pele why am I so angry at my mother? How do I release this anger?
And this is what I heard, clear as a volcano erupting.
You have anger and hurt in your heart, but not in your spirit. The anger was put there by others and you can remove it any time you want.
My eyes flashed open to see the plantation fan spinning faster than I remembered. Doves were cooing and palm fronds brushed in the window shutters. Nearby a waterfall splashed.
I took a deep breath and closed my eyes.
You have anger and hurt in your heart, but not in your spirit. The anger was put there by others and you can remove it any time you want.
And I knew that Mother Pele had answered me.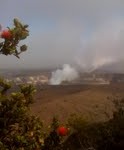 She was saying telling my story and listening to the stories of others and sharing them all would pull positive energy into my heart and push out negative energy like lava hissing into the sea.
Tears slipped down into my ears as my massage came to an end, but in a good way.
After walking back to a shaded resting area the masseur thanked me for letting him work with me.
I think he sensed that his skills allowed me to receive a special message from a powerful Hawaiian spirit.
That or I've had a stroke and I'm hearing voices.
Writing this a week later, I feel a big reduction in my anxiety about my project. Your brave reader comments on the subject of toxic parents help, too. I'm beginning to realize that this book project is going to be a strange journey, but nothing I should fear.
Just like Dorothy in the Wizard of Oz and Alice in Wonderland, special spirits are in my path. I trust that if I just do my part — the writing — they'll do theirs, helping me find peace of mind and guiding me forward when I need it.
Rayne Wolfe's dream is to write her first book Confessions of an Undutiful Daughter by the end of 2011. She completed her dream journey May of 2011 on 8WD after a year living her dream. You can find her at Toxic Mom Toolkit on Facebook.

Enjoy this special 8WomenDream Guest Contributor story submitted by new and experienced big dreamers throughout the world, edited and published to capture a dream perspective from different points of view. Do you have a personal dream story to share with 8WomenDream readers? Click here to learn how to submit dream big articles for consideration.
Note: Articles by Guest Post Contributors may contain affiliate links and may be compensated if you make a purchase after clicking on an affiliate link.