Last updated on April 2nd, 2012 at 12:23 pm
Successful dreamers, who work on their big dreams are as busy as people who don't.
So I'm told the old excuse of  I've been too busy to . . .
Doesn't work.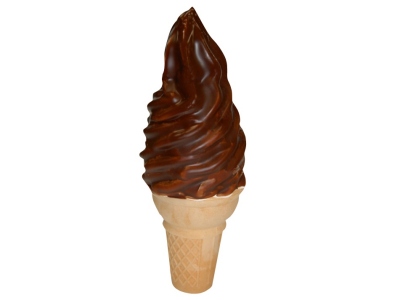 Because the difference between a busy dreamer and a busy person is that the busy dreamer is some way, somehow, making themselves do the small tasks – the boring things – even when it's the last thing they feel like doing everyday for their dream.
People who succeed at fulfilling their dreams consciously and methodically create their successes through small accomplishments, while others do other things like laundry and toilet cleaning.
Which one am I?
Sometimes I just don't know.
I've been in the Dip for a while now. Being in the Dip makes you question everything.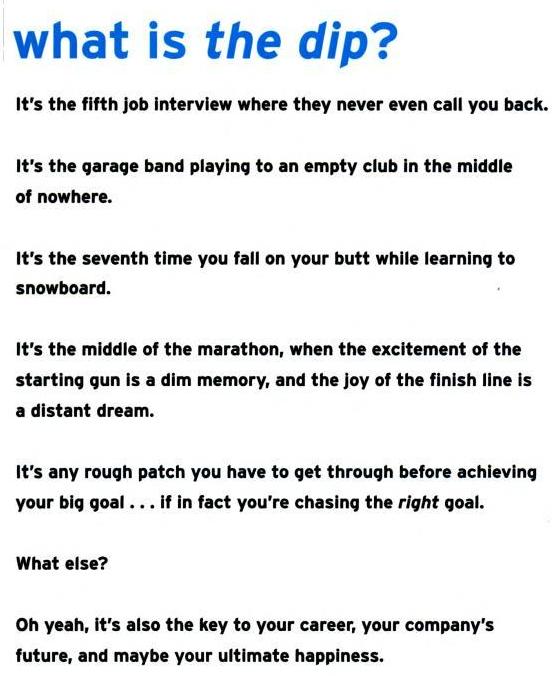 This is a picture right out of Seth Godin's book, The Dip in case you are sitting there wondering what the [bleep] the Dip is.
Or are sick of hearing me go on and on . . .  and on and on and on and on about it and am hoping this time that I'm referring to some sort of ice cream version.
Nope.
Frankly, I'm rather tired of being in the Dip with 8 Women Dream.
So there!
I mean how long does the Dip have to last?  Having a baby with a head the size of Charlie Brown was easier.  Come on universe, can you show up soon here and work a little magic on this dream project of ours?
If  Seth Godin were sitting right in front of me, he would adjust his glasses, clear his throat and say, "Every new dream starts out exciting and fun. Then it gets harder and less fun, until it hits a low point-really hard, and not much fun at all."
Thanks Seth.
Where's my dark chocolate and sprinkles?
He'd then go on to say, "Successful dreamers realize that the bigger the barrier to their dream, the bigger the reward for getting past it. If you can become number one in your niche, you'll get more than our fair share of profits, glory, and long-term security.
"While unsuccessful dreamers, on the other hand, fall into two basic traps. Either they fail to stick out the Dip – they get to the moment of truth and then give up – or they never even find the right Dip to conquer."
Okay Fine.
Giving up would be one the easiest things to do, but not the smartest thing.
When facing what sometimes feels like an insurmountable obstacle (how many friggin' blogs are there in the world for us to climb over?) I'd like to give up and move on to something new rather than pushing through it.
Sometimes . . . maybe.
But if I really think about it, the reality is that moving on to something new will eventually lead to another obstacle,  with the  Dip repeating itself again  – and becoming a person who continuously gives up on their dreams isn't a person I want to face in the mirror.
Mirror mirror on the wall who is the quittingist dreamer above all?
No thanks – I'll pass.
I've got enough anguish over the size of my ass, let alone the quitter label.
So at this point in the Dip to my (our) dream, I have to ask myself, have I done everything I possibly can to succeed here?
Silence.
Thinking.
More silence.
The answer is no.
Oops there it is.
Sigh, where is that ebook and how much can I get done this week?  I'll give you 10 pages.
But I'd like some sprinkles on it.
Keep on dreaming –
Catherine
If you are also feeling the Dip in your dream and need some inspiration, I recommend both of Seth Godin's books The Dip and Linchpin.  And no, Seth Godin doesn't pay us for any of this.  We just like him.

Catherine's dream is to be a motivator and published writer. She is testing her theories on motivation with this blog and the seven other women who have volunteered to be a part of her dream project. Catherine also writes about her life as a mom at the blog A Week In The Life Of A Redhead. Someday, she would also like to be invited to speak at TED as the next Erma Bombeck. Catherine posts Sunday nights.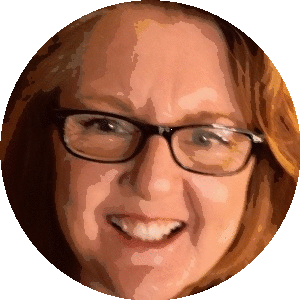 Catherine Hughes is the founder, content director and editor-at-large of 8WomenDream. She is passionate about helping women step out of their own way and strike out into a world waiting for their special talents. She's a published author and a former award-winning mom blogger. Catherine has helped companies both large and small create engaging web content, social media narratives, and unique blogging platforms. She claims to be a redhead, but don't hold that against her.
Note: Articles by Catherine may contain affiliate links and may be compensated if you make a purchase after clicking on an affiliate link.