Last updated on April 25th, 2012 at 09:54 pm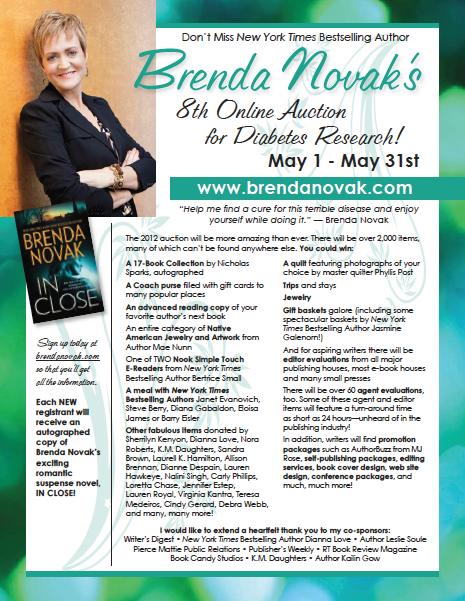 Today's Positive Thursday article comes to 8 Women Dream from Brenda Novak.
Brenda Novak masterfully infuses suspense, mystery and romance into her bestselling novels, but it's her real-life passions and dreams that make for the best page-turners.
Throughout the month of May in honor of Mother's Day, thousands of concerned individuals will become part of her story by participating in her annual Online Auction for Diabetes Research, which takes place at BrendaNovak.com and benefits the cure-focused work of the Diabetes Research Institute.
A heroine in her own right, Novak manages to raise five kids and have a successful career and marriage, all while battling her son's type 1 diabetes for the past 10 years and raising $1.3 million to help find a cure.
"I owe so much to my readers and other literary fans who support this effort every year, and to my colleagues who donate their time and more to help find a cure for my son, Thad, and millions of others," said Novak, a USA Today and New York Times bestselling author who has penned more than 40 books.
Her latest small town contemporary romance series will debut in September 2012.
But it's her role as a mother that drives her success with the auction. Thad, 15, was diagnosed with type 1 diabetes at age 5.
"I have a reason to believe that the Diabetes Research Institute is on the right path to a cure," said Novak, who traveled to Miami with her husband, Ted, to tour the DRI's state-of-the-art facility. "I will do everything I can to make sure that it happens as soon as possible," she said.
Attracting more than 5,000 bidders throughout the country and beyond, the auction boasts an array of one-of-a-kind items due to Novak's close connections in the literary world, such as lunches and private meetings with prominent authors like Steve Berry, Barry Eisler, Eloisa James and Janet Evonovich.
Famed romance novelist Nicholas Sparks has donated his entire backlist, including 17 autographed books. As always, the auction will also have a variety of must-have gadgets like Nook tablets, Kindles and iPads, plus world-class getaways, jewelry, popular theme baskets and more.
The bidding starts at $2 for all items; participants can literally end up with bargains beyond their dreams!
"It's truly remarkable what Brenda has been able to accomplish with her Online Auction in just eight years," said Robert A. Pearlman, president and CEO of the Diabetes Research Institute Foundation. "Her dedication is inspiring."
To participate in Brenda Novak's Online Auction for Diabetes Research, which benefits the cure-focused work of the Diabetes Research Institute, go to BrendaNovak.com to register, view items and bid. The auction starts on May 1, 2012 and closes on May 31, 2012.
About Brenda Novak
It was a shocking experience that jump-started Brenda Novak's author career. "I caught my day-care provider drugging my children with cough syrup to get them to sleep while I was away," Brenda says. "It was then I decided that I needed to do something from home." Now she is a New York Times and USA Today Bestseller, and many of her books have been designated an RT Book Review Magazine "Top Pick" and have gone on to place in contests such as the Romance Writers of America Rita Award, the National Readers' Choice, the Bookseller's Best, the Write Touch Readers' Award, and the Book Buyer's Best. Brenda has given writing workshops at various RWA events, RT Book Review Magazine conventions, California Fiction Writer meetings, women's groups and library events. For more about Brenda, visit www.brendanovak.com, where you can find excerpts of her work, prize drawings, book trailers, freebies and information about her annual on-line auction for diabetes research which she holds every May in honor of her son and the many others who face this terrible disease.
About the Diabetes Research Institute and Foundation
The mission of the Diabetes Research Institute Foundation is to provide the Diabetes Research Institute with the funding necessary to cure diabetes now. The Diabetes Research Institute leads the world in cure-focused research. As the largest and most comprehensive research center dedicated to curing diabetes, the DRI is aggressively working to shrink the timeline toward the discovery of a biological cure for this disease. Having already shown that diabetes can be reversed through islet transplantation, the DRI is building upon these promising outcomes by bridging cell-based therapies with emerging technologies. The Diabetes Research Institute was created for one reason — to cure diabetes — which is and will continue to be its singular focus until that goal is reached. For the millions of people affected by diabetes, the DRI is the best hope for a cure. For more information, call 1-800-321-3437 or visit DiabetesResearch.org.

Enjoy this special 8WomenDream Guest Contributor story submitted by new and experienced big dreamers throughout the world, edited and published to capture a dream perspective from different points of view. Do you have a personal dream story to share with 8WomenDream readers? Click here to learn how to submit dream big articles for consideration.
Note: Articles by Guest Post Contributors may contain affiliate links and may be compensated if you make a purchase after clicking on an affiliate link.