Last updated on April 2nd, 2012 at 11:28 am
Good morning! I hope you are all enjoying your Positive Thursday so far.
Thank you again to Catherine for letting me re-share her guest post, Positive Thursday: Pieces of Catherine's Dream Puzzle. She is wise beyond her years; read what she had to say:
Stop puzzling: banish negative thoughts, love your friends, go after your goals and make your dream happen! Find a group of positive friends who can appreciate your dreams and build your self-esteem.
Do you ever feel that people expect you to be happy?
Expect you to be a certain way?
To feel a certain way?
To act a certain way?
I've been feeling overwhelmed by these feelings this week; and starting today – I'm going to put an end to it.
I was reading fellow dreamer Lisa's post, How to Live Big Dreams Through The Ups and Downs of Life from earlier this week and feeling very inspired. I've never met Lisa is person, but gotten to know her through both of us writing for 8WD.
I feel like we have a lot in common – and oddly enough, it seems like we had pretty similar weeks.
We both had weeks that were full of ups and downs. The highest of highs and lowest of lows. Lisa was facing unexpected emotions when visiting an old favorite spot, I've been facing unexpected expectations from other people.
I love some of her "life advice!" Lisa wrote:
Choose happiness as the path, rather than the destination. Choose to be happy now!
Take baby steps toward your dreams.
Reward yourself for the progress made along the way.
Remember that this is "just life," and life is an experiment and an adventure.
Don't be afraid to make mistakes!
And have fun!
And I'm adding to her list – Stop living down to expectations.
Maybe part of these expectations are coming from me doing the same routine, day in and day out. Wake up, get ready, commute, work, commute, go running, make dinner, catch up on blogs, bed. The end. Start over x 5 days a week. It's starting to feel too expected. I'm not only facing expectations from other people – but from my own routine.
While I can't control what other people expect from me or think about me, I can change what I expect from myself.
And [see the above image!] that's just what I did last night – I chose to stop running for the night and instead get a library card and check out some books. I decided to take a break from staring at my computer screen and start finishing some art projects.
And I'm hoping to break the routine this weekend as well and start living life out of the box. I'm also embracing Lisa's fabulous mindset and approach at life:Â I choose to live my life with great gusto and great love.
Who has inspired you this week? How are you "breaking your routines" and living life differently this week? And lastly, do you have any advice to share when you're feeling overwhelmed by other people's expectations?
XOXO Happy Positive Thursday!
Andi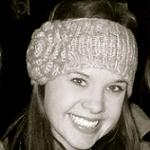 Andrea's dream is to become a certified life coach and motivational speaker. Her personal website is www.polish-my-crown.com. Andrea's post day is Thursday.

Enjoy this special 8WomenDream Guest Contributor story submitted by new and experienced big dreamers throughout the world, edited and published to capture a dream perspective from different points of view. Do you have a personal dream story to share with 8WomenDream readers? Click here to learn how to submit dream big articles for consideration.
Note: Articles by Guest Post Contributors may contain affiliate links and may be compensated if you make a purchase after clicking on an affiliate link.