Last updated on February 26th, 2023 at 12:36 pm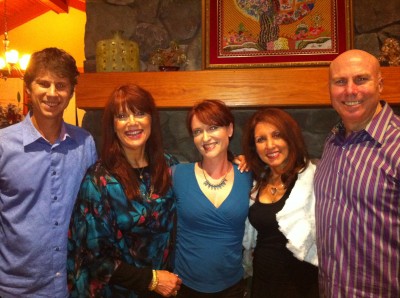 It's amazing what one will do as part of the quest to become a New York Times bestselling author…
I'd left the hotel early Sunday morning during the worst part of the fierce rain and windstorm to accomplish my super-secret spy mission. My windshield wipers sloshed through the sheets of rain that were breaking on the windshield like ocean waves.
Even on CA Highway 101, cars were slowing down to 30 mph, hazards blinking, to try to avoid hydroplaning.
I finally arrived at my destination and turned into the parking lot, breathing a sigh of relief to find a parking spot right in front of the shop. In the 30 seconds, it took to dash inside, my umbrella flipped inside out from the intense winds.
No worries. I was inside and dry and had just enough time to print the photos that I needed to autograph, create labels for the back of the pictures, stuff it all in a big manilla envelope to protect it from the rain, and dash back to the car again.
Off to Day Three of the Enlightened Bestsellers Mastermind
It was day three of the Enlightened Bestsellers Mastermind experience, which had turned out to be some of the most stimulating, fun, information-packed, and magical days of my life.
Since Friday, I'd been hanging out in the company of four of my personal mentors and inspirations: #1 New York Times bestselling authors, globetrotting inspirational speakers, and transformational leaders Janet Bray Attwood, Chris Attwood, and Marci Shimoff, and Internet marketing guru and keynote speaker Geoff Affleck.
We had spent the past two days in a glorious hilltop mansion in Larkspur, California, with stunning views in all directions.
It was the last day of the workshop, and my cohorts and I were in a blissed-out daze that was a mixture of exhaustion, a happy state of overwhelm from all the incredible information, coaching, and guidance we'd received to help catapult our careers to the next level, and the giddiness that comes from knowing that you've made a huge leap in living your dreams.
I was there with twelve other aspiring speakers and authors from around the world, who'd been hand-picked for this experience. My international team of fellow dreamers and new friends had traveled from as far away as Norway and included top corporate executives, an award-winning psychotherapist, a stand-up comedian turned multi-millionaire sales training entrepreneur, a statuesque and stunning former erotic dancer whose body was a work of art, with an array of colorful tattoos, and yours truly.
On the Heartseat
During the course of a three-day weekend, we'd been coached on how to write and publish a book that could both be "enlightening" as a teaching, transformational and healing guide for its readers, and also wildly commercially successful. We were given tips on how to successfully market the book both to agents and publishers, and then how to drive book sales into the stratosphere once we'd landed a publisher.
We were led through the finer points of how to deliver a compelling keynote speech that would leave a roomful or stadium full of listeners inspired, motivated, and ready to take action.
Even more importantly, we were each given a half-hour on the "Heartseat," which was our time to give a three-minute turbo-talk about our book, and then to be coached by Janet, Chris, Marci, and Geoff on how to create a more compelling book title, polish our speaking style and presence, clarify and refine our message and target audience, and market the hell out of our books.
Finally and most importantly, we'd spent these precious hours and minutes bonding with other kind, loving and bright souls who were truly committed to making a positive difference on the planet, which is wildly inspiring in and of itself. We were all basking in the light and love of a roomful of glowing souls, who were well on their way to living our heart's greatest dreams.
Lifelong Friendships
To say that we had all bonded over the weekend would be a staggering understatement; I'd say instead that we had all fallen madly in love with the experience, and each other. I knew that more than just lifelong friends and colleagues, I'd actually created a new family of dreamers who would support me on the path, along with my amazing friends and family. I had new sisters, brothers, and soulmates on the path.
In this atmosphere of love and magic, perhaps what happened next was inevitable.
At the beginning of the weekend, on Friday afternoon, it had also been raining, although just lightly. Still, there was enough precipitation to create a rainbow, and when the sun started peeking out, someone spotted it and yelled for our attention. There we were, at one end of the rainbow… It felt like a sign, a happy indicator in the form of a beautiful billboard created by nature, a marker to let us know that we were being watched over and that we were well on our way to living our wildest dreams.
Late Sunday morning, the torrential rainfall that had created small lakes on main thoroughfares during my drive to Larkspur, CA had finally stopped. We were about midway through the morning's program when Marci suddenly yelled for our attention.
There, outside the large kitchen plateglass windows was a full rainbow, the whole arc, both ends of the rainbow clearly visible. It was magical. Someone suddenly noticed that it was 11:11.
"Make a wish!" I yelled since that had been a childhood tradition of mine – to make a wish at 11:11.
Knowing this was too rare of an opportunity to pass up, Marci shouted, "Let's take the group photo now!"  and we all scrambled to take off our shoes and socks, grabbed our cameras, and dashed out to the deck outside the living room to stand under the rainbow for the shot.
There was a palpable, tangible sense of magic in the air. We were all lit up and slightly breathless, our feet cold and wet but our spirits soaring.
One by one, everyone took turns snapping photos for each other, and miraculously we made it through every single camera before the rainbow faded away.
A Sacred Circle
Afterward, we all headed back inside, dried off our feet, and put our fuzzy socks back on, and they were called by Marci to join hands in a circle by the fireplace.
Taking in this magical moment, we held hands, closed our eyes, and then took turns speaking our greatest hearts' desire or wish out loud. Somehow I felt certain that whatever we wished for right now just had to come true.
I'd only once before seen both ends of the rainbow like that, when I was on a family vacation in Costa Rica and the giant rainbow was literally right over my family – the only family on the beach at the time.
Surely, now, I was doubly blessed.
The Super-Secret-Spy Mission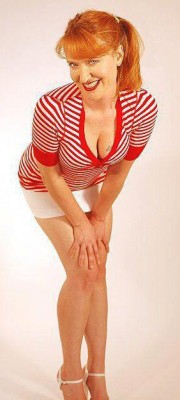 Still tingling, feeling full of awe and reverence, I refocused my attention as we dove back into the morning's program. I had to finish my mission that I'd started early that a.m. and figured lunchtime would be my moment to pull it off.
When we broke for lunch, and everyone scattered to rush off to the restroom or grab a cup of tea or make a quick phone call before eating, I hid away on a couch tucked behind an art screen in the lower level of the house, finishing my autographs – big Xs and Os with a Sharpie and a personalized note – on each photo.
I used my favorite pin-up girl shot and put a sticker on the back of each one with my new Website and business name.
I was signing the last photo when someone yelled down the stairs looking for me, so I called, "Be right up.", wrote the last note, capped my Sharpie, and dashed upstairs. Before heading to the lunch buffet and joining the group in the dining room, as quickly and discretely as possible, I dropped a red envelope on top of each participant and facilitator's pile of papers or books.
It was my way of sharing my heart and my new business "trademark" with everyone.
And Now, Drum-roll Please…
The pin-up shots were appreciated. And, although they may or may not be the "one thing" that lands me on the New York Times bestsellers list ultimately (just kidding – the quality of my book and how it's marketed will do that of course), luckily I learned a whole lot more about how to increase your odds of turning a book into a bestseller.
Here are a few tips I gleaned from the weekend that can help any aspiring writers out there on their own quests. And, I cannot recommend programs with this crew highly enough – if you're really serious about launching your career as an author, let them mentor you.
5 Tips to Become a New York Times Bestselling Author
Now, of course, writing and marketing a book that becomes a bestseller takes a lot of work. This is why it's so important to write on a topic that you are truly passionate about, and to really be ready to give this process your all.
Here's how to get started:
1. Be very, very clear about your message and who your book is intended to serve.
We spent a lot of time on this; it's very important to be able to define your target market and to know exactly what you are trying to tell or teach them. This may seem very obvious, but many authors (including me) lack clarity at the beginning of the process. This weekend brought me tremendous clarity.
2. Define why you are the one person who is most uniquely qualified to deliver this particular message e.
When writing a book proposal and pitching a book to agents or publishers, if you take that route, you will need to be able to identify other successful books in the marketplace in your genre, and then clearly explain how and why your book will be different and offer even more value to your niche market.
3. Come up with a kick-ass title.
Even the best book concept, beautifully written, will not fly off the shelves without a catchy title and/or subtitle. Think of the bestsellers out there, some with catchy one-word titles like "Flow" or "Blink"; others with metaphors in the title, like the record-breaking "Chicken Soup for the Soul" series; others with "shock value" or curiosity value, like "Why Men Love Bitches" or "The Secret." The point is that the reader needs to be "grabbed" by the title first.
4. Build your platform. Every industry person I've ever talked to focuses a lot on this.
Publishing houses are a lot more likely to "bank" on authors who already have some name recognition, whether through a top blog like 8womendream (this is part of my "platform"), through professional credentials or established expertise, public speaking or workshops, large email lists, or a very active Facebook or Twitter presence. Ideally, an author could even have ALL of these.
5. And of course, write a compelling book.
In the nonfiction "how to" or "self-help" categories, the books that tend to do best offer simple and practical tips and proven solutions to something that is causing them personal pain. Weaving in stories that make the writing more interesting, and/or facts and figures and relevant statistics can help readers connect to the material with both the left and right brains. Obviously, spending the time needed to write and edit a polished book, and get professional editing help, makes all the difference as well.
It's not enough to just have a message to communicate; there is a lot more involved in making a book a success. I feel like I'm 1,000% more well-prepared now to knock it out of the park with my book.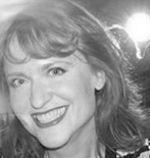 Lisa P. Graham is an inspirational writer, life coach, TED motivational speaker, and globe-trotter whose passion is to help others to find happiness and meaning in their daily lives. A political activist at heart, Lisa would like to empower more women to run for political office as a way to create positive change in the world. You can find her on her website or watch her TEDx speech on YouTube.
Note: Articles by Lisa may contain affiliate links and may be compensated if you make a purchase after clicking on an affiliate link.