Last updated on April 22nd, 2013 at 09:10 am
Dreams are the seedlings of reality – Napoleon Hill
When your dream starts to manifest, you never know where you will end up. I actually went to prison.
A positive experience.
Yes, I went to a maximum security prison in Cape Town, South Africa. I was invited to speak to the female wardens in the female centre. The wardens work with women criminals; some have even killed people while others come from gangs. I could only imagine how hard these ladies have it.
I arrived at the prison venue just before 7 a.m. at  Pollsmoor Maximum Security Prison. This prison resides in the Cape Town suburb of Tokai. Some of South Africa's most dangerous criminals and roughest gangsters are housed there. The prison has a staff of 1,278 has the capacity to accommodate 4,336 offenders, but the current inmate population is over 7,000.
Luckily, I only had to speak to about 60 women and a few men.
I was told to be there 20 minutes before I was needed, so I set my alarm at 4:30 a.m. Getting ready was a little nerve-racking, but my nerves calmed as soon as I starting repeating my favorite positive affirmations. There was something about driving in the early morning while affirming and practicing my talk in my head. I loved it. I knew that there was a reason why I needed to speak to these women.
The title of my speech for motivating women was "Pursue to Be a Better Team." I was asked by the management to touch on this subject because some of the women have shown signs of losing interest in their jobs. This was more of a team building talk, so it was something I was very excited to try.
I was welcomed by a friendly "change-maker," Mr. Thomas, who I had been in contact with over email and phone calls. Mr. Thomas actually found my blog, Just Pursue It, and he liked what he saw. He thought I would be the best person to speak to the ladies. What an honor it was to be chosen out of so many speakers in Cape Town, South Africa.
As we walked to the women's facility I was immediately asked to switch off my cell phone while they had to check me for sharp objects. I observed the employees of the prison entering the facility. I won't lie. I felt a slight feeling of fear as I saw the prison gates and the large bars over the massive entrance door. It's crazy the places your dreams can take you- like me sitting inside of a prison! Once inside, I was lead to a room where I met the people in charge of the prison.
We sat there as they got the ladies ready in the meeting room. I was asked loads of questions. One being, "How old are you?" and "How did you end up speaking at a prison?" I felt good about my answers and was invited to speak in August on Women's Day. I gladly accepted and then I was asked to start my talk.
I entered a packed room with filled with men and mostly women.  There were harsh and questioning stares coming from the ladies, but I knew it was my job to make these women value themselves, their work, and to somehow make them smile. The wardens were all beautifully dressed in their uniforms.  They were all from different culture backgrounds with different hairstyles and accents.
It felt like a global community and there was no turning back.
When I put my dream out into the world I said that I wanted to be an international public speaker who motivated women and here I was in this culturally diverse prison speaking with mostly women.
The key points in my presentation "Pursue to be a Better Team"
Understanding your goals
The importance of Communication
Ensuring Management and co-worker support
Build friendships
Pursuing to be Positive in the workplace
My main message was that when a team decides to work together for a common agreed goal, then will you see progress. There is a Acronym that says T.E.A.M stands for Together Everyone Achieves More. I gently spoke about how being kind and friendly to your co-worker makes life a little easier.  The back-biting and jealousy needed to stop because they were all accomplished adults in their own right who have the responsibility of offering criminals hope for a better life after they have completed their sentences.
I touched on points about how I went for my dream as a motivational public speaker, my challenges in doing this, and how I needed to believe in me and my dream — in spite of growing up with negativity and poor conditions.
In the words of Robin Sharma I ended with: "You all need to be the CEO  of your job. You need to excel and show others that you take pride in your calling. And that they should live their lives in a way that would make them proud to have been a warden who encouraged prisoner to be a better person when they are released to pursue their new beginning."
Everyone judges people.  We all make fun of work, but when I looked at these women in the audience I realized that they needed to see what I was talking about.  That it was important to see the beauty and good in everyone.  It's the only way that work would be more rewarding.  I then complimented one lady who was very stylishly groomed with red lipstick and lovely hairstyle. I saw her blush, then her colleagues began laughing at me for giving her a compliment. I then made it a point to make every woman smile in that room by walking up to every one of them to compliment them and affirm the greatness that exists in their lives.
I remember saying to one lady who looked introverted "You need to believe in yourself and unlock your greatness, give yourself permission to be you, it's okay to be shy, but what are you hiding from the world for? Pursue to be the best you and don't be shy, my darling"
After complimenting the ladies, I was a bit out of breath, but every woman had a smile on their face. Every man in the room nodded their head because there was a shift in the feeling of the room.  You could feel the change. A certain unity was being created that had not been felt in a long time.  I knew my job here was done. I successfully motivated them.
I received a lovely thank you from the staff and got a standing ovation by the ladies.  It was hard for me not to shed tears at their response to doing what I love.
If someone had told me that going for your dreams would make me feel this happy, I would have never wasted so much time. I took a photo with the group and waved goodbye. The meeting room was filled with a positive energy as I left, and I couldn't stop smiling.
I was treated to a coffee and sandwich for management as we spoke about my work with the prison. It looks like I will be involved in other important days like South Africa's Youth Day as well as Women's Day.
A single dream is more powerful than a thousand realities – J.R.R Tolkien
My first trip to prison ended up being one of my most inspirational experiences ever. I couldn't have asked for a better experience.
Don't be afraid to pursue the unthinkable, you are destined to do great things on this earth.
I believe that now. I really do!
Just Pursue It – Sue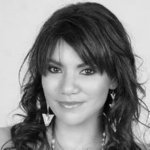 Sue Levy is the founder of the South African Just Pursue It Blog and Inspirational Women Initiative. She's a motivational writer and media designer, who is obsessed with everything inspirational with a hint of geek. She thrives on teaching women how to be brave and take big chances on themselves. You can find Sue on her Twitter page @Sue_Levy.
Note: Articles by Sue may contain affiliate links and may be compensated if you make a purchase after clicking on an affiliate link.