Last updated on September 8th, 2012 at 09:35 pm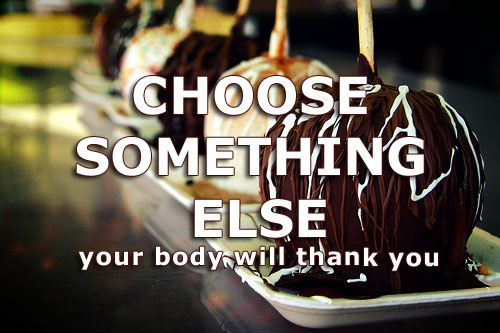 There is nothing like a long holiday weekend to remind you how easy it is to fall off the "healthy eating" bandwagon. This weekend was an experience as my husband took me and my health and fitness dream out of town for a couple wonderful days.
Road trip = bad eating (or not)
The feeling of an adventure by getting out of town is something that I have not had in a very long time. Just the thought of a day trip caused concerns of gas costs, missed dealines, and they ever present question of "What do YOU want to do?".
Add all that to my new obsession: eating healthy.
When you are excited about leaving, it's hard to be careful not to ignore good eating habits our sabotage our health my over indulging. Aren't those treats part of the fun of vacationing? Well, they used to be for me.
Just because you can eat it, doesn't mean you should
Those fast food restaurants go streaming by your car window, and convenience stores pop up everywhere just calling your name. Unfortunately they offer plenty of options for processed foods and treats are nutritionally poor – loaded with fat, sugar, salt, chemicals, not to mention the calories. All these are set up for quick hunger relief but can most likely leave you feeling bloated and fatigued.
Planning ahead makes all the difference in making good choices when on the road. Espiecially if you want to try and avoid the 'grab and go' food that will be surrounding you.
You want to pack simple and easy portable choices like:
Your favorite nut butter and baked whole grain crackers or rice cakes. You can even make up some road-friendly sandwiches with whole wheat or multi-grain bread and nut butter. My new favorite? Justin's Maple Almond butter is amazing!
Fruit, nuts or a high quality natural dry cereal to curb that crunch craving. Trail mix works great for some people here, just make sure its full of your favorite goodies that are healthy (M&M's don't count here!)
Protein bars or granola bars are an easy take-on-the-road snack. Keep an eye on the labels and avoid any chemicals, hydrogenated oil, or high fructose corn syrup that tend to pop up. Choose one with a reasonable calorie count – I shoot for one that is under 200 calories – that is low in fat and sugar content.
A little cooler can go a long way if you stock it with berries, low-fat cheese, hard-boiled eggs, yogurt, or raw veggies and hummus.
Need a protein boost that doens't need regrigeration? Single serve packets of tuna or sardines with a whole grain pita is a simple and healthy sandwich that takes a minute to put together.
Love the crunch factor? Natural popcorn is a low calorie and easy travel option. Just pop it ahead of time and put it in a container or bag to take it along.
Be strong… avoid these foods while on the road
These foods will haunt you. They are piled high next to the morning coffee at the hotels continental breakfast, and within easy reach of every checkout counter.
Anything made with white flour. You know what these are (bagels, hard rolls, breakfast buns) and these refined grains and simple carbohydrates do nothing but hurt your health and fitness dream goals.
Potato or corn chips. Baked, fried or otherwise, the simple carbs and added sodium are to be avoided.
Partially hydrogenated oils don't sound good, let alone eat. They are in everything from nondairy creamer and most prepacked baked goods.
Fruit juice, soda and sugary snacks are all high glycemic foods that you can say no to. Really, I believe in you!
Of course the usual fare at most restaurants with a drive up window – including the high-calorie, high fat, high carb, and void of nutrition culprits. Avoid pulling in fast food joints at all costs.
Living in the land of plenty (of junk food)
Keeping your blood sugar levels from spiking or dropping by chomping on frequent healthy snacks is an excellent plan, but that doesn't mean you don't need to stop along the way.
Eating full meals in the car won't help you in the long run. Taking a break to relax will help you enjoy your food, have better digestion and let you pay attention to when you feel full.
By all means… don't skip meals! Waiting more than four or five hours between eating will drain your energy and create temptation for those salty-sweet-processed treats, or overeating at your next meal.
Your budget or time might not let you indulge in a sit-down restaurant meal, and your continued avoidance of fast food can be curbed by heading to the grocery store – or even better, a local farmers market! Keep a stash of plates, utensils, cups and napkins in your car for those amazing fresh meals you can put together with your healthy food choices fresh from the farm.
Tip: Stay hydrated by drinking plenty of water. Not only does this help curb food cravings, but it will help you avoid travel/jet lag.
The journey is half the fun, so allow time for rest stops even if you're in a hurry to get to your destination. Stretch and walk around in the fresh air so you can feel more energized and alert once you head back on the road.
Mazimize your energy once you get there
Vacation doesn't have to mean weight gain if you keep these tips in mind to keep your energy up by sticking to good eating habits.
You know the mini bar is lacking in the healthy salad or fruit department, right? Avoid this temptation by never opening it up!
A good breakfast can power you up by getting your day off to a high-energy start and will help you fight hunger all day. Include a high quality lean protein to get the most out of this important meal.
Check over those menus at every meal. Focus on lightly prepared vegetables, and lean protein and look for these key words – grilled, broiled, poached, roasted or baked.
Just because they drop off a bread basket doesn't mean you have to dive into it. Ask them to remove it, or just take one and ask for the rest to be re moved. Start out right with a lighter, low-calorie option like salad or soup to help curb your appetite.
Most restaurants are accomodating to special orders so don't be afraid to ask for sauces on the side, or ask to swap out that side of fries with a salad or vegetables.
Portion control is a huge issue at most American restaurants. You can ask to have half your order packed to go, or split a large entree. A few appetizers, instead of a huge meal, is a great way to try a few different things.
Tip: A portion of protein is the size of your palm (YOUR palm… not the basketball player sitting at the next table)
Enjoy yourself… you're on vacation!
I probably just deflated most of your vacation eating plans dear readers, so I apologize and offer this small caveat. Nutritious, healthy eating doesn't mean depriving yourself and with a little planning you can enjoy foods that are deliciously good for you.
What's your favorite "vacation only" treat?
Happy travel snacking ~ Heather

Heather Montgomery is a fitness writer, triathlete, and serial entrepreneur who is devoted to sharing what she has learned about becoming a triathlete after age 40. She uses her Metabolic Training Certification to help other women struggling to get fit in mid-life. She lives and trains in Santa Rosa, California, the new home of the Ironman triathlon. You can find her biking the Sonoma County wine trails.
Note: Articles by Heather may contain affiliate links and will be compensated if you make a purchase after clicking on an affiliate link.