Last updated on April 27th, 2014 at 12:50 pm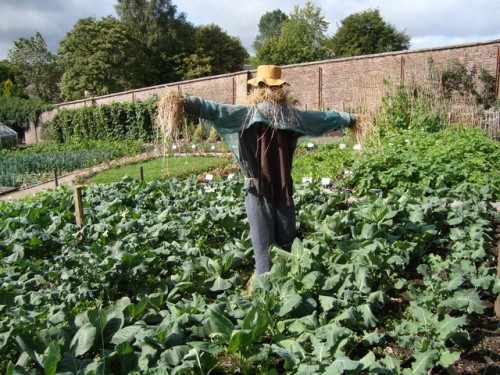 I've been a private chef since 2007 and prior to that I was a caterer.
After surviving Hurricane Katrina, my priorities changed drastically.
My dreams shifted all over the place, but one thing I knew for sure was that I did not want to cater huge events anymore. It was better than working in or owning a restaurant where you have no personal life, but I dreamed of something easier that would allow me creative freedom and more connection with my clients.
I dreamed of being a private chef.
I ran into a few obstacles during the transition, but my tenacity paid off when I finally broke into the private chef industry.
Now it's 5 years later and my dream involves other healthy dreams.
One of them is a steadiness with my finances. Being a self employed private chef is seasonal work.
This has been the pattern:  In the busy season, I'm living la vida loca and when it's the off-season, I'm guzzling Pepto-Bismol and counting the days until my rent is due.
Not anymore.
This year as the slow season approaches I am doing something new: I am seeking a steady weekday job and I've set healthy boundaries around what I am willing to accept.
I know that I want weekends off so I can work on my business dreams and relax when I need to and I want to be able to have a personal life.
I received responses from 85% of the employment agencies that I have reached out to from around the world.  I was told that my packet is impressive and they would like to continue to the next steps.
Right away I  was offered a job via voice mail. To my surprise it is a steady job from Monday through Friday and the salary is in the 6 figures with full medical benefits. I almost fainted.  I couldn't return the call fast enough.
The job just posted on their website and I was told to take a look at it and I was their first preference.
So…to the website I went.
The job would be about 1.5 hours from my home for a family of 5.  They wanted breakfast and dinner. Their chef would have to be available to travel on short notice on their private jet. All do-able or negotiable, especially for the salary offered. As I continued to read, I took note of a few "red flags " that came up for me.
"Must be able to wow every family member with every meal, must maintain silver, crystal and china, must create beautiful table settings for every meal , must clean and sanitize floors and vents in home after each use of the kitchen and must be able to gracefully take criticism."
Can you hear me rolling on the floor, laughing out loud?
You know the 6 figure salary mentioned?  Now it equaled a few dollars an hour and not enough respect in the universe.
I called the staffing agency. The representative was completely honest with me about the job.  I was honest with him about my impression of the "requirements" and my own healthy boundaries. We exchanged mutual admiration and he said that I could take this job, but honestly, he sees someone more in the "desperate" arena taking it.
He pointed out to me that I am on the top of their list for job placement.
Do you know how powerful that felt? Not controlling, but personally powerful.
Too often in my past I have not stood up for myself and set healthy boundaries, which resulted in hard lessons that would affect my life for years to come.
The dream lesson is this, dreamers:
Stick with your healthy boundaries when it comes to pursuing your dreams. Do not settle for less than you deserve and listen to your gut when it tells you that something isn't right.  Don't make choices out of desperation.
Do not allow yourself to feel obligated or driven to do something (or not do something) out of fear or guilt when you know it's not the best thing for you.
STOP YOURSELF.
Set healthy boundaries. They are necessary for your dreams to come true. Don't ever compromise yourself! Saying no is very powerful and it can create a beautiful, positive chain reaction in your life.
Everything comes with a lesson — each encounter, each relationship, and even your job.  Remember that you always have choices.
If your dream lesson becomes that you didn't make the right choice for the best of your being — take the lesson.  Then thank the universe for it and move on. Know that this step alone can move you closer to your dream.
Pursue your dreams on your terms. Compromise is a choice. Don't let unhealthy boundaries get in the way of what is best for you and your dream.
If you feel that you don't have the strength to set healthy boundaries, then I will leave you with my recipe for Pacific Rim Stir Fry.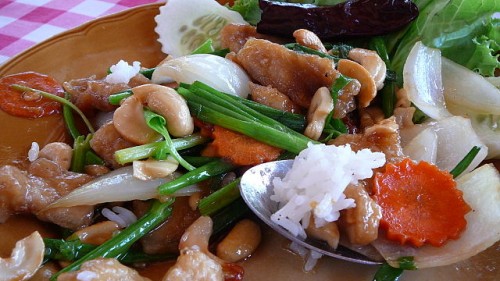 This dish always gives me strength to do what I need to do.
My second recipe for you this week is to savor your boundaries,
Maria
Pacific Rim Stir Fry
Serves 4
1/4 cup finely chopped shallots or purple onion
5-6 cloves garlic, minced or finely chopped
1-2 thumb-size pieces of ginger, sliced into thin matchstick pieces
1/2 to 1 small fresh red chili, sliced, OR 1/4 to 1/2 tsp. chili flakes
1 medium-size carrot, sliced
5-6 shiitake mushrooms, sliced, or left in halves or quarters
8 oz. boneless skinless chicken breasts or thighs, cut into strips
1 small head broccoli, cut into florets
1 red pepper, sliced into strips
2-3 cups baby bok choy, or other Chinese cabbage (leaves left whole if not too large, otherwise cut in half or thirds)
handful fresh Thai basil
2 Tbsp. coconut oil or other vegetable oil
A handful of cashews
• STIR-FRY SAUCE:
2/3 cup coconut milk
2+1/2 Tbsp. fish sauce
3+1/2 Tbsp. fresh lime juice
1+1/2 Tbsp. soy sauce
1/3 to 1/2 tsp. dried crushed chili (chili flakes)
2+1/2 tsp. brown sugar
Combine all 'stir fry sauce' ingredients together in a cup or bowl. Stir well to dissolve the sugar. Taste-test the sauce, keeping in mind that the first taste should be spicy-salty, followed by sweetness and the rich taste of the coconut milk. Adjust these flavors to suit your taste, adding more lime juice if too sweet or salty (note that it will be less salty when combined with the vegetables).
Warm a wok or large frying pan over medium-high heat. Add the oil and swirl around, then add the shallot/onion, garlic, ginger, and chili. Stir-fry 1-2 minutes, then add the carrot, mushrooms, and the chicken. Also add 1/4 of the stir-fry sauce. Continue stir-frying 2-3 minutes.

Add the broccoli and red pepper plus up to 1/2 of remaining stir-fry sauce, enough to gently simmer vegetables in the sauce (about 2 minutes). Note: this is a 'saucy' stir-fry that is never dry – the sauce is meant to flavor the rice or noodles it is served with.
Finally add the bok choy or Chinese cabbage. Add more of the stir-fry sauce as needed, enough to just cover vegetables in sauce. Simmer until bok choy or cabbage is cooked but still bright green with some crispness (2-3 minutes more).
Remove from heat and do one last taste-test. If not salty enough, add a little more fish or soy sauce. If too salty or sweet, add another squeeze of lime juice. Add more sugar or chili if desired. Serve over rice noodles or jasmine rice and top with cashews.
Enjoy!

Enjoy this special 8WomenDream Guest Contributor story submitted by new and experienced big dreamers throughout the world, edited and published to capture a dream perspective from different points of view. Do you have a personal dream story to share with 8WomenDream readers? Click here to learn how to submit dream big articles for consideration.
Note: Articles by Guest Post Contributors may contain affiliate links and may be compensated if you make a purchase after clicking on an affiliate link.