Last updated on December 24th, 2012 at 04:21 pm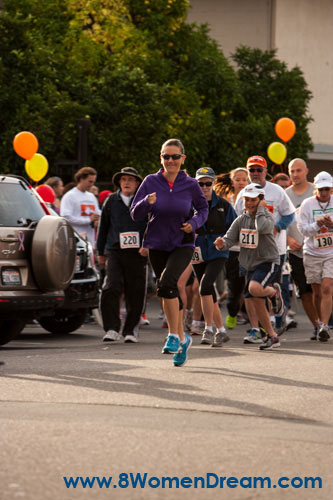 My eyes popped open to a pitch black room as my alarm clock blared.
Race day.
Rolling out of bed and making sure the coffee was brewing, realization dawned on what I was planning. Who's brilliant idea was it to race 3.1 miles today? I only have my health and fitness dream to blame.
Getting up this early on a weekend with an alarm clock is not at the top of my list, and yet I have several events in the coming weeks that require me to do just that – get out of bed with an alarm on the weekend.
Walking through the darkness and bumping into my equally sleepy husband, I started thinking about this race. This is only the second running event I've ever done. What if I'm too slow? What if my knee starts killing me?
Running is no longer my primary exercise endeavor. Over the course of my 80 pound weight loss I used walking at faster and faster pace as my cardio to burn off all those calories. I only started running 6 months ago to fit my workouts into a 30 minute lunch break at work.
Was I ready for this… again?
I kept up with my regular runs in the last few weeks, kept the water bottle with me to watch my hydration. I even managed to avoid having a drink at a family party the night before.
Still, I felt a little frazzled. Should I eat this now, or wait? I realized what I was missing.
A plan.
It's not like I was heading out for a marathon. My regular weekly runs have slowly increased and are now a 3 mile distance, equal to the 5k I was about to embark on. But I hadn't even thought about how my morning should go other than planning on how early to set the alarm to allow for travel time.
Planning ahead doesn't always guarantee success, but at least it gives us an opportunity to consider the outcome.
Everything was packed that I thought I would need and my super supportive husband and hit the road. I already had my race bib pinned on, had my light protein breakfast of cottage cheese ready to eat in the car and a little coffee and away we went. I wanted to make sure we had plenty of time to get there.
I thought about the process of how I would prepare once we arrived in Cloverdale, about a 45 minute drive from our Santa Rosa home. Coming into town we started to spot the marathoners on the frontage roads. They had already been running for about an hour and had many miles to go. Frankly I felt like a wimp watching them truck along heading up a hill.
We pulled into the Cloverdale Fair Grounds earlier than I anticipated and discovered that having time to spare can be a detriment.
Stepping out of the car 45 minutes before race time I immediately started shivering. The 55 degree weather was cool for my California blood, but honestly,it was the wind that hit me the hardest. Constant chilling air blowing from every direction made me worried about running completely numb.
Just a few minutes in that chilly weather and I was back in the car. There was no way I would stay warm, even with a warm up for long. So we did what most sleepy people do when you are killing time in your car – dozed off for 15 minutes.
Finally warmed up, I gathered up my bag of stuff and followed the crowd. There wasn't a large throng of people or obvious signs where to go, so took a few laps around the parking lot to try and get warm.
Anyone who has a regular workout routine knows that there are days where you just feel off. This was one of those days. Breathing was labored, I couldn't find my stride, and I was losing feeling in my fingers.
Luckily – or not – my fingers go numb on a regular basis and I did remember one item from my last frozen race experience to help me out with that issue. A water bottle filled with hot water and I am all set.
With the fact that the event was not officially timed, and the title of "fun run" I got brave and moved up in the pack for the start. The clock was running and away we went!
I had the huge surprise of seeing my sister on the sidelines with my hubby cheering me on! That was a great incentive and I took off, holding my own in the pack. A couple blocks later, the reality of taking off too quick hit me and I remembered a tip about pacing – don't take off too quick.
The group was breaking up and spreading out. I ended up in a smaller handful of runners and  was running without my usual headphones and running app that would give me a clue on how  fast I was going.
Then I overheard the couple in front of me chatting as he glanced at his wrist "We are at an 8:15 pace…" and I almost stopped in my tracks.
What the heck?
My typical pace for my weekly runs is between 9:30 and 10:00 minutes per mile. There was no way I was under 9:00 per mile. If I was I going that fast, I definitely wanted to keep the speed going!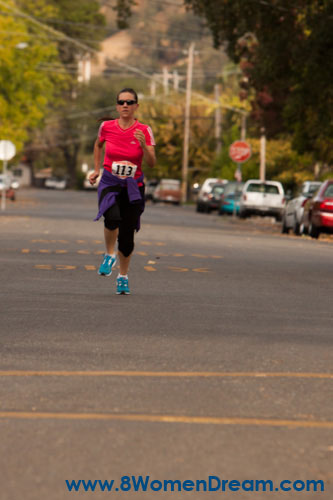 Until I got a pain in my side. Not a stitch, but a tight knot that kept my hand wandering back to my side in an attempt to rub it away. Concetrating on breathing, and not tripping over curbs helped keep me from stopping to worry about it further.
Eventually my hands thawed out and I tried to stay relaxed. The groups were spreading out further and on the loop to head back as my thirst hit I realized I forgot another staple on my runs. Chewing gum. I'm not a huge fan of it but it does help with not completely drying out.
This was about the time my jacket came off. It was still chilly and it took the majority of the run, but my core was toasty at last!
A few more blocks and I turned seeing the finish line was a surprise. All the twists and turns in the street route had me turned around in the semi-familiar Cloverdale downtown area and all of a sudden I was on the home stretch. A suggestion from one of the race articles I read recently popped in my head – give it your all at the very end. I leaned in and started my sprint, no matter what my legs were protesting.
Passing over the finish line I glanced at the race clock. Under 27 minutes? I was too in shock cooling down to really believe I'd just blown away any time I've ever run. It was such a treat to have my sister there with a big hug and congratulations!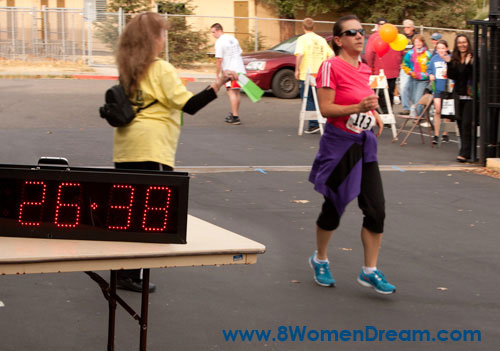 Things I've learned about race day preparation:
Over pack: You can always leave stuff in the car
Go through your plan: Forgetting a step in your preparation can distract you from focusing when you need to
Bring layers: We all know that taking layers off is so much easier than not having enough to keep warm
Remember all your stuff: start a checklist and update it at the end of each event
Try to run with no head phones: I love to run with a beat to keep me moving. With no headphones allowed at official races, training without them makes race day feel more normal.
A friend sent me a text me a couple days after the event with congratulations on the "marathon". I had to smile – if only! I explained the distance differences in what I completed (3.1 miles or 5k) versus the runners that I saw on the road (13.1 to 26.2 miles), far from the starting line, as I was just driving in for the 5k event.
One of these days i will be one of those out there running miles those extra miles. Just the thought of doing that freaks me out, which confirms I must be on the right dream path.
What preparation have you learned that will help you with your next dream step?
Until next run ~ Heather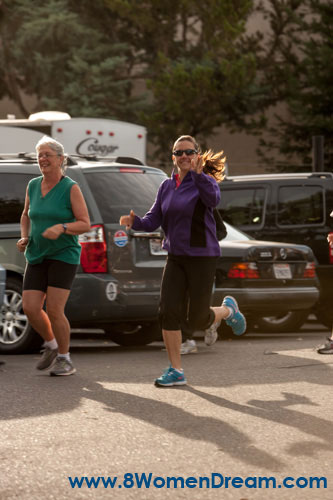 Photography by R. Mabry Photography

Heather Montgomery is a fitness writer, triathlete, and serial entrepreneur who is devoted to sharing what she has learned about becoming a triathlete after age 40. She uses her Metabolic Training Certification to help other women struggling to get fit in mid-life. She lives and trains in Santa Rosa, California, the new home of the Ironman triathlon. You can find her biking the Sonoma County wine trails.
Note: Articles by Heather may contain affiliate links and will be compensated if you make a purchase after clicking on an affiliate link.