Last updated on February 13th, 2019 at 01:43 pm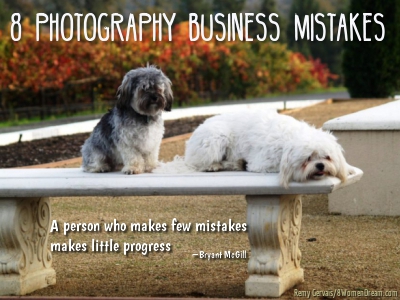 Your big dream is to start a professional photography business. Trust me right now when I say you will need to fully embrace: "photography business mistakes are a part of learning to be a professional."
Whether you've just purchased your first expensive professional camera or you are creating remarkable iPhone images for Instagram fame and advertising gigs, understand there will be common mishaps as you move away from being an amateur photographer to being a professional.
And if you want this photography dream of yours to come true, you must stop "playing at photography" and treat your big dream as a profession.
In Steven Pressfield's best-selling book, "The War Of Art" he says:
"The word amateur comes from the Latin root meaning "to love." The conventional interpretation is that the amateur pursues his calling out of love, while the pro does it for money. Not the way I see it. In my view, the amateur does not love the game enough. If he did, he would not pursue it as a sideline, distinct from his "real" vocation. The professional loves it so much he dedicates his life to it. He commits full-time."
Don't be afraid of the business errors you will make. All professional photographers have made mistakes and you will misstep too. The important point is not to let fear keep you working as an amateur instead of turning pro.
8 Professional Photography Business Mistakes
1.  Undercharging for Photography Services
You inevitably will accept a gig while you are questioning your abilities as a talented photographer and charge too little for your time. You may even offer a CD or flash drive with the images you took for your client to print themselves. Don't do free. Don't ever become comfortable with "free" as part of your marketing strategy.
It's natural when you first get your business started to feel like you have to compete on price, maybe even over certain services for free.  You may believe other photographers are already offering what you do, and if you don't sell your services for cheap, you'll never get any referral work or book a shoot. Shooting for family and friends feels like a natural free opportunity too. You need to find a way to manage your expectations around offering free photography, or you will remain the low price leader for a long time, and you may never be profitable as a photography business.
Ask for something in return if you feel you must do a task for free. If it's family, ask them to write testimonials for your website and limit the number of photos or time you are willing to spend on a shoot and post-processing the images. Give them your business cards and ask them to pass them out to anyone who needs a photographer. Just don't offer free services if you aren't receiving anything of value in return.
What you learn from selling your talent short: You believe your story about being a "novice" or "too new," and this way of thinking prevents you from pushing yourself or learning what you need to get to a higher professional level with your photography business.
2. Believing You Can Control Mother Nature
Shoots that take place outside will always rely on the whim of mother nature no matter what the weather forecast promised. You plan for a beautiful spring shoot, and an early summer storm appears with intense wind and rain to mess with your photography plan. You're suddenly worried the rain will get your gear wet and you have to figure out a way to shoot without ruining your equipment. Or maybe the client is late and the natural lighting you hoped to catch is now gone.
Other problems can suddenly crop up too–maybe a piece of your equipment fails, or you left an essential lens at home that you were sure you placed in your bag. Maybe your client is coming down with a cold or is hungover and not looking their best. There are no guarantees when it comes to shooting events.
What you learn from the unknown: You trust there is always a solution to any situation if you stop, take a deep breath and think through your problem. If your event is 'hard-scaped' (like a wedding or a graduation ceremony), you will learn to become an opportunist and work with what is available. If your event can be rescheduled (senior portrait or product shoots), you will learn how to manage your appointment calendar to leave room for the unexpected.
3. Borrowing a Camera for an Important Shoot
Nothing relaxes me more than to have my camera in my hands. Don't make the mistake of borrowing another camera for a shoot because you don't own the right equipment for the event. Borrowing a camera you don't know is the same as taking your driver license test in a car you've never driven. It's not impossible, but why would you risk your reputation with a paying client?
Turn the job down until you can afford to own the right equipment.
What you learn from not knowing your equipment: An in-the-moment learning curve, especially when it comes to different digital cameras and lenses can be steep. If you are on your way to a shoot with equipment that is not your own, refer to the manual or the in-camera menus as much as you need to beforehand so that you are not guessing on the fly.
Otherwise, don't do it. It's not fair to your client unless it's a free gig and you are doing the shoot to practice and expand your portfolio. Shooting 1,000 photos and only being able to use 10 of them is not a fun way to spend your time or endear yourself to clients.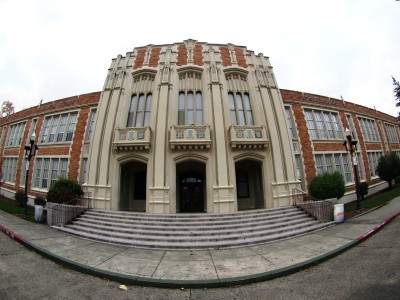 4. Believing the Client Knows Best
I appreciate the clients who make suggestions about locations, props, and poses during the shoot. I've learned a lot about what's important to them by what they suggest. But in the end, I have come to trust that shooting at high noon in the back yard near a pool facing the sun is not going to produce good photographs–no matter how much the client suddenly wants to showcase themselves against their new landscape and how great of a master photographer you are.
What you learn from ignoring your gut instincts: Your gut feeling about a shoot is usually right, so pay attention to your intuition. Full stop. You don't have to be mean about how you need the shoot to be executed. Find a way to respectfully manage your client's "suggestions" or you will be dealing with their disappointment when you want them to place an order.
Hair stylists go through this issue when clients believe a certain haircut will make them look like the celebrity wearing the style. Then they are unhappy with the results because their face isn't shaped like the celebrity. You are the professional. They've come to you for your photography expertise. Don't take on clients that aren't going to respect what you know about photography.
5. Spending too Much Time Fixing Photographs
How many times have I made the mistake of thinking during a shoot, "I'll  just fix that in post-processing." It's a lazy bad habit to get into to rely on the software to make your images look right. If the picture looks crappy in the field, no amount of time at the computer will make the image right.
What you learn from hours at the computer:  Ask yourself what you enjoy more: live photo sessions with clients or sitting at a desk working with photography software. I prefer taking photos versus editing photos, but I was also the type of film photographer who hated the dark room. If you are like me, learn what settings or features will fix the photography problems you are experiencing, and fix it while you are shooting. Time is money. Oh and be sure to create backups of your images. 
6. Not Networking with Professional Photographers
Other professional photographers in your community can help you develop as a professional photographer. Spending time with other photographers will help you look at scenes, shots, equipment, time, and clients from new perspectives.
There is the Professional Photographers of America Association (PPA) with conferences and events. There's The American Society of Media Photographers (ASMP) considered the "leading national organization of professional photographers and the accepted authority setting the standards for business practices in professional photography."
There are also professional photography Meetup Groups, Facebook Groups you can join and the annual October Scott Kelby Worldwide Photowalk.
What you learn networking with professionals: Networking with other professional photographers will help you obtain more clients through referrals, expand your photography business knowledge, grow your photography business and increase your profits by learning what mistakes not to make. Professional photographers are known for sharing their business successes and mistakes with other photographers. Plus there will be times when a photographer can't do an event or take on a project, and you may be the photographer they choose to refer clients to when in a pinch.
7. Working Without a Contract
Showing up to a shoot without a signed contract will ensure that your professional needs aren't clear to the client and probably won't be met. And your client's needs won't be spelled out in a way you both agree. A signed contract will minimize the possibility of disputes after the shoot and resolve the issues that can arise.
A professional contract with your client communicates, not only the amount you are to be paid, but how your invoicing works and when you expect payment. Contracts are legally enforceable and can support you if you need to take legal action against a client or a venue.
What you learn from working without a contract: Once, a client canceled last minute on me for an event that took me quite a bit of time and money to prepare to shoot. I had spent two weeks in preparation, and I'd turned down two other job offers to make room on my calendar for the event. Since we hadn't signed a formal contract, the chances of me winning in court were slim. I also realized the client could cancel because there was nothing in writing between us stating what my cancellation terms are. Don't make this costly mistake. Creating an offer and having a signed contract shows that you consider yourself a professional photographer.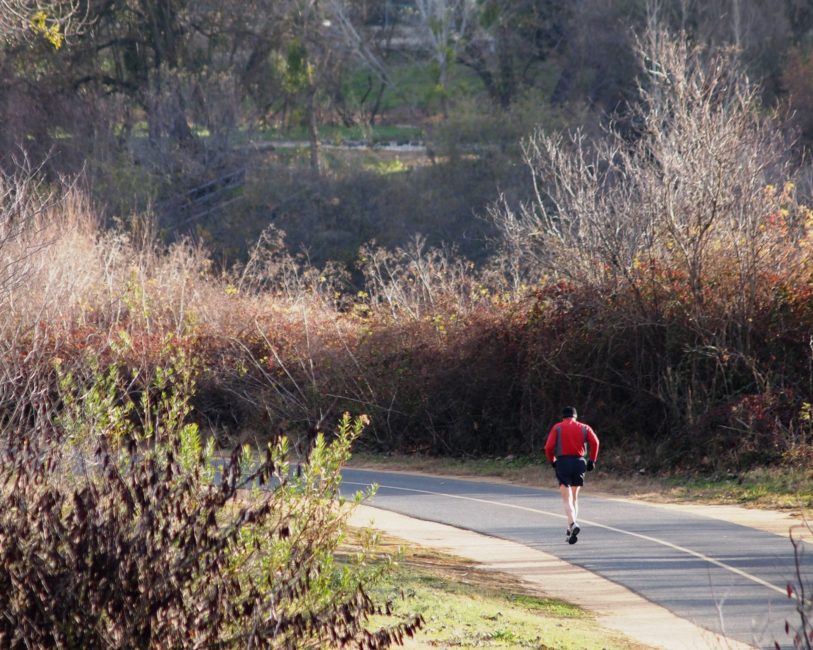 8. Ignoring Marketing Your Photography Business
Marketing your photography business is an integral part of being treated like a professional. You need to have a business website that showcases your photography with your contact information along with a professional email address (forget Gmail, Fastmail, Outlook, Yahoo, AOL, or your Internet provider email). Claim your business Yelp page and enter all of your business information including the time you consider your business to be "open" where you are willing to accept phone calls. Enter your information and some photos in Google My Business, so your photography business appears in Google search. Create a Facebook Page and Instagram Page. Ask family and friends who have used your photography services to rate you on social media.
Understand what makes you and your photography different and market from that niche. You can't be everyone's photographer so work towards what you love and create a niche. One of my favorite examples of niche photography is Kat Williams' of Rock-N-Roll Bride. She has built a profitable business model around being the go-to photographer for alternative weddings.
What you learn from marketing: Correctly marketing your photography business helps your potential clients understand why your photography is the right choice for them. Your time is valuable, and you don't want to spend a lot of time explaining what you do to prospective clients. Your website and social media presence should convey to customers who you are and what you before they pick up the phone to call you. You also want your marketing to work for you while you are sleeping and listing your business in Google can help. Also, remember to ask your clients for referrals when they are happy with your work. Always be selling your business.
Finally, I'd like to add to be sure to schedule creative photography breaks for yourself. Set aside time to take photographs for fun and work with different lenses and tools to experiment with your art.  Calendar weekly creative time and stick with it like you would an important client, so you don't get burned out on doing what you love for a living.
These are my top 8 mistakes new professional photographers make with their business. I hope my advice helps your dream photography business grow. Now go out there and take some photographs today!
Remy Gervais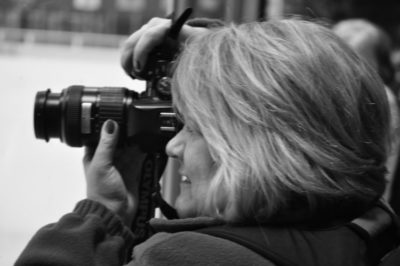 Remy Gervais is a professional photographer and EMyth's training and development manager. Remy's professional photography is fueled by an artistic drive and an eye for the unexpected. Although she helps EMyth business clients manage successful businesses, you will still find her working with private photography clients.

Enjoy this special 8WomenDream Guest Contributor story submitted by new and experienced big dreamers throughout the world, edited and published to capture a dream perspective from different points of view. Do you have a personal dream story to share with 8WomenDream readers? Click here to learn how to submit dream big articles for consideration.
Note: Articles by Guest Post Contributors may contain affiliate links and may be compensated if you make a purchase after clicking on an affiliate link.