Last updated on April 2nd, 2012 at 03:12 pm
In honor of my favorite holiday Halloween coming up, I thought I would share a horror story with you. This is a ghastly tale of cash flow and late billings. On the path to entrepreneurial success I have realized that money is the root of all your dreams, and not evil.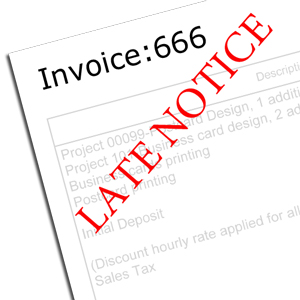 After 6 years as a small business owner (We made it – Our 6th business anniversary was official this week!) I have discovered I have made a few of these mistakes with my clients in the past. I only hope that my sharing this tale of fright might help you avoid some of this horror yourself.
Forgetting to bill the client – this sounds extremely improbable, but before my accounting system was in place it happened ALL the time.
Losing track of unpaid invoices – of course if you don't have a decent estimating or billing process, this is an easy one to let slide.
Setting bill rate too low/Discounting services – after several years of estimating, I am getting really good at charging a fair project rate. What I am really bad at is after the fact by eating overages on the project when they come up. My bookkeeper is attempting to break me of this habit.
Not setting aside money for taxes – is it me, or do these dates sneak up? They do come on a regular scheduled basis, and keeping a pile ready makes it so much easier to deal with.
Bad contract negotiations/terms – I learned quickly that no terms = no project. I would love to do business on a handshake, but it is much better for both parties to have a complete understanding of what each party will provide.
Dependent on a single client – I haven't had this issue, but know several independent business owners who have been slammed by a sudden budget cut by their primary client. Hearing the infamous "we are taking this in-house" makes you hit the pavement quick to drum up new clients.
Delaying bad news – no one likes to be the bearer of bad news. Being the bad guy every once in a while, and allowing you to be the scape-goat can keep long term client relationships happy.
Ignoring referrals – as an involved member of a business networking group, I found this to be a quick way to kill your professionalism. Call referrals, follow-up and make it OK for them to say NO. It may be a yes in the future.
Which of the above mistakes in business have you made? What is your slap-on-the-forehead "I can't believe I did that again" thing you always screw up?
We are all human, and we all make mistakes. Unfortunately, doing business and keeping a professional image means fewer mistakes are better. And if you aren't sure what that weakness is in your business, ask your clients. They know better than anyone.
Here's to a profitable, mistake-free week in business – Heather
(Heather's dream is to have multiple streams of income, starting with launching an e-commerce website that showcases her one-of-a-kind designer jewelry, which are crafted by her.  Heather's post day is Thursday and her newly launched sites are couture jewelry available through For Your Adornment, and  Twitter background design on Twitter And Beyond)

Heather Montgomery is a fitness writer, triathlete, and serial entrepreneur who is devoted to sharing what she has learned about becoming a triathlete after age 40. She uses her Metabolic Training Certification to help other women struggling to get fit in mid-life. She lives and trains in Santa Rosa, California, the new home of the Ironman triathlon. You can find her biking the Sonoma County wine trails.
Note: Articles by Heather may contain affiliate links and will be compensated if you make a purchase after clicking on an affiliate link.