Last updated on July 12th, 2022 at 02:59 pm
Sitting cross-legged on cushions on the floor, the atlas spread out on a low wooden table in front of us, we poured over the map of India. I was familiarizing myself with this fascinating country where I will be spending the entire month of January.
Jun-San, the Buddhist nun who lives at the Grafton Peace Pagoda, was pointing out destinations all across the country as we sat together in the back room of the temple next to the pagoda. There is a Peace Pagoda I can visit in Mumbai, and another in New Delhi. For an extra $25 it's possible to buy a visa at the border to travel to Nepal to visit the birthplace of the Buddha in Lumbini.
She shared phone numbers and emails for contacts at the pagodas and suggested other spiritual sites to visit: the Mahatma Gandhi Museum. The Buddha-Gaya, or the Bodhi tree where Buddha was enlightened.
I almost couldn't believe I was sitting there planning my trip to such sacred destinations with this sprightly, tiny Japanese nun at a Peace Pagoda located just one-half hour from my house in Troy, New York. How exactly did this come to be?
Traveling To India Is A Dream Come True
For years now, I have had some Big Dreams, and yes I'd call them Big Dreams with a capital "B" and "D", because they seemed beyond my reach years ago and yet I dared to hope that one day they would come true. These included, of course, writing my book, which is complete in draft manuscript form and being edited right now.
And they included traveling around the world and "teaching joy." Helping people to live their dreams.
I wasn't sure exactly how this was going to happen, or what it would look like, yet I dreamed of doing it someday.
Five years ago, I created a 20-year "Business Plan" for my life with a vision of what I hoped to be doing someday. Part of it included this mission statement: "To contribute to global transformation through my writing, dancing, and public speaking. To bridge cultural divides. To learn and teach."
For years now I have felt that I would be doing more and more traveling around the world, leading workshops, writing, teaching, and speaking. I just wasn't sure how it was going to happen, exactly.
This past August, I organized "Joyshops" for the spiritual leader and teacher Nithya Shanti, who is based in India. He was touring around the U.S. and I invited him to teach here in my little city of Troy, New York.
During our time together, we discussed collaborating on workshops in the future. We kept in touch and created a vision to conduct weekend-long "Joyshops" in which Nithya teaches meditation and how to "be happy now" on the first day of the workshop, and I lead exercises around visioning and living your dreams on the following day.
He invited me to teach with him in India. So off I go!
Dreaming The Next "Big Dream"
My "Big Dream" of the past year was to write my first book. I completed it, and am now waiting for my writing coach to complete edits to the manuscript. Then, we'll send query letters to agents. The goal is to land an agent and find a publisher in 2011.
In the interim, the other "Big Dream" is to help inspire and empower people to live their dreams, and to travel the world doing this. Here at 8womendream, we'll be cooking up some fun dreamers' workshops to take place on both coasts in 2011, so stay tuned for details on those!
And in the interim, I get to live another dream, beyond what I could have even imagined years ago, of traveling to India to teach.
Getting Ready To Live The Dream
Over the next few months, I plan to study the Hindi language, learn more about the culture, and map out the details of my trip. I am fortunate to have many friends in India and will have so many wonderful hosts to show me the country. I'm incredibly blessed!
I can already picture myself walking the streets in a jewel-toned sari, wrapping myself in the bright silk fabric. I plan to buy and wear a brightly decorated salwar kameez as well. I can picture myself dancing at an Indian wedding, twirling with the other women in saris (I don't know that I have ever seen anything more beautiful than an Indian wedding, and I'll be attending one while in the country!).
My friends have offered to teach me Bollywood dancing.
To me, the dream of India is that of a colorful, spiritual, diverse country. It is the most populous democracy in the world with 1.2 billion people, overflowing. I have been told that witnessing the extreme poverty and the chaos in some of the cities can be difficult. Yet I have the sense that I will love all of it, and be humbled and awed to simply witness the splendor of humanity, the dazzling jewel that is India.
I can't wait to wrap myself in silky fabrics, to adorn myself like a princess of India in bright colors and ornaments for the sheer delight of it, to be in vegetarian Heaven with all the delicious curries, chutneys, and samosas. Somehow I know the cacophony on the streets and the lilting and beautiful accents will be music to my ears.
I can't wait to breathe in all that is India.
Like writing my book, this is something I have dreamed about for a long time. Like writing my book, when the moment was ripe, everything clicked into place. There is real magic in creating a vision for your dreams, and committing to making it happen.
Commit, Commit, Commit…
One of my favorite quotes of all-time is from mountain climber and former prisoner of war W. H. Murray, quoting Goethe in a sermon:
"Until one is committed there is hesitancy, the chance to draw back, always ineffectiveness… the moment one definitely commits oneself, then Providence moves too. All sorts of things occur to help one that would never otherwise have occurred. A whole stream of events issues from the decision, raising in one's favor all manner of unforeseen incidents and meetings and material assistance, which no man or woman could have dreamt would have come this way. 'Whatever you can do or dream you can, begin it. Boldness has genius, power, and magic in it.'"
I know known this to be true in my life. When I commit and begin, the universe responds with synchronicity. Somehow, eventually, everything maps out.
For example, when I hosted workshops with Nithya this past summer, I didn't know that it would lead to this trip. Yet I was following my dream vision of enriching my own spiritual life and giving back by hosting workshops for Nithya in Troy. I told Nithya about dream-visioning workshops that I had created, we talked about collaborating, and before I knew it I was booking my plane tickets to India.
Sometimes it is really that simple!
Dreaming "Big Dreams" can make your dreams come true when we have the courage to follow our hearts and take action —
This week I would challenge you to revisit for yourself what your greatest dreams are.
If you don't know yet, this might be a good time to sign up to buy the e-book, Find Your Dream, here on this Website, chock-full of great exercises, suggestions, and ideas about how to find and live your dreams.
Then, I'd challenge you to write a vision for your dreams as if they are already happening.
Imagine yourself doing what you've always dreamed of – living out your greatest dreams in the future – and write about it as if it's happening now.
Finally, bravely begin to take some action toward your dreams.
Baby steps are all most of us can manage at the beginning. Just commit to doing something to set your dream in motion, whether it's contacting someone who has lived a similar dream already, writing a commitment pledge to the universe about what you intend to create, or researching online about how to make this dream a reality.
I'm amazed at the power of vision and commitment. I am walking into a future more beautiful than I ever imagined, soon to be wrapped in a silk sari, breathing in the fragrance of incense, chai, curries, dosas, and daal.
And that, my friends, is the power of dreaming big.
Lisa Powell Graham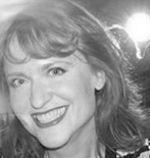 Lisa P. Graham is an inspirational writer, life coach, TED motivational speaker, and globe-trotter whose passion is to help others to find happiness and meaning in their daily lives. A political activist at heart, Lisa would like to empower more women to run for political office as a way to create positive change in the world. You can find her on her website or watch her TEDx speech on YouTube.
Note: Articles by Lisa may contain affiliate links and may be compensated if you make a purchase after clicking on an affiliate link.