Last updated on February 16th, 2023 at 01:33 pm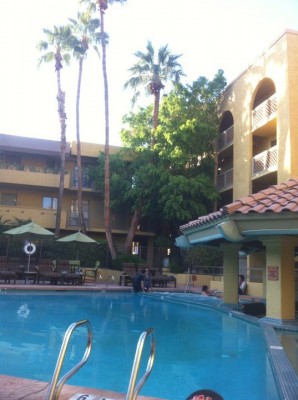 We lay side by side in wordless silence by the pool, warmed by the sun, palm trees standing guard over us, glowing from within. It had been the perfect weekend.
I had arrived in Phoenix, Arizona as part of my dream goal, two days earlier to attend a weekend-long life coaching training conference with Martha Beck, a best-selling author and life coach who writes for O magazine and now also produces Martha's "Live Your Best Life" series.
I intended to learn, grow, and connect with classmates, or as we call them in the group, "Tribemates." Yet I didn't know what would happen inside me, or what would radiate from me from the transformation. It was as if a light bulb had been turned on again, or the dimmer switch turned up to make the light in the room brighter.
I was remembering how to shine without worrying about what others thought of me, and without entertaining my own self-doubts. We talked a lot about "magic" over the weekend, which really is what life feels like without fear-based thoughts, when we are simply open to life, enjoying the dream journey, and moving in the direction of our dreams.
It was my time in the sun.
Decompressing After The Intensity
It had been two full days of workshops and interacting with my Tribemates. We all seemed to have landed in this place through a strong intention to change the world for the better, in many cases precipitated by having suffered intensely in our own lives. It seemed that most of us in the room had endured significant struggles on the journey so far.
But what human beings don't struggle, even if they don't reveal their pain to the world?
I had so many intense and wonderful conversations and worked through so many exercises designed to help me drop back into my "Essential Self," the one that knows what I need to do now to fulfill my highest purpose in life and to live with the greatest levels of joy.
It was Sunday afternoon and after absorbing so much intense energy all weekend long, and giving so much out, we were lying by the pool, enjoying the hot Arizona sun.
This Is How It's Done
My classmates and I were lying by the pool chatting about the weekend, and our intentions and goals moving forward. At one point, I went off on a tangent about how imperative it was to use our gifts to change the world, how the world so desperately needed it, and how we needed to show up powerfully in the world now.
One of my "Tribemates," Beryl, asked me after I shared what I did to calm myself down. I said that I meditated daily, that I did some yoga, and that I exercise regularly.
She said, "Because your energy is so intense right now. I know that you are clearly brilliant and talented, with so many gifts to give to the world. But I feel like you are coming at me so fast right now and I can't keep up with the speed of your energy and ideas. You're moving too fast for me! It's making me anxious."
Normal Poolside Conversation
This may not have qualified as a "normal poolside conversation" for most people who are sipping margaritas in bikinis. For us, it was just another chance to "check-in," and to ask the question: am I operating from my Essential Self here? Or is my "Social Self," otherwise known as "ego," operating here?
I checked in. My energy had indeed flared up, even the speed at which I spoke my words out loud increased. What was going on with me?
I explained to my Tribemate that I felt as though there was tremendous potential energy within me that was about to be released as kinetic energy, and I was feeling so excited and passionate about it. Sometimes when I am excited, my energy speeds up, to the point where it almost becomes manic.
That seemed to be happening. Another Tribemate asked that we meditate together, take some time out just to breathe, and simply enjoy the moment: the feel of the sun on our skin in the late afternoon, the warm air, the gentle splash of the fountain at the end of the pool in the background, like a mini-waterfall emptying into a stream.
So we did. We set a timer for fifteen minutes of silence, just to show ourselves we could be there together in the wordless-ness and enjoy it. Time to breathe. Time to just BE, after such an intense weekend full of learning and epiphany moments for so many of us.
Transformation in Silence
It was amazing. Just dropping back into silence after all we'd been through over the weekend, just breathing deeply and allowing myself to calm back down after my excited energy spiked, felt so peaceful, and was so freeing.
And it felt like a metaphor for me for my biggest epiphany of the weekend.
We'd be doing a coaching exercise in one of the workshops, and my coaching buddy, James, led me through it. We'd been asked to identify any pain or "off" sensation in our bodies, and then to name it, and ask it questions. Essentially, we were to ask if the pain or discomfort in our bodies if it had a message for us.
I had chosen the vague cloud of anxiety that sometimes still settles into the pit of my belly, and named it the "Gray Amoeba." Now, according to the exercise, I was supposed to become the Gray Amoeba, and James would ask me questions.
He asked me to use three words to describe myself (as the "Gray Amoeba") and the three that came to mind were: unsatisfied, hungry, and disturbed. He then asked me if the "Gray Amoeba" had any messages for Lisa.
What Came Next!
The gray cloud of anxiety in the pit of my belly apparently did have some messages for me. And they surprised me!
James and I, together, through him, asking leading questions and me responding, figured out that the "Gray Amoeba" to me felt like gray clouds, shrouding the sun, that dimmed my brightness, and didn't allow me to shine fully. They were the fears and self-doubts that sometimes still arose, even after years of personal work on myself, life coaching, self-help books, and the like.
Here Comes The Sun
What we figured out is that for me, when the anxieties or limiting thoughts show up, I still sometimes turn my focus to them, and it of course stresses me out. What we decided the "Gray Amoeba" was there to tell me however was that all I really needed to do was to keep on shining, and focus on shining my light even brighter, knowing that even when it's a cloudy day the sun is still shining behind the clouds.
The weather may change, but the sun is always shining somewhere, the bright hot star that it is in the sky.
I felt that there was a message about me giving myself permission to live my biggest, brightest life and that it was finally time for that. I needed to just focus on shining my light, and not get too caught up in the clouds that were my fear-based thoughts that would still float on by sometimes.
I was ready.
The Magic of It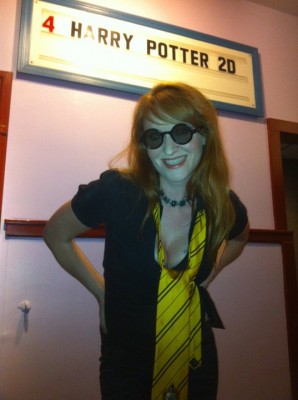 Some of the Tribemates joked that we were really attending "Wizard School." So many of us, through our own lives and practices, had experienced times in our lives when we experienced synchronistic events that felt like miracles, and when things seemed to align in divine timing, magically.
Martha talked often about how once she learned how to "clean up" her thoughts and not focus on fearful thoughts that were causing her anxiety, and just to follow her soul's impulses, how magical her life became.
Living in this space, it feels like someone has cast a magic spell. We were learning to use our "wands" and "spells" to help people transform their lives. We were in Wizard Training.
James and I had a discussion later on Sunday about the sunshine metaphor, of me shining brightly, and of my essential nature, which is fire. I'm a fire sign and an incredibly passionate, intense, and driven person.
He said that although I am fire and light, and shine brightly, there were times when the brightness of my light almost seemed to burn others. The moment by the pool, when Beryl asked me to slow down and calm my energy again, was one of these.
He suggested that I learn how to moderate that inner fire, to stoke it when needed, and to turn down the flame sometimes as well. Of course, part of the purpose of our own inner flame is to help light a flame in the heart of others, when they are in a place of darkness or cannot find the light within themselves.
I knew he was right. I move at such a fast speed sometimes, and burn so brightly, that it can be hard for others to keep up at times. I liked the idea of moderating the fire. And I loved the idea of "lighting a candle" for others.
One candle can light a million other candles, without diminishing its own flame. As light is shared, it only grows.
Magic in the Air
The next day, lying next to the pool in silence again, I was watching the clouds pass by. I noticed that the air seemed to be shimmering, sparkling.
I had been contemplating how I could release some of my own tremendous energy, and give it back to the world. The air had an electric quality to it. I felt like the energy I was giving off was making the air glow. And I felt that I could sometimes turn down my light as James suggested, in order to meet others where they are, and know that when I did, all that extra energy would somehow be dissipated into the air, and reach them.
I felt that the air was alive with magic. And I felt that by learning to moderate and restrain my own tremendous energy when needed, I would actually have more to give, not burn out too fast myself, and not burn others with my bright energy. Instead, I could just help them light their own inner fire again.
Playing with Fire
I like playing with fire. It's what I was born to do, I think. The second to last night that my Tribemates and I were together we went to a restaurant called El Churro in Phoenix with a view of Camelback Mountain and sat next to the fire pit. I watched the flames flicker and dance, knowing that I was ready to set the world on fire, live all my dreams, and help others shine their own lights brighter.
For me, this means it's time to finally finish my book, get it published, and successfully build out my life coaching business so that I can positively impact as many lives as possible. It's time for me to live in this world on an even bigger scale, and to help others do the same.
Luckily, I am now a trained "Wizard," and my job is to help the "Muggles," or ordinary world, wake up and remember that we are capable of creating all that we dream of. Life is magical.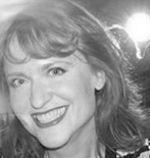 Lisa P. Graham is an inspirational writer, life coach, TED motivational speaker, and globe-trotter whose passion is to help others to find happiness and meaning in their daily lives. A political activist at heart, Lisa would like to empower more women to run for political office as a way to create positive change in the world. You can find her on her website or watch her TEDx speech on YouTube.
Note: Articles by Lisa may contain affiliate links and may be compensated if you make a purchase after clicking on an affiliate link.