Last updated on December 6th, 2012 at 10:12 pm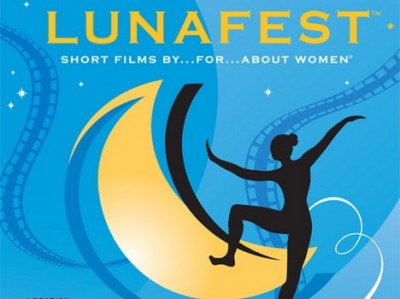 In many of my posts about screen writing and Hollywood, I've beleaguered the fact that women are sorely under represented in the movies.
Female screenwriters, directors, producers and actresses have played second fiddle to the male dominated Hollywood for far too long.
Attending the 10th Lunafest yesterday at the Spreckel's Center for the Performing Arts in Rohnert Park, California gave me a reason to believe that the tides may be turning.
Lunafest is a festival of short films by, for, about Women. Hallelujah! It was established in 2000 by LUNA, the makers of Whole Nutrition Bar for Women, to simultaneously promote women filmmakers, raise awareness for woman's issues, and support women's nonprofit organizations throughout the U.S. and Canada.
Not only does the 150 city traveling tour promote these movies, 100% of the net proceeds go to local organizations. Yesterday's festival benefited The Sloan House, a twenty-two bed facility for homeless women and The Breast Cancer Fund. There was a silent auction, scads of food and wine and live music to entertain the guests before the films were shown. Goodie bags full of healthy bars, teas and supplements greeted us as we took our seats.
Emmy award winning Film Critic Jan Wahl welcomed the audience and regaled us with a few stories of Marlon Brando and Mae West. She then introduced us to Kit Crawford, coordinator of Lunafest. Kit reminded us that we need more women behind the scenes to tell the stories of women.
And oh boy, do women have rich, funny, touching stories to tell on the screen! And they did on Sunday with ten distinctly different short films from not only the United States but Scotland, Israel and the UK. They are:
The Translator-a foreign film translator finds her story on a subway line.
Getting A Grip-a film about Fannie Barnes, who became the first women cable car operator in San Francisco.
Touch-two women make an unusual connection while waiting for a train.
Tightly Knot-a new generation of yarn bombers and social knitters discover that the ties that bind are sometimes made of wool.
Top Spin-with hard work and family sacrifice, a young table tennis champion works toward becoming one of the top players in the world.
Tembi's Diary-nineteen year-old Thembi records an audio diary of her struggle to live with AIDS.
Mother of Many-the most dangerous journey sometimes needs a helping hand-a midwife.
Irene-Ninety-two year old Irene suffers from Alzheimer's but struggles to keep her independence.
Miracle Lady-a tale of two old women who spend their days waiting.
Love on the Line-follow the dots and dashes as two star-crossed lovers curb their raging hormones via the quickest form of communication available-the telegraph.
Although all of the films were ingenious and interesting in their own way, two movies really struck a chord with me.
Miracle Lady was a claymation film from Israel centered around two women. Fortuna is an old lady who waits in her wedding gown for her late husband to return home. Her next-door neighbor, Marcela Merkada, the servant of the mean Rabbi Toledano, awaits to come and take her away. When their fates connect, they are both miraculously freed.
It was a very clever story with a inventive ending that had the audience cheering. (every film was given a round of appreciative applause)
My very favorite film of the festival was "Touch" winner of Grand Jury Award-Florida Film Festival, Best of the Fest-Palm Springs ShortFest and Best Drama Short-Breckenridge Film Festival. (I was unaware of the awards before viewing this short)
A middle-aged woman Lily Knight (Jean) stands on an empty platform waiting for her train to take her home from work. Day in, day out. You can see the sheer sadness in her eyes and her body language tells all. She is wondering what's keeping her from stepping in front of her train when it arrives. An anxious twenty something Rachel Kanouse (Heather) approaches Jean asking her what is the number of train she is waiting for.
Jean softly offers, "That's the first time someone has said anything to me in the three years i've been coming to this train station." They will be riding the same train. Heather is late for an job interview and nervously bides her time with her nonstop chatter. When Heather finally comes up for water after her incessant ramblings, she notices that Jean looks sad.
She tells Jean of the movie she has seen about an angel who wants to be a human. And the power of an angel's touch. Heather embodies the angel and touches Jean's shoulder. Heather gently asks if Jean wants to kill herself and Jean replies she's thinking of it. The more they talk, Jean's fatalistic mood eases and by the end of this short, she realizes, with a touch, a connection with someone who shows her compassion; she wishes to stay among the living.
This kind of movie evokes feelings, emotions and sisterhood. Just what Hollywood needs and if they would take off their blinders (making their movies for the 18-24 year old male target audience) and let women make movies for women, they'd be rolling in the all mighty dough. As a woman, this collection of diverse thought provoking films will leave you very inspired. Do yourself a favor and go to: www.lunafest.org and see if this wonderful festival will be coming to your town.
Have you been to any film festivals? Do you have any favorites from those festivals?
It's got me thinking, I just got a Flip camera. My dream has always been to be in the movie business in some capacity or other. Maybe I'll film a documentary on the making of this white middle aged rapper I know.
See you at the movies –
Toni
Toni' placed her dream to get her screenplay, "Divine Intervention" and reality show, "The Bitter Bus" produced on hold while she works on Club B. Toni left 8 Women dream November 2010 to work on Club B full-time.


Enjoy this special 8WomenDream Guest Contributor story submitted by new and experienced big dreamers throughout the world, edited and published to capture a dream perspective from different points of view. Do you have a personal dream story to share with 8WomenDream readers? Click here to learn how to submit dream big articles for consideration.
Note: Articles by Guest Post Contributors may contain affiliate links and may be compensated if you make a purchase after clicking on an affiliate link.