Last updated on July 1st, 2022 at 04:58 pm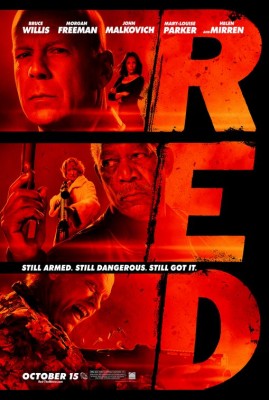 Do you know when your big dream began?
As a young girl, I was smitten with the movies. I was mesmerized by watching a story unfold on the big screen. It didn't occur to me that this piece of magic was someone's dream. Their everything. From the very first inkling of an idea to the final credits.
A project that would take years to make and many obstacles to overcome.
It's a real testament to the many creative people, from the director to the editing team, to collaborate and create a movie, fulfilling the screenwriter's dream. So, here's a salute to the screenwriting team of Jon and Erich Hoeber for penning "Red" and seeing their dream realized.
While the editing of my screenplay is on hold, I offer up for you this screenwriter's movie review of RED.
RED
This madcap, stunt-filled zany movie is a much lighter version of the darker and more violent DC Comics graphic novel written by Warren Ellis and Cully Hammer.
There's a definite comic vibe to it with witty wry humor and over-the-top action. RED stands for Retired Extremely Dangerous. It could also be called RED as a representation of the amount of blood that is splattered all over the screen.
Bruce Willis stars as a former CIA agent (Frank Moses), a black operative who struggles with living a quiet mundane life after being forced to retire. His greatest joy is tearing up his retirement check every month and claiming it got lost in the mail so he can continue to woo pension worker Mary Louise Parker (Sarah Ross). Sarah bored with her humdrum life lives vicariously through romance novels and dreams about all the places she'd love to travel to.
One night, ninja assassins are sent to Frank's house to kill him. Instead, Frank turns the table on them and they end up quite dead, leaving the job undone. He quickly surmises who is behind this and wants to find out why his former employer wants him dead.
Frank goes on the run and kidnaps Sarah convincing her that whoever wants him dead will want the same fate for her because of their twenty-two telephone conversations. She relishes the idea of being involved in dangerous situations.
Frank discovers that the government agency is hell-bent on killing him and some of his associates after hearing about a reporter (who ends up being murdered) who leaked news of a government coverup of an incident in Guatemala in the 80s.
He enlists the support of some of his former colleagues to break into the CIA headquarters to see who's behind all of this. They are-
Morgan Freeman, (Joe Matheson) is an ex-CIA recruiter and his wise and trusting mentor.
John Malkovich, (Marvin Boggs) is a former test subject (given daily doses of LSD for 11 years) who lives in a bunker and is paranoid in his belief that he is still under attack.
Helen Mirren, (Victoria Winslow) is a Kalashnikov-toting former sniper expert.
The brilliantly cast (kudos to casting director Deborah Aquila-"Dexter", "The Shield") is further enhanced by: Richard Dreyfuss (Alexander Dunning), a ruthless financial overlord; Brian Cox (Ivan Simonov) a former Russian enemy of Franks who likes to seal any conversation with a few shots of Vodka, Karl Urban (William Cooper) CIA agent who ruthlessly pursues his "old" target and shows full character development throughout the movie) and a charming cameo by Ernest Borgnine (Henry), a documents specialist.
When they discover the Vice President is the man behind all of this, it's assassination time. Get them before they get you.
"RED" scores from the comedy injected by the Hoeber brothers and director Robert Schwentke coupled with the visually tantalizing action sequences courtesy of cinematographer Florian Balhaus. ("The Devil Wears Prada" and "Marley & Me"). It's evident this heady cast had fun filming this movie and it's infectious to the viewer. Sure, parts of the movie are implausible, but look past that and enjoy the wild ride.
Who knew Helen Mirren would look so sexy hot firing automatic weapons? Or the fact that you find yourself rooting for Marvin Boggs, the genius nut job gifted with the slickest one-liners in the movie.
Only in Hollywood is someone seriously old at 55, but this is the underlying thesis of "RED" and it works like a charm." Joe Morgenstern
Is this movie popcorn worthy? Definitely!
Toni Schram


Enjoy this special 8WomenDream Guest Contributor story submitted by new and experienced big dreamers throughout the world, edited and published to capture a dream perspective from different points of view. Do you have a personal dream story to share with 8WomenDream readers? Click here to learn how to submit dream big articles for consideration.
Note: Articles by Guest Post Contributors may contain affiliate links and may be compensated if you make a purchase after clicking on an affiliate link.