Last updated on October 31st, 2019 at 02:37 pm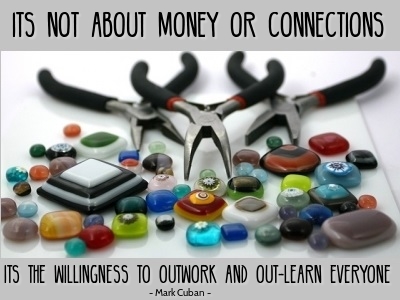 We all have strengths that we can use to do great work and pursue our passions. Just because you may not be able to work on your dream every day as your job doesn't mean you can't make your dream come true.
The problem with most dream ventures, at least those on my entrepreneurial dream list, is they require some start-up cash.
However, you don't have to takeout a loan or max out your credit cards to finance your big dream. Your paycheck from your current 9 to 5 job can help you finance your idea. Your job can be your big dream venture capital.
And once you look at your job as a way to finance your big dream, you'll be pleasantly surprised how much better you feel doing it.
Your day job venture capital can help with:
• Supplies.
• Research.
• Advertising/Marketing.
• Testing.
Here's a personal example. My obsession with beads, wire, and jewelry tools started long before I sold my first piece of jewelry. My first dream entrepreneurial venture started as most do, as a hobby. I wasn't considering the purchase of a $30 string of polished jasper beads as an investment. That's what is, and before I knew it, one necklace turned into another, and people began asking me for custom pieces–I was suddenly bootstrapping my way to a product launch dream.
In case you're not familiar with the term, "Bootstrapping is building a company from the ground up with nothing but personal savings and, with luck, the cash coming in from the first sales. The term is also used as a noun: A bootstrap is a business launched by an entrepreneur with little or no outside cash or other support." (Source: Investopedia)
Some of the goals on my product launch list don't cost me anything but time, which sometimes can be more precious than cash. When you're working a demanding job for your dream seed money, time is in limited supply. But the lack of time forces you to focus on what you need to know and do as a priority. You learn to use your free time wisely.
Entrepreneur Mark Cuban discusses launching your idea without capital in this short video below:
Heather Montgomery

Heather Montgomery is a fitness writer, triathlete, and serial entrepreneur who is devoted to sharing what she has learned about becoming a triathlete after age 40. She uses her Metabolic Training Certification to help other women struggling to get fit in mid-life. She lives and trains in Santa Rosa, California, the new home of the Ironman triathlon. You can find her biking the Sonoma County wine trails.
Note: Articles by Heather may contain affiliate links and will be compensated if you make a purchase after clicking on an affiliate link.