Last updated on April 2nd, 2012 at 12:50 pm
That night, alone at an Italian restaurant on Union Street in San Francisco, eating my manicotti and sipping red wine, I contemplated what I would do if I truly only had one year to live.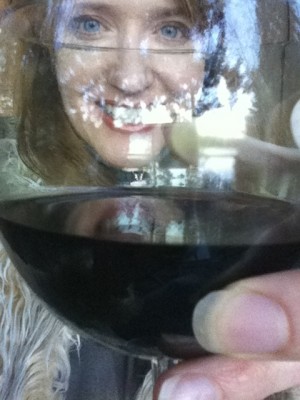 I feared that could be the case. I had found a lump in my breast and was waiting for my doctor's appointment.
It was not a happy time. My divorce was fiercely difficult, my career dreams were not mapping out for me the way I'd hoped, and suddenly I thought it might just be time for me to die.
If I truly only had one year to live, what would I do with it?
Plumbing the Depths of Our Consciousness . . .
I made myself write in my journal over dinner, imagining what I would do with the gift of that one year if that was all I had left to live.
It made some of my life's biggest dreams seem unachievable. Having children for example — I couldn't pull that off quite so quickly, and of course it'd mean leaving them behind for someone else to raise.
I mentally scanned all the "life lists" I'd made over the years.
World travel – that was important to me, sure, and I'd done a lot already, but I couldn't think of any one place I couldn't live without seeing. Seeing friends and family was a given, and I knew I'd fit that in. What was it exactly that I would regret not doing if I never did it?
As Simple As Telling It Like It Is . . .
For me the answer quickly became clear. I had promised myself more than a dozen years earlier that I would tell my story someday if I thought it could help and inspire others.
In 1995, when I was 24, I'd tried to take my own life. I'd survived it.
Grateful for another chance, I decided that perhaps sharing my story someday, about the trauma I'd survived, now that I was still alive and could make something of my life, could be helpful to others. Yet it would take me a long time to heal enough to feel ready to tell that story.
Healing Over Time
My years living in San Francisco from 2005 to 2008, after moving there post-graduate-school, were a very healing time. I was going through a tough divorce, yes, but I also was for the first time in my adult life focusing on my own health and healing.
I studied yoga. I went away on silent retreats. I learned how to meditate. I became a vegetarian.
My physical, emotional, mental, and spiritual health was for me, for the first time in my life, truly my top priority. Up until that point in my life I had always made everyone else's needs a priority, and my health was sometimes sacrificed.
I was learning to love and care for myself. I was learning how to be happy, which may sound strange, but I had spent a lot of years suffering, and it was habit by now.
Speaking My Truth
Working up the courage to tell my story took a while. In 2009, my best friend, who is a therapist for victims of sexual trauma and assault, invited me to be the keynote speaker at a Take Back the Night rally in Troy.
It was the first time I would tell my story in detail to a large audience. It was an exhilarating prospect in a way — I could stand up there and tell others how I had healed and built a happy life for myself. It was also terrifying.
I agreed to do it.
My story was on the front page of the paper the next day, and my world surprisingly did not collapse. I had spoken the truth out loud about what happened to me, and survived it. And apparently, from the feedback I got after the talk, I helped some people along the way as well. It was time to tell the story I had promised to tell all those years ago.
Now Comes The Dream Team
I found a writing coach because after all what the hell did I know about writing a book? I'd been a freelance journalist since college but writing a book seemed much bigger.
It was daunting.
How does one DO it exactly? I had no clue! And then I stumbled onto an ad seeking a "fun fearless female writer" to be part of the team at 8womendream.com. I applied, landed the gig and the rest, as they say, is history.
Living The Dream
That was one year ago. One year ago I committed to all of you, here, that I would write this book, and tell my story finally. And GUESS WHAT?
I did it!
Victory!
Last week was the "homestretch." The manuscript was due to my writing coach on 10/12/10. For the week before it was due, I'd been hiding away in my boyfriend's lakehouse in the woods, where there was no Internet connection, where I could not be distracted.
Surely there was magic in the air there because my book just poured out of me.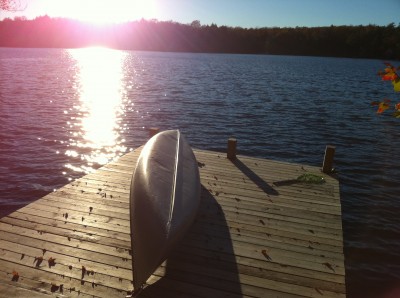 My creative output over the week was prodigious.
I entered the lake cabin with a 295-page manuscript (double-spaced, Times New Roman, 12-point font) which frankly I already thought was pretty long. I left with a 476-page manuscript and a Foreword. Including the six-page Foreword, I wrote a whopping 187 pages . . . in ONE WEEK.
That's an average of twenty-seven pages a day, which makes it seem slightly more human and doable. But still. I have no idea how I pulled it off.
The World Was On Fire . . .
When I first fell in love with my "Big Kahuna Ex-" Steve, who figures prominently in the book, we used to joke that "the world was on fire." A five-alarm five, for the meeting of Lisa and Steve! It was like that, only I was in love with this book, this creative process, with the beautiful lakehouse setting, with just being alive.
Life flowed through me.
My Process
When I first got to the cabin, I sat down with a glass of wine (or, let's be honest, more like two or three) and read the whole manuscript, cover to cover. I wanted to see if the story flowed from beginning to end and if I had successfully communicated what I'd hoped to in the book. Then I wrote a list of scenes that I felt were still needed to make the book, as a whole, make sense.
And then I dove in and wrote scene after scene after scene . . . Taking breaks only to eat, sleep and gaze out over the lake, marveling at the autumn foliage, trees on fire, marveling at the sun dancing on the surface of the water.
D-Day
Tuesday was my deadline. Monday night I decided I'd just push through and whatever got done, got done. This was it! I stayed up until almost 5 in the morning. At 4:52 a.m. I had written 452 pages. I would still write another 20 later in the day, but for the moment my brain was fried and I officially declared the book DONE.
Sharing The Joy With the World
I celebrated by logging onto Facebook on my iPhone, which was my way to "cheat" since my laptop didn't have Internet connection. I announced that the book was done. I launched a Global Dance Party, inviting everyone to turn up their radios, around the world, and dance with me!
And I put on my bikini and did a cannonball into the lake. It was freezing, and felt amazing.
What Next?
I was lucky that that health scare years ago turned out to be nothing. And in a funny way, perhaps I was lucky that it gave me extra motivation to live my dream. Of course when you have lived your dream, the question arises . . . What next?
For me there are still several steps in this "Book Dream." First my writing coach edits the manuscript. Then she will help me find an agent. Then I need to get it published! For now I am still busy CELEBRATING the victory. I did this thing! I accomplished a lifelong dream — I have wanted to write books since I was a little girl.
And here are my questions for you:
If you only had one year to live, what would you do? What will you regret not doing when you get to the end of your life? What action steps can you take, now, to set that lifelong dream in motion?
Lisa
Lisa is a freelance writer, consultant and life coach who has published articles, essays and poems in journals and newspapers across the United States. She has her BA in English and Creative Writing from Princeton University, and earned her MPA at Harvard in 2005. Lisa launched her dream to write her first book by signing up for Ellen Sussman's "Memoir-in-a-Year" class. She just finished the first draft of her book manuscript! Lisa is also a lindy hopper, blues dancer and belly dancer. She has traveled extensively around the globe. Lisa's post day is Tuesday.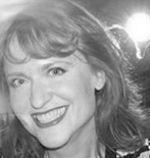 Lisa P. Graham is an inspirational writer, life coach, TED motivational speaker, and globe-trotter whose passion is to help others to find happiness and meaning in their daily lives. A political activist at heart, Lisa would like to empower more women to run for political office as a way to create positive change in the world. You can find her on her website or watch her TEDx speech on YouTube.
Note: Articles by Lisa may contain affiliate links and may be compensated if you make a purchase after clicking on an affiliate link.