Last updated on September 30th, 2011 at 06:32 pm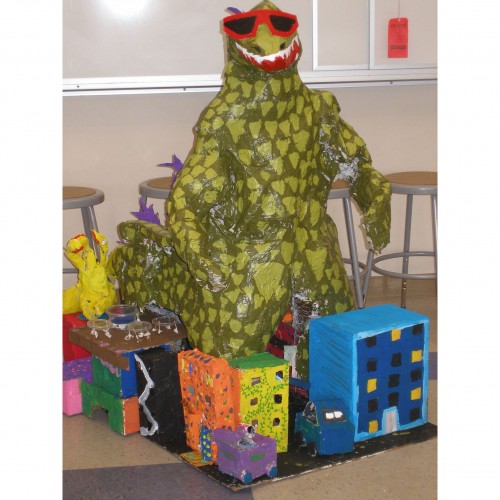 Godzilla made his voyage to the Marin County Fair today. Every year my third and fourth grade art students create an art chair for the fair. I got to drive my husband's truck with Godzilla's head adorned with sunglasses peering over the cab. Many strange looks and smiles.
This week has been very full as school finished up. Grades were do, students rushed to finish Godzilla with city and I spent an extra day doing the dreaded classroom cleaning. Tomorrow I turn in my grade book and sign out for the summer.
I was checking out another artist's website that I saw in the Art at the Source catalog and was amazed. There she was. Living my dream to fullest. An international artist who owns houses in two other parts of the world and just published her own book. I already knew her name because she is blessed with a name that demands acknowledgment, Carole Rae Watanabe.
I had even seen pieces of hers before in a gallery but had no idea about the rest of her art life.
So today, I am making plans to sneak away from my studio first thing in the morning with the help of my mother. I am going to check out Watanabe's studio and hopefully arrange to meet with her to talk about her experience.
I did have a phone interview with Grad School. So far it looks promising but I had to apply to financial aid. Because I left school mid semester before it puts me on academic probation. So I am waiting this week to see if I qualify for loans.
You have to take risks and dare to dream big if you want to move forward in your life.
What have you got to lose?
Wendy

(Wendy's dream is still to become a influential international artist, but she left 8 Women Dream in March of 2010 to complete grad school. She is still a strong supporter of 8 Women Dream.)

Enjoy this special 8WomenDream Guest Contributor story submitted by new and experienced big dreamers throughout the world, edited and published to capture a dream perspective from different points of view. Do you have a personal dream story to share with 8WomenDream readers? Click here to learn how to submit dream big articles for consideration.
Note: Articles by Guest Post Contributors may contain affiliate links and may be compensated if you make a purchase after clicking on an affiliate link.