Last updated on July 6th, 2022 at 01:23 pm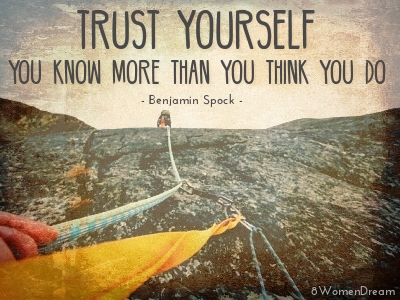 Trust is vital when you are taking the necessary steps toward accomplishing your big dream. You will never be 100% absolutely, positively sure about the future.
Even if you plan, research, strategize, analyze, and organize a particular dream milestone to happen, it might not happen. Things might not go according to your plans. This is where trust falls into place.
First, you need to trust yourself.
A Benjamin Spock quote comes to mind:
"Trust yourself. You know more than you think you do."
It's so easy to over-think or second guess yourself. The day before my first day of work, I had a mild meltdown to a close friend. I was rethinking if it was a wrong decision that I moved to San Francisco, California, accepted a challenging new job, and achieved my first big dream. My friend was there to snap me back to reality.
I need to TRUST that I made the right decision. I need to TRUST that I am in the right place. I need to TRUST that everything will work out. A daily challenge? Do one thing every day that scares you. That'll teach you a good lesson about trust!
Another great quote:
"Life is not easy for any of us. But what of that? We must have perseverance and above all confidence in ourselves. We must believe that we are gifted for something and that this thing, at whatever cost, must be attained."
Second, trust others.
Building relationships with other people means you need to trust them. You need to trust someone else not to break your heart; you need to trust someone else to support you; you need to trust other people.
If you don't believe in other people, you end up limiting yourself and limiting your dreams.
I trust my parents to give me honest and loving advice; I trust that my relationship with my friends won't change despite thousands of miles; I trust that other dreamers will continue challenging me. Who do you trust?
It's good to be wise about selecting those you trust, but be vulnerable to let yourself have trust and faith in other people.
Third, trust your situation, your dream, and your life.
With dreams, big or small, and changes, we often cling to a tight grip of control. Sometimes, it's just best to let the hold go. Moving forward and trusting means accepting the ups and downs, the twists and turns, the ins and outs.
An ALIVE Magazine excerpt states it perfectly:
Trust that, if we keep moving forward we won't step into a hole that causes us to trip and fall. Or that, if we do trip and fall…that we will be able to stand back up, dust ourselves off, regain our bearings, gather positive resources/tools, and proceed forward once again (hopefully with lessons learned and wisdom gleaned).
Craving more info about trust? See 25 Quotes About Trust, which shares 25 quotes about trust.
Above all else, trust means accepting sorrows and joy. Trust takes courage. Trust takes practice. Trust takes an open mind and an open heart.
May today be the day you trust in yourself. You deserve it.
May today be the day you let others in by trusting and embracing their support, their encouragement, and their friendship.
May today be the day you trust your dreams and accept that although things might not go according to plan, everything will work out as it should.
Andrea Teggart
Andrea Teggart considers herself to be a "glass half full kind of girl" and a lover of life. Andi is the owner of the digital marketing shop, Lucky Collective. When she's not chasing after her young daughter you can find Andi writing about life, motherhood, home decor, self-love, inspiration, travel, and her family adventures on publications such as Home Depot, EveryMom, A Beautiful Mess, Glitter Guide, and her blog, "Lucky Andi."

Enjoy this special 8WomenDream Guest Contributor story submitted by new and experienced big dreamers throughout the world, edited and published to capture a dream perspective from different points of view. Do you have a personal dream story to share with 8WomenDream readers? Click here to learn how to submit dream big articles for consideration.
Note: Articles by Guest Post Contributors may contain affiliate links and may be compensated if you make a purchase after clicking on an affiliate link.