Last updated on November 2nd, 2010 at 02:56 pm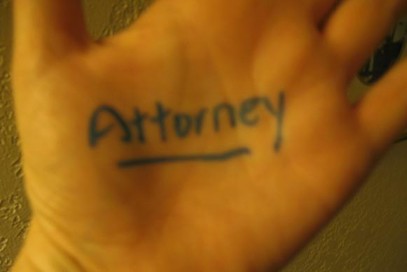 A few recent events in my life has me wondering if I'll ever truly believe in myself.
This past weekend found me back in LaCanada for the float's annual "pat-ourselves-on-the-back" dinner.  This was my 25th float, which is more float experience than the majority of other people in the room. However, I'm still surprised when everyone knows who I am, wants to talk to me, and asks me to sit at their table. Giving my "thank you" speech made me so nervous that I had to put my red Hawaiian hat on my head.  Silly, huh?
At work the other day, my colleagues and I were talking about a difficult case that may become mine. The attorney who is currently handling the case mentioned that the parents are unhappy with how the case is going.
I said, "Well, if they're so unhappy, why don't they go hire a trial attorney?"
My other colleague pointed out to me, "You're a trial attorney."
Oh yeah.
I tend to forget.
Maybe I should write "attorney" on my hand to remind myself – you know, like how you wrote notes on your hand in school to cheat on a test.
Another work situation – I'm trying to learn bankruptcy law.
I worked through my first chapter 13 bankruptcy the other day and ended up with the fact that the clients are going to owe a ridiculous amount of money per month. I immediately assumed that I had screwed it up somewhere along the line, reminded myself that I'm not good at numbers, swore about how much I hate bankruptcy, and started working on convincing myself that I'd never be able to learn it.
Can't learn Spanish – can't learn bankruptcy.
Because they're the same, you know, and that's logical.
I went over the file with my supervising attorney today.  Turns out that I did it right; client simply may not be eligible for Ch. 13.
This sort of thinking gets in the way of my dream all too often.
Along with –
Is Nikki ever going to be better?  Am I ever going to get my confidence back?
I can be so confident in my Deco Chair, float setting (except for giving thank you speeches at the annual dinner) – why doesn't that confidence carry over?
How can I make it?
**Sigh**
I read somewhere that to think confidently, one must act confidently. They say to "fake it until you make it". And research has shown that faking confidence actually leads to the real thing. If we are in a situation where we are not sure what to do, we are suppose act like we know what to do. But what do we do when we don't know how to act like we know what to do?
Do-be-do.
Then what?
Where do you find your confidence to dream?
'Til next week.
Danelle
Danelle left 8 Women Dream in March of 2010 and is still working  on her dream is to become an accomplished equestrian

Enjoy this special 8WomenDream Guest Contributor story submitted by new and experienced big dreamers throughout the world, edited and published to capture a dream perspective from different points of view. Do you have a personal dream story to share with 8WomenDream readers? Click here to learn how to submit dream big articles for consideration.
Note: Articles by Guest Post Contributors may contain affiliate links and may be compensated if you make a purchase after clicking on an affiliate link.