Last updated on June 30th, 2019 at 07:11 pm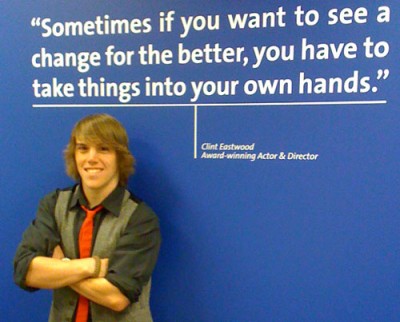 Have you ever noticed that the more you want to accomplish toward making your big dream a reality, the faster time seems to go by and how other people seem to be getting more done on their big dream than you?
I have been pushing myself to accomplish a certain number of dream goals to launch another income stream; so I had to laugh when my son creates his own stream of income all by himself while I'm still working on mine.
To his credit, my son has possessed an entrepreneurial mind since he started walking.
Which is why I love this quote by American novelist and journalist, Joyce Maynard:
"It's not only children who grow.  Parents do too.  As much as we watch to see what our children do with their lives, they are watching us to see what we do with ours.  I can't tell my children to reach for the sun.  All I can do is reach for it, myself."
My son has been sketching on any surface available (including necessary school paperwork) drawing clothing designs ever since he could hold a pencil. His images tend to be urban now with lots of dark teenage angst thrown in for good measure.
I am his mom, so my thoughts on his work don't fuel his creativity when I tell him I love them. He prefers to share his creations with friends and extended family, getting feedback from anyone who is not his mother–luckily they encourage him to go for his dream. He's already picked his fashion school for college. I do get to witness him visualize then create his dream. I should be grateful for that–it is amazing to watch his dream unfold.
When I was his age I had no idea what I wanted to do with my life.
Recently, I've noticed his design sketches have stars in the upper corner of each sheet, and apparently, girls at school have asked him to create t-shirts with the drawings they've given their star ratings.
Of course, they have and they want to buy them.
So this week, he announced to me that he created a blog. "I was reading the paper about a girl that is 13 blogging about fashion, and I had to do it too. Besides, I can share my designs with a wider audience. Can you help me with my online shopping cart?"
Wait; what? You know what an online shopping cart means?
It was in this moment when I realized that my son doesn't let fear, or school, or life going back and forth between two houses as a divorced kid be an excuse not to work for his dreams. He simply decides he needs to do something, researches it, and then launches it. He adjusts after he launches something.
He doesn't wait for his designs to be perfect; he simply creates them and puts them out in the world.
He's not afraid to share his dream with the world. He doesn't focus and get stuck on the designs the girls don't place stars in the corner; he continues to design. He is not like his mom.
He's a walking embodiment of what a dream journey should look like. He helps me see where I am stuck and how much I overthink my next dream steps.
And he beat me to creating a stream of income. He allowed his dream to lead the way.
Heather Montgomery

Heather Montgomery is a fitness writer, triathlete, and serial entrepreneur who is devoted to sharing what she has learned about becoming a triathlete after age 40. She uses her Metabolic Training Certification to help other women struggling to get fit in mid-life. She lives and trains in Santa Rosa, California, the new home of the Ironman triathlon. You can find her biking the Sonoma County wine trails.
Note: Articles by Heather may contain affiliate links and will be compensated if you make a purchase after clicking on an affiliate link.