Last updated on October 1st, 2019 at 03:58 pm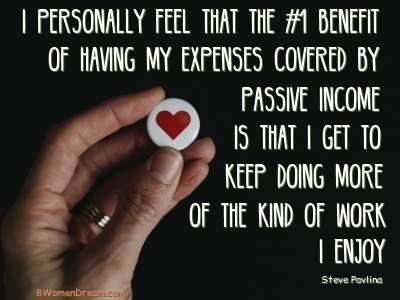 This week has been a fractured but productive for my dream of creating passive income streams. I worked on more jewelry product descriptions, but I ran out of time to place new jewelry products on my website.
However, I did remove two one-of-a-kind jewelry items purchased from my website, outlined a new eBook idea, and secured a new domain.
I also received a call from a jewelry customer looking for a specific piece of jewelry who found me through Twitter. Seriously!
For those of you who aren't sure what I mean that my dream is to create multiple streams of income, the IRS describes multiple streams of income (also known as "passive income") as "Trade or business activities in which you do not materially participate." My big dream visualization for passive income is stacks of checks that arrive daily by mail.
To give you an idea of how passive income works, here's a video by digital marketing specialist and best-selling author, Gillian Perkins on 9 Passive Income Ideas that earn $1000+ per month:
The very first step to creating passive income is finding a market where you and your unique gifts can help.
Lifestyle business coach and passive income expert, Pat Flynn, states "Where a lot of people mess up [in attempting to create passive income] is they try to build a business or create a product that serves everybody, and by trying to serve everybody, you serve nobody. You have to specialize and niche down and find a market with a pain point that you, based on your experience, based on your education and based on your passion, can help." Your earnings will directly reflect how well you serve that particular audience, and the more your message resonates with them, the more opportunities you'll have to sell to them. (Source: Laura Shin, Forbes.com)
Timothy Ferriss, the author of the book "The 4-Hour Workweek: Escape 9-5, Live Anywhere, and Join the New Rich"–one of the best passive income books around shares his steps on how to set up the groundwork for passive income.
He calls his four steps: DEAL.
1. Definition.
2. Elimination.
3. Automation.
4. Liberation.
1. D is for Definition: Replace self-defeating assumptions and with steps where you can take immediate action. Defining your goals by "dreamlining" them.
Chapter 1 – Cautions and Comparisons: How to Burn $1,000,000 a Night
Chapter 2 – Rules That Change the Rules: Everything Popular is Wrong
Chapter 3 – Dodging Bullets: Fear-setting and Escaping Paralysis
Chapter 4 – System Reset: Being Unreasonable and Unambiguous
2. E is for Elimination: Learn how to ignore what's unimportant. It's the 80/20 rule where you focus on your most profitable, 20%.
Chapter 5 – The End of Time Management: Illusions and Italians
Chapter 6 – The Low-Information Diet: Cultivating Selective Ignorance
Chapter 7 – Interrupting Interruption and the Art of Refusal
3. A is for Automation: Put your passive income on autopilot utilizing Virtual Assistants and delegating work. Work on getting business–not in the business.
Chapter 8 – Outsourcing Life: Offloading the Rest and a Taste of Geoarbitrage
Chapter 9 – Income Autopilot I: Finding the Muse
Chapter 10 – Income Autopilot II: Testing the Muse
Chapter 11 – Income Autopilot III: MBA—Management By Absence
4. L is for Liberation: Create the freedom of location so you can work from anywhere.
Chapter 12 – Disappearing Act: How to Escape the Office
Chapter 13 – Beyond Repair: Killing Your Job
Chapter 14 – Mini-Retirements: Embracing the Mobile Lifestyle
Chapter 15 – Filling the Void: Adding Life After Subtracting Work
Chapter 16 – The Top 13 New Rich Mistakes
What do people tell you that you're good at doing? What is your favorite skill? What task would you still do if you were rich and didn't need the money? Would you still be a writer? A triathlete after the age of 40? A pet sitter? A dog walker? An artist? Within these things you love to do, is the secret to starting your passive income stream.
If you're struggling with the question "Who am I meant to be?" and "What am I good at?" Oprah.com has a quiz to help you figure out what defines you. Based on personality science, Anne Dranitsaris, Ph.D., has identified seven "striving styles," modes of thought and behavior that direct you to seek satisfaction in different ways. Although everybody is wired with all seven styles, most people have one that dominates. When you engage this innate style, you've got the best shot at fulfilling your potential; when you don't, you can feel stuck. (Source: Oprah.com)
The secret to creating multiple streams of income is knowing what skills you are passionate about where you are good at them and they will significantly help someone else. Then create a way to charge for those skills.
Heather Montgomery

Heather Montgomery is a fitness writer, triathlete, and serial entrepreneur who is devoted to sharing what she has learned about becoming a triathlete after age 40. She uses her Metabolic Training Certification to help other women struggling to get fit in mid-life. She lives and trains in Santa Rosa, California, the new home of the Ironman triathlon. You can find her biking the Sonoma County wine trails.
Note: Articles by Heather may contain affiliate links and will be compensated if you make a purchase after clicking on an affiliate link.