Last updated on April 17th, 2013 at 06:05 am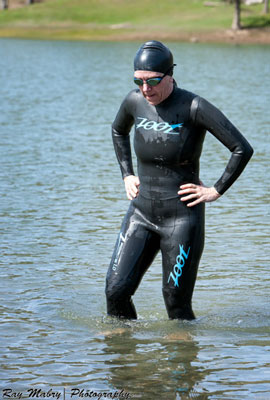 Taking a break in health and fitness, especially in sprint triathlon race training, has a name: The Taper.
The concept of the taper in sports is the practice of reducing – tapering off – any training and exercise you do in the days or weeks before a race or competition.
Tapering comes into play with most endurance sports, and for athletes, adding a significant amount of tapering is needed to rely on optimal performance.
Does taking a break scare the crap out of you?
Depending on the length of training, and the length of your race, a taper can be anywhere from one to four weeks. A slow transition of shifting the intensity and frequency of your workouts is the key to a good taper.
Giving your body time to recover and repair will feel good at first, then feel really horrible as you shift into intense recovery mode. Think of like having a cold – you may feel worse right before you feel much better.
That's the goal, and the purpose of tapering. Building recovery and resting into your training plan builds you up and sparks that energy that will get you ready to race!
My sprint triathlon taper was planned over one week and broke down into a mostly one workout a day plan:
Saturday: 12 mile bike, 10 minute run
Sunday: REST
Monday: Boot camp
Tuesday: 30 minute bike, 1 hour swim
Wednesday: 40 minute run
Thursday: 6 mile bike
Friday: REST
Saturday: 15 minute bike, 10 minute run
Sunday: RACE!
Monday night and I started to feel agitated. My morning boot camp workout was far behind me and my legs were twitching, wanting to get moving again.
A little research and I found that there were several typical reactions during a taper. Feeling like you need to get moving is only one of the pitfalls of a taper week.
Beware of the sprint triathlon taper pitfalls
Fatigue
Hard to believe, but after months of working out twice a day, you may actually feel MORE tired by cutting your schedule back. Your body will have time to repair, which takes a ton of energy.
Phantom injuries
Halfway through my week of tapering and I was having a brand new pain in my knee. What the hell is that? As your body repairs and you aren't moving as much, the soreness of training is replaced by the soreness of fixing.
Fear of losing fitness
On top of every concern of inadequacy that can pop in your head before a race, worrying about losing fitness feels awful. Try and remember that you are still training, but the lack of training overload just may make you feel lazy. I know I do.
Junk food craving
Training takes up time and keeps you really focused. Taking a break not only gives you free time, but some cravings may take over, I started craving cake, cookies and junk food like crazy. I felt so much better after discovering that this can be a typical response. Keep it in mind and stay aware so you can make healthier choices.
Free time
Less training means available time in your day. Avoid packing this with new projects, trying a new sport, or joining another race. You are going to want to try one more – just one more –  long, hard run or ride.
DO. NOT. DO. IT.
Taper your training before your dream race
You may not be feeling wonderful now, but there is a lot you can do to get ready in the week leading up to race day
Drink water
This is a regular habit, or should be, for anyone who is training regularly. You may not be on a long run or bike ride, but don't stop hydrating! Keep your water consumption up and it will help you out on race day. In the spirit of staying hydrated, cut back or stay away from alcohol.
Eat normal
The idea of "carb-loading" still has it's believers, but I do like the more modern approach of keeping steady, or even cutting back a little on the calories. After all, you aren't working out as often and therefore aren't burning as many calories.
The thought that you can pile on the pasta this week will most likely leave you feeling sluggish on the starting line.
Rest
You heard me. Naps and staying off your feet are now your primary objective. Limit your stress from work and home as much as possible.
This includes getting a good nights sleep. You are going to be hyped up the night before the race, so get rest while you can. Popular belief is that it is actually the quality of sleep you will get two days before the race that will most benefit you.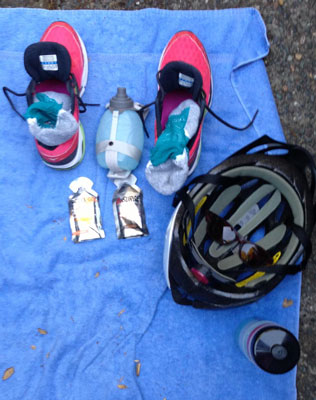 Tapering for your race might look a little different based on the length of the course. If you aren't sure how to taper off for your distance, read up on the details from these resources:
Ready to race a sprint triathlon
If you haven't already created a race checklist, now is the time. Feel free to steal mine and customize it for your race:
Shoes
Socks
Sports bra
Trisuit (This is a one piece suit you keep on the whole race. I'll share how this worked out in my post next week)
Hair ties
Sunglasses
Sunscreen
Change of clothes for both warm and cool weather
Sports drink and Gels
Hand warmers (a necessity for my frozen fingers)
Sport bag
Directions to and from the race/ transportation schedules
Bike
Helmet
Bottle
Repair Kit
GPS/Watch all charged up
Race bib pinned on
Timing chip
ID and a little cash
Race day breakfast: know what you are planning to eat and set everything out. Then tell your family not to touch it.
2 days before the race:
Go over your bike in detail
Check your swim gear is ready to go and has no sign of wear
1 day before the race:
Pack it all up and take a breather
Find a quiet place and make a list of your strengths and remind yourself why you are doing the race.
Dream milestone
Check back next week to read about my big dream milestone and all the details of completing my first sprint triathlon.
What was your last dream milestone? Share in the comments so we can all offer our congratulations!
Go get your fit on – Heather

Heather Montgomery is a fitness writer, triathlete, and serial entrepreneur who is devoted to sharing what she has learned about becoming a triathlete after age 40. She uses her Metabolic Training Certification to help other women struggling to get fit in mid-life. She lives and trains in Santa Rosa, California, the new home of the Ironman triathlon. You can find her biking the Sonoma County wine trails.
Note: Articles by Heather may contain affiliate links and will be compensated if you make a purchase after clicking on an affiliate link.