Last updated on March 25th, 2013 at 02:54 pm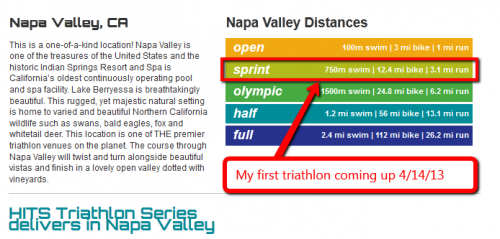 Are you ready to completely freak out when faced when your dream opportunity?
Sitting on the couch this past Saturday, surrounded by three books on triathlon training, I started to panic. My big dream fitness goal, the one I had put out there to everyone as my huge goal for 2013, was now only 10 weeks away.
Around hour three of trying to put my last phase training plan in place I could totally understand why people hire a coach to help them with these details. All the methods of working out, scheduling rest between running, cycling and swimming. Who's stupid idea was this?
Mine. All mine.
Triathlon by my next birthday
Little did I know there really aren't that many triathlons in the Northern California before June. There's even one just after my birthday in the San Francisco Bay Area. A promise is a promise, so I tracked one down in Napa 10 weeks away.
As soon as my mouse hit "Confirm" on the triathlon sign up, I had one of my favorite quotes repeating on a loop in my head.
"Don't Panic."

― Douglas Adams, The Hitchhiker's Guide to the Galaxy
The reality that this race was in 10 weeks got my heart rate up.
There are three official distances to any triathlon race and the distance I picked is somewhat sane, for a beginner.
I've had conversations with friends and family that go over the details of what a triathlon is. The funny thing is that the information has no context. What does a 750 meter open water swim mean to someone who doesn't swim regularly? Just because they don't understand the work involved, doesn't mean their support is any less important.
The other morning at boot camp I mentioned I was back to twice daily workouts. We were stretching out, sweaty and tired and one of my workout buddies mentioned "I don't know how you find the time!". This past month, it's been really hard to work that time in to my schedule. My son's wrestling schedule, new projects launching, worrying about friends and family going through stuff of their own.
Oh yeah. Just life and everything that goes with it.
I have to admit, the extra training is exhausting.
The last two weeks I have added cycle training to my list of things to do in the week. Add to that a Performance Swimming class twice a week by triathlon coach Rick Niles who I had a chance to interview a few weeks ago. I've found a new level of tired. The good news is that I sleep well!
Unfortunately I will typically start drifting off around 8:30 p.m., about the time I typically start working on my many other dream projects.
That's when the dream guilt starts setting in. I know I am losing momentum on other projects because of this training, but I also made a commitment to a dream achievement goal.
Guilt is a sneaky sucker. I feel it as I add more calories to my day, I know I need more based on the amount of exercise, but after 18 months of keeping my calories down to support my weight loss, adding more opens up a can of worms.
Dream fitness can wear you out.
So why not give up? I know I can name more than a dozen times I've done the same. In some cases, letting a project go on the back burner based a million excuses – time, energy, lack of desire.
This dream may could be considered nuts for a 42 year old fitness newbie to put out there, but my friends will tell you that I am a little crazy.
How are your "crazy" dreams going this week? Burning out a little or gaining speed on your dream goals? Tell me in the comments and we can keep each other going.
Go get your fit on – Heather