Last updated on March 26th, 2013 at 12:48 pm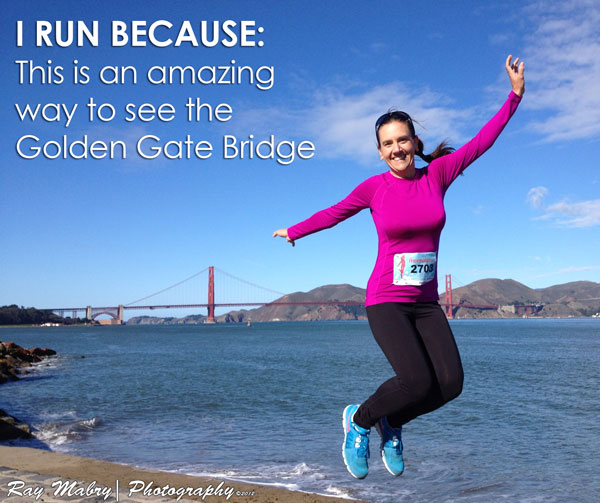 Have you ever waited to prepare for your dream goal?
There is nothing like the panic of realizing you have a big event coming up that you didn't prepare for.
In the business world, I can totally relate to the 11th hour planning and strategy. Need to get it done tonight for an 8 a.m. presentation? No problem.
I've read all the training suggestions about not training too fast, or too much. I also knew I was running out of time, counting down to the day I was going to have to run 6.2 miles. Just 2 weeks before the race and I had yet to break the 4 mile mark.
I did a really stupid thing on my way to finishing a dream goal
I planned a long run on Saturday, one week before the race, and headed out on a new route. I live just one hill over from where I grew up, so I figured I could weave my way through the back roads enough to stay on track for the planned 4.5 miles.
I realized that once 4.5 miles came and went that I had missed a turn, and the only option was to keep on running. Uphill. Both ways.
This was the first run where my brain actually tried to sabotage me into stopping. I actually had the thought "Just call Ray. He will pick me up!" This idea went through my head – twice. Around the 5 mile mark, and in the middle the steepest hill heading home, my legs went numb. I was still breathing and hadn't collapsed into a ditch yet, so I convinced myself I could make it home.
My knees were jello for 24 hours.
Becoming a Mermaid for a day
I am constantly looking for the next dream goal, and the timing for this run was perfect. The Mermaid Series is a series of fitness events including running, duathlons and triathlons in the San Francisco Bay Area and beyond.
Mermaid Series is building a welcoming community that inspires women from all backgrounds to uncover and realize their full potential.
Mermaid Series strives to serve as a catalyst for change in women's lives as they set and discover new goals for themselves in fitness and in life. By providing training, support, motivation and eco-friendly events we are committed to the pursuit of our participants healthy lifestyle. Our events aim to provide an opportunity for a positive change while making each woman regardless of their ability feel welcome.
[Source: Mermaid Series – About Us]
Just looking at their really fun and energetic web site and photos made me want to participate. At the time I signed up, there was plenty of time to train and get ready. How quickly time flies when your out pounding the pavement! I only realized after the fact that I had unintentionally signed up for two "women only" events in a row. I must have subconsciously known that I needed the feminine energy surrounding me for this one!
The weather called for rain so I was absolutely thrilled to wake up to cold but clear skies. Another really early morning in my week but we had to make sure we got there in time to pick up my race packet. That's the only tough part about running at events out of my immediate area, trying to figure out when and how you can get everything you need to participate.
Saturday morning makes for no traffic at that hour heading into San Francisco so we flew to the Crissy Field venue. A sea of women and girls were milling about, trying to stay warm at 7:30 am while overlooking the Bay.
The cutest site were all the little girls 7-12 years old that were there to participate in the mini mermaid events. These little ones were ready to run with their own little workout outfits and water bottles. Just watching them bounce around and squeal as they spotted another friend was enough to warm the heart.
My official photographer/husband and I wandered around the race area and watched as the 5k racers lined up for an 8 am start. The route takes them around the loop of Crissy Field, as close to the Golden Gate Bridge as you can get, and back to the finish line, located just 100 feet from the start.
Everyone was pumped up as the lightly bouncing throng took off. I cheered them on with the rest of the crowd and it hit me. I was up next and we were doing the same run… twice.
Its hard to remember what you should be doing for your dream goal with a nervous stomach and frozen fingers.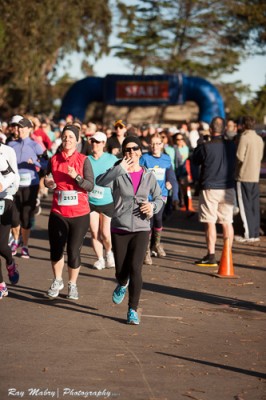 I tried running in place, then around the area for a few minutes to get the blood flowing enough to stretch. As I walked back toward the race start I spotted a woman nursing a very tiny baby.
She was cozy in a camp chair, and was so discreet I almost walked past without noticing her, until a toddler jumped into a chair next to her. She gracefully handed over the baby to her husband, got situated, and headed to to the start line too.
There was a reality check. I need to find time to train, but this woman gave birth recently, just breast-fed her baby, and was headed out for a 10k. I have nothing to complain about.
I made my way to about 1/3 back in the pack, hoping I wasn't surrounded my the 8 minute mile group. All around me light stretching was happening while we listened to the MC pump us all up and remind us we were doing 2 LOOPS around the route.
I glanced over to see the women next to me fiddle with her Garmin GPS running watch on her wrist, and was about to ask her how she liked it , since a GPS watch is on my wish list, when the 10 second countdown started.
And we were off!
Anyone who has been in a crowd knows that there's not a lot of forward movement until the crowd starts to disperse. Crossing over the start line let things open up and I kept to the outside so Ray could try and get shots of my start – you know, before I sweat off all my makeup.
I have yet to master to way to wave so that Ray doesn't capture me in some strange pose while I take off.
The crowd headed down the packed sidewalk and kept the pace pretty slow. I had decided before the race to heed the Mermaid Series recommendation of NOT wearing any headphones during the event. I didn't necessarily need music, although it does help he miles go by. What I missed was a way to track how I was doing.
Typically I do this by using the RunKeeper app that uses the GPS on my iPhone. Running with no input on my pace was tough. Was I at my target pace? Too slow? Falling behind?
The mile marker had me finally able to feel my fingertips again. Runners had spread out and it was easy enough to weave through to keep my pace up. Heading past the warming hut and toward the San Francisco side of the Golden Gate Bridge was pretty cool. I'd never been all the way over to Fort Point and being right underneath the bridge was an amazing sight.
Running while the waves crashed just feet away and tourists took turns getting photos and avoiding the spray was a treat. The uneven surface of broken up parking lot surface was a bit tough on my knee, but we were winding back on the packed sand trail. I finally warmed up enough to trust shedding my gloves and jacket and managed to get everything tied around my waist.
Coming up to the mile three marker, we headed into the second loop. I spotted Ray a little too late to get my jacket off and toss it to him. It was bugging me to have it wrapped around my waist. Note to self: warm up enough to dump this stuff before the next race.
I managed to wave and smile while heading into mile 4 and he caught these great shots with the Golden Gate Bridge in the background.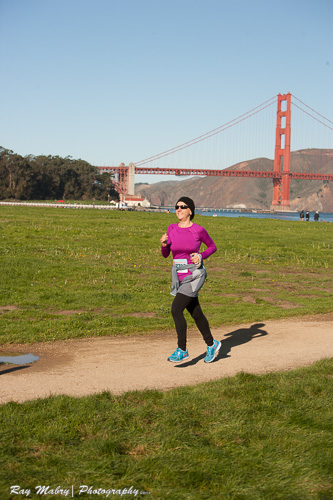 I've read that many marathoners think that the hardest race to plan a strategy for is a 10k. Being the complete newbie to this process, my only goal for the day was to run steady and don't stop. Alright, that wasn't my only goal. Really my goal was to finish under 60 minutes.
I think I physically felt mile marker 5 pass by. My right hip had a catch that made it pop a tiny bit on each stride, and the uneven surfaces had caught up to me. My right knee decided that was a good time to start throbbing. Based on these surface changes I decided I needed to do more trail running to get used to different terrain.
The final half mile was tough. Getting passed by a woman in a tutu, pushing a stroller didn't help my confidence. But watching her pick up the pace reminded me that this was it and to push to the end.
When I spotted the arena I picked up the pace. Breathing heavy I leaned in and felt like I was much faster. least I thought I was! I felt and heard the stampede of women and girls passing me on all sides, sprinting to the finish. All the races I've done so far had a straight run up to the end. I pushed myself hard, feeling my knee start to complain seriously and then realized that in order to cross the finish, we had to run on wet grass in a U-shape.
Lets just say I put the brakes on around those slippery corners more than I had wanted to. Crossing the finish I glanced at the race clock and panicked a little. An hour and  half? I wasn't out there for that long, was I?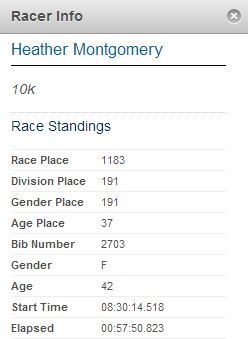 Out of breath and slowing to a walk, we were handed a cold bottle of water and small velvet bag while trying to get out of the way of everyone stacking up behind us. I walked out onto the open grass, still breathing heavy, and found Ray tracking me down.
He had managed to get photos of my finish and confirmed that the race clock was running from the 5k start, 30 minutes prior. Just a few minutes wait and we checked the results: 57:50:823 – I made it under 60 minutes!
I kept walking for about 5 minutes to try and get the feeling back in my knee and stretch. Looking around at all the participants I had a huge sense of accomplishment. Don't you love those? When we are so busy getting our dream work done that it isn't often we can yell out "Whoo hoo!!" without getting funny looks. Well, let them look and enjoy your moment!
Ray was even sweet enough to help me get that great jumping shot at the top of this post. Like most photographers know, you rarely get the shot in one take, and after about 12 shots I had to be good with whatever we got, since my body was warning me to not try jumping again. For a while.
Finally cooled down and full of post race snacks, we made the trek back home for a large dose of ibuprofen and chilling on the couch. There may have even been a nap somewhere in there that afternoon.
Recovered and ready for more
Monday morning I was back on track, amazingly no worse for wear as I threw on my Mermaid Run complimentary t-shirt on my way to my bootcamp workout. The race shirts that I typically see are your standard cotton white tee that I personally hate to workout in. The Mermaid shirt is very pretty (not that I'm going for pretty at 5:45 am) and it is also a light, stretchy workout shirt you expect to have on while sweating.
Cool morning that it was, I was layered up for the start of the workout, but quickly stripped down to the Mermaid shirt. After the workout, a fellow bootcamper asked I had been there this past Saturday – she had been there too! That's another reason to want to wear your race shirt. You never know who you will find, and where you will find them, that may have run right next to you!
Never underestimate the power of dreams and the influence of the human spirit. We are all the same in this notion. The potential for greatness lives within each of us.
– Olympic gold medalist Wilma Rudolph, the first woman to EVER win three track & field medals in a single Olympic games
There are times when the opportunity to get to your dream may require you to run – figuratively or literally. Are you ready?
Keep dreaming – Heather

Heather Montgomery is a fitness writer, triathlete, and serial entrepreneur who is devoted to sharing what she has learned about becoming a triathlete after age 40. She uses her Metabolic Training Certification to help other women struggling to get fit in mid-life. She lives and trains in Santa Rosa, California, the new home of the Ironman triathlon. You can find her biking the Sonoma County wine trails.
Note: Articles by Heather may contain affiliate links and will be compensated if you make a purchase after clicking on an affiliate link.