Last updated on November 20th, 2012 at 10:52 pm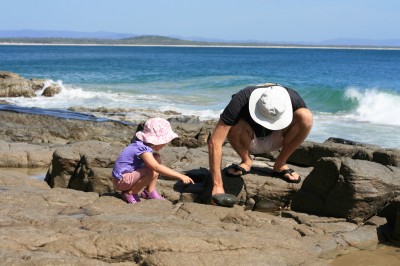 When I first set out from New Zealand on my world travel dream I was for the most part on my own. The world seemed a huge place and my travel bucket list a collection of European destinations read about in novels and history books.
After "trying out" a few travel companions and driving them into the dust with my relentless passion for seeing new places and experiencing new cultures, I found the man who is now my husband and we started traveling together. Epic backpacking adventures, adventurous hiking expeditions and short European city breaks, we did it all.
Now we've been joined by my daughter. She went on her first trip at three months old, traveling by train and car in Belgium and the Netherlands to visit family for Christmas. She was so portable then in the front pack and although I didn't get much sleep we managed day trips to explore new European towns in the depths of winter.
For many people the advent of children in their lives means the end of traveling. Or at least the end of anything beyond a week in a resort with a kids club. There are many excuses people make why they don't pursue their world travel dreams and having children is probably a significantly used one. You have to take too much luggage, it's too expensive, it's not safe, children hate traveling . . . I've heard it all.
At four year's old, my daughter has now visited fourteen countries and thinks about getting on a plane the way some people think about getting on a bus, albeit with more excitement! She takes everything in her stride, supremely adaptable and thirsty for new experiences.
The challenges of travel with children
Yes traveling with children has its challenges. Toilet breaks (especially when potty training) and naps for young children are often a problem. When that pee pee dance starts you know you'll be nowhere near a toilet. I trained my daughter from birth to nap wherever she happened to be – in the stroller, in an airplane seat, in a vehicle – which has allowed us to maintain our flexibility. But the downside came when she wouldn't daytime nap in her bed and dropped naps altogether very early.
The biggest challenge for me has always been sleep. When she was a baby travel disturbed her night time sleeping patterns, leaving me exhausted the next day and finding it difficult to enjoy those new sights and sounds. This has improved as we persevered, with each trip and each year, but I still occasionally get one of 'those' nights parents dread.
What children get out of travel
Last month I took my daughter to Bali in Indonesia and one night had the pleasure of watching her play ecstatically with a little Dutch girl who was a fellow guest and the two grandsons of the home-stay host. It was some version of hide 'n' seek and involved monsters and a lot of squealing. None of them could speak the other languages but they managed to have a great time.
I want her to be aware of other cultures, languages, climates and religions. I want her to love the outdoors and art and people before she becomes addicted to a smart phone.
I am convinced that exposing my daughter to new and interesting sights, sounds and smells is great for learning and brain development. I want her to have a wider perspective on the world than just a routine of pre-school and play dates.
I have been thrilled to see her confidence grow; she is less afraid to try new things and to push past fears. As a family we face varying situations and challenges as we travel and she observes us meet and overcome those challenges.
Tips for traveling with children
Travel slow: We have definitely slowed our travel pace now we have our daughter along for the ride. A maximum of three moves in a week seems to work well for us and apartment stays are definitely preferable to hotels.
Travel light: There's nothing worse than lugging heavy luggage and that goes double once you're traveling with children. I've learned you don't need so much paraphernalia, even for a baby. Kids can wear dirty clothes for several days without coming to any harm. It's more fun to play with found objects than to carry all the latest toys with you.
Travel light-hearted: I have traveled with my daughter in places where everything you touch has the potential to transmit a deadly disease. But I have deliberately taken the approach that it is good for children to be exposed to a lack of hygiene – in many cases it builds their immunity. If I was scared all the time about her health and well being we would never go anywhere.
Inspiring travelers with children
I'm constantly inspired (and reassured that I'm not the only parent like this) by other bloggers living their world travel dreams and traveling with their children.
From the days before travel blogging, there's Dervla Murphy, an Irish travel writer who traveled the world alone and then with her daughter. On traveling with children she said:
"A child's presence emphasizes your trust in the community's goodwill. And because children pay little attention to racial or cultural differences, junior companions rapidly demolish barriers of shyness or apprehension often raised when foreigners unexpectedly approach a remote village."
And from the digital age, here are a few of my favorite family travel bloggers:
Caz and Craig Makepeace from yTravelBlog are passionate travelers with their two young daughters.
The Vogel family from Family On Bikes did an epic cycle trip from Alaska to Argentina with their children!
The seven-strong Denning family from Discover Share Inspire put my travel with kids efforts in the shade! They have embraced the concept of slow travel and the nomadic lifestyle.
I love travel and my world travel dreams have not evaporated with the arrival of a child. I have been determined to make sure travel remains a big part of my life and of our family life. That has had its challenges as the inevitable 'lows' of traveling can be harder when traveling with children. With parenting as with travel, you often learn more about yourself than anything.
Have you traveled with your children? What has your experience been? Do you think the challenges are worth it?
Natasha
Natasha von Geldern is a travel writer, editor, and blogger who is passionate about making the pages of the atlas real by traveling the world. She is a contributor to Travel Wire Asia, Wild Junket Magazine, Yahoo! Total Travel, and Travelbite. You can find her on her travel website and blog, WorldWanderingKiwi.
Note: Articles by Natasha may contain affiliate links and may be compensated if you make a purchase after clicking on an affiliate link.