Last updated on February 13th, 2014 at 10:48 am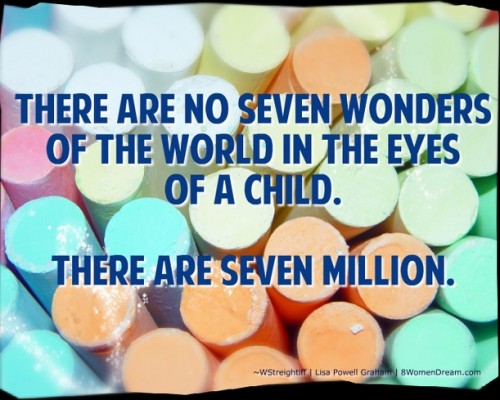 This past weekend's plans were not what I expected, but turned out so much better than I'd imagined. Part of the gift was finding happiness in the natural joy that children radiate, when I was able to spend a good deal of the weekend with a favorite child.
A Revised Date!
I had plans for a date with a man I've been spending time with, but didn't realize until the day of the date that he had his son that day (he shares custody with the son's mom). I was happy to get to spend time with his little boy, and we agreed we'd all go to dinner then maybe watch a movie at their house.
When I was driving to meet them, I got a text saying that Rafa, my date, had been asked to play out that night with some other local musicians, when someone didn't show up for their gig. It happened to be at the same restaurant we'd been planning to go to.
The catch was I'd have to watch his little boy, and he'd perform. I immediately agreed to do it and thought, what fun to see Rafa perform and to get time on my own with his sweet little boy too.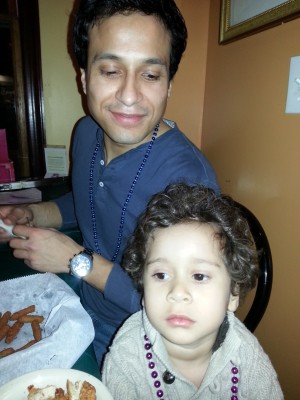 Cafe Nola
We headed to Cafe Nola in Schenectady, where Rafa would play with Alex Torres of local favorite Alex Torres and the Latin Kings. It's a New Orleans/Mardi Gras restaurant with a menu that features a lot of spicy seafood dishes.
It ended up being an ideal location to hang out and listen to live music with a three-year-old. I had brought some washable magic markers and paper.
The restaurant had all kinds of other toys for Luca to play with, from a Mardi Gras mask to Mardi Gras beads to a mini-xylophone. The owner made Luca a special guava lemonade to drink, since they didn't have apple juice, which he had requested.
I had fried green beans with a spicy sauce and later a Caesar's salad with spicy fried catfish. Totally delicious!
I got the distinct pleasure of seeing the talented man I am dating play guitar and harmonica and sing, in Spanish and in English. He performed some original songs, and some covers.
He's incredibly talented, and he puts on a good show. So it was fun to watch.
Three Years Old!
And I got to hang out with a very sweet curly-haired three-year-old boy who quickly decided he wanted to sit on my lap. He stayed there for most of the performance.
We'd get up and walk around the restaurant sometimes, stopping in the bathroom to wash magic marker off his hands and just checking out all the fun Mardi Gras themed decorations. For a few songs, I got up and danced with Luca in my arms and he laughed and laughed.
He picked out a glittery purple and yellow Mardi Gras mask that he loved, and put it on, then ran up to surprise his dad and members of the band.
The  level of cute was off the charts!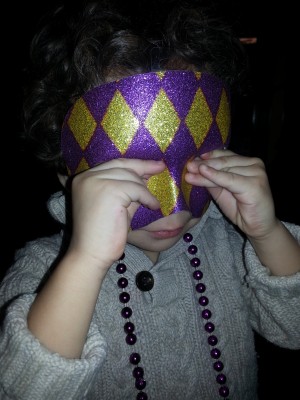 Daddy's Girlfriend
Later Rafa was able to take a break from performing to come sit down with us. Little Luca had bonded with me, and got a little jealous when Daddy started paying too much attention to me.
Rafa tried to grab my hand, and Luca swatted his hand away and grabbed my hand instead, wrapping my arms around him. Every time his dad tried to kiss or touch me, he'd swat him away.
Eventually he let us hug, but he was in the middle between us as we hugged. That works for me, I thought. Hugging a handsome man and his sweet little boy all at once!
We held on in these three-way hugs for quite a while – just a nice pile of love in the restaurant. It was such a lovely moment!
At close to 10 p.m., we headed home. I got to read books to Luca, and tuck him in.
It was such a joy! I miss my five-year-old niece and three-year-old nephew so much, and want more time with children.
And Yet More Time!
The next day, I got to have a playdate with Luca. I couldn't get enough of this fun little man!
We mostly ran around the apartment and played silly games. Luca was in a hugging mood again, so periodically he'd run over to the couch where I was sitting and hug-bomb me.
We played a game where he spelled out words on a little electronic iPad-style device I bought him. And we played silly make-believe games.
Luca brought an empty mesh, cylindrically shaped laundry hamper into the living room. He turned it upside over himself and piped up: "I'm in jail!"
We asked if we could help get him out of jail. He launched into a story about the spooky forest and the witch who would turn us into frogs if we weren't careful.
We needed to go to the spooky forest to get a key to let him out of jail, he said. I braved the spooky forest first, heading into the kitchen to get a bottle opener to serve as the first key.
Luca said this key was too big, so I went back into the forest and got a smaller wine opener key. This one unlocked the  jail so Luca could get out.
I took a turn in jail next, then Rafa did. Luca set us free.
Oh the fun games that children play!
Happy Times
It was hard to say goodbye to little Luca. He'd been hanging out with me and cuddling with me all day.
We made a date to go ice-skating together soon, and he gave me a big hug goodbye, then patted my bum to push me towards my car.
I think it's hard for kids when adults they enjoy leave, so he had to push me away. Luckily he'd given me so many sweet hugs and cuddles earlier!
More Joy Soon! 
I feel so lucky to be dating a wonderful man who also happens to have a beautiful child. I can't wait for ice skating and more fun adventures with a happy bouncy little three-year-old who loves to hug and cuddle.
I am finding so much happiness in being with a child again, and I'm so thankful for it! Hope that the little ones in your life are making your days happier and brighter as well.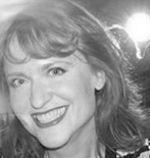 Lisa P. Graham is an inspirational writer, life coach, TED motivational speaker, and globe-trotter whose passion is to help others to find happiness and meaning in their daily lives. A political activist at heart, Lisa would like to empower more women to run for political office as a way to create positive change in the world. You can find her on her website or watch her TEDx speech on YouTube.
Note: Articles by Lisa may contain affiliate links and may be compensated if you make a purchase after clicking on an affiliate link.