Last updated on July 17th, 2014 at 09:33 am
This past week, I got to spend time with two of the brightest lights in my life: my niece, Luna, five years old and my nephew, Nico, three years old. I took a much-needed vacation and relaxed on the Jersey shore at my parents' beach house, and in Philadelphia over the weekend.
Last week was all about finding happiness in being with children. I love and adore the little people!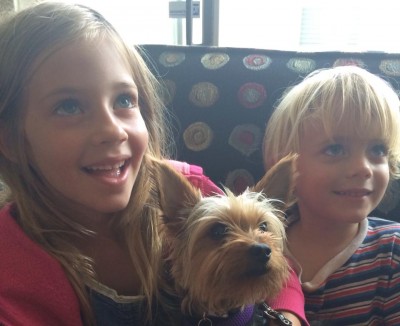 Fun Times with the Munchkins
Last week was a rare treat, as all of my siblings were together, along with my niece and nephew. We were trying to remember the last time we all gathered, and we think it was about four years ago.
My youngest sister, Margaret, lives on an organic farm in Montana, and we generally only get to see her once or twice a year. My middle sister, Carrie, the mother of my beautiful niece and nephew, most often lives abroad, so we usually only get to see her and the kids once or twice year as well.
My brothers Shanti and Michael live in MA and CT so I do see them more often, living in upstate New York as I do. However, the gathering of all the siblings is a rare and joyful occasion.
And it's a treat for all of us to get to spend with my adorable niece and nephew. I am close to the children, especially Luna, who always bonds with me again instantly and follows me around when she is visiting.
"Everywhere you go, I go!" she said during this trip. I really don't mind being followed around by an adorable little blonde angel who wants to be just like me, and to do what I do.
Giving my love and attention to sweet little ones who live life so joyously does bring me extra happiness. I know they say that parenting is the biggest responsibility and biggest joy there is, and I feel like as an aunt you get a taste of this!
And, you sometimes get to be "the fun one" and to do things with kids that they may not do with their parents. I, for example, have been teaching five-year-old Luna the "Art of the Silly Selfie."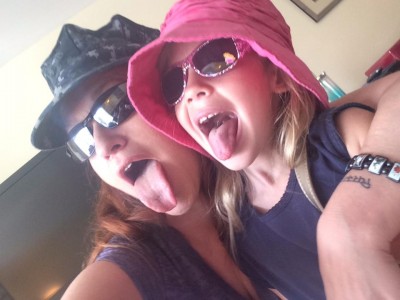 Adventures with the Littles!
Being on the Jersey shore, just one block from the bay and four from the ocean in Longport, New Jersey, of course meant that my "adventures with the littles" included lots of beach time.
The kids love the ocean, as do I. I have always found being near the water to be incredibly soothing, probably because the ocean is so massive and it always give me a sense of perspective.
I feel so small near the huge, powerful ocean. I love the sound of the waves, and just knowing that my little human problems really are like a drop in the ocean.
Being near the ocean always make me feel more peaceful, and makes me feel like everything will be handed. No problem is too big, and I can always reclaim my sense of inner peace.
Of course, for small children, the ocean and the beach are both just giant playgrounds. The beach means plenty of sand for sandcastles and for burying your aunts and uncles in the sand, and the ocean means waves to jump over and frolic in.
During this beach trip, the littles buried Margaret in sand up to her chest one day, calling her a "mermaid" with one giant tail made of sand. They built sand castles that Nico just as quickly knocked down.
Partly because a few days were overcast and rainy, and also because we often go to the beach later in the day so none of us extremely pale folks end up with a bad sun burn, there was less swimming than there normally is.
The "big kids," i.e. Carrie, Margaret, Michael, Shanti and I, as well as my Mom, were content to sit things out and to just lounge in the beach chairs. Going to the beach at 4 or 5 p.m. means the air temperature has dropped, and without the bright sun to warm you up as it will at midday, one has less incentive to want to go into the water.
This time around, I played with the kids, lounged in the beach chairs, and went for walks down to the rock jetty at the far end of Longport, NJ with my sisters.
The beach visits were relaxing and fun, and it's always entertaining to see the children enjoying the ocean and sand.
A Weekend in Philadelphia
Last weekend, we all headed to Philadelphia to enjoy the sights and activities there. Philly is a great city, with beautiful historic architecture and plenty of parks and arts and cultural activities.
It is also a "foodie" city, and everyone in my family loves food. My father is a gourmand, and generally plans his vacations around "three squares," or having three square meals a day.
He always researches the best restaurants in an area, finding out what is well-recommended and Zagat rated.
We were staying in the Society Hill neighborhood of Philly, which is near the water. This meant that the kids were able to enjoy several parks within easy walking distance, and that we had a wide range of restaurant choices, also within walking distance.
Last Friday night, we decided to try an Israeli restaurant that had come highly recommended by my good friend and contractor Vic Christopher.  Zahav, as it turned out, was only about 100 yards from our hotel.
We had a late reservation at 8:15 at night, so the kids ended up conking out on our laps, lying down and napping on the cushioned bench where half of us sat.
The rest of us enjoyed a feast. We tried the "Tayim," which is a tasting menu. Everyone was able to choose two mezze or tapas-size plates.
I chose the marinated zucchini and fried potatoes with cheese. My sister got the haloumi with a fig and walnut paste, and duck hearts, which I steered clear of as a long-time vegetarian.
Before they brought out the mezze plates, the servers first brought a smorgasbord of cold salads, ranging from green beans in a spicy tomato sauce to carrots with mint to tabouli. We also tried the Turkish hummus, which was served hot with melted butter drizzled on top. It was outrageously delicious!
My small-plate sized entree was the Bronzino, which is a fish that was served with chickpeas and herbs. Again, delicious, as was everything that was served.
We were too full for dessert, so we took the cinnamon babkas (little cinnamon cakes) and knafeh (a sweet dessert made with shredded wheat and cheese) with strawberry jam back to the hotel with us to have for breakfast the next day.
My Happiness is Seeing You Smile
Anyone who truly loves a child knows that seeing that child happy, carefree, and simply enjoying life is the greatest gift. I had so much fun playing with the children over the past week, and loved being able to contribute to their happiness.
The children are affectionate, and often tell us that they love us, and want hugs and kisses. As every parent knows, many children reach ages, especially in their teenage years, when they often do not want to even be  seen with their parents publicly.
So walking everywhere holding hands with a child, carrying them because they are still small enough that you can, or having a little one fall asleep on your while out during an evening's meal is, to me, a joy and privilege.
I am so thankful for the gift of these beautiful little people in my life!