Last updated on January 22nd, 2019 at 02:08 pm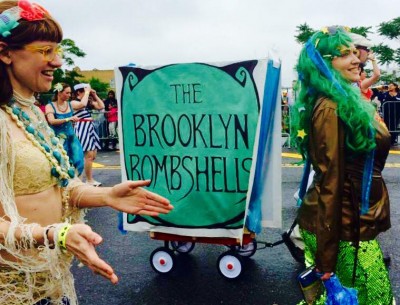 It was something I have dreamt about for at least a decade, but possibly forever. I finally had the chance to be a Mermaid in the Coney Island Mermaid Parade, and it was beyond amazing.
It was epic. It was life-changing. I am forever a mermaid now, until the end of my days!
The Coney Island Mermaid Parade
The Coney Island Mermaid Parade was launched in 1983 to kick off and celebrate the beginning of summer, so it is always held on the Saturday that falls closest to the summer solstice, which is June 21st. This summer the parade took place on Saturday, June 20th, one day before the summer solstice.
Coney Island is of course an iconic American amusement park, located on the coastal beaches near Brooklyn, famous for its vintage rides, Cyclone wooden roller coaster, Thunderbolt stomach-dropping daredevil coaster, and carnival-style atmosphere and rides.
I visited Coney Island for the first time last summer with a dear friend from swing dancing. He is a top Lindy Hop performer and choreographer, but as it turns out is petrified of heights and was scared of the carnival rides.
He insisted on going on them with me anyways, so I could go on some more fun, daring rides, and so that I wouldn't have to do it alone. But he said it was like his own form of personal hell to have to do that.
Luckily this year there was nothing hellish and only positivity and joy in my Coney Island visit. Swing dance friends of mine have been dancing, performing and marching in the Mermaid Parade since 2001 in some cases and 2005 in other cases.
So I have been hearing about this event and seeing pictures of it for 10 to 15 years now. I love dressing up. and have been a professional swing dancer, belly dancer and lindy hopper.
So getting to dress up as a sparkly Mermaid, as I did, in a sequined green and gold lame tail and gold clamshell bra decorated with glittery starfish, was a total kick and a dream come true.
Making the Mermaid Costume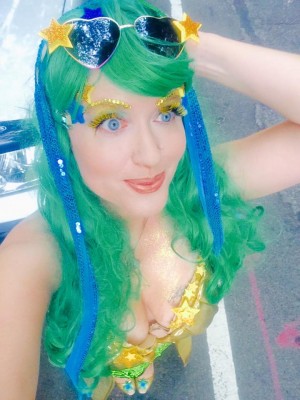 I do not sew, so I needed a baseline costume to start with that I could work with and embellish with more glittery fun. I ordered a "Sea Siren" costume online that includes a sea green sequined mermaid talk with gold lame, and a gold clamshell bra.
The tail fit perfectly, but the bra was too small and flattened out my boobs, without actually offering any support. It would not do.
I debated whether or not to just wear starfish pasties, since it is a tradition to go topless at the Mermaid Parade, and in New York for this event it is actually legal to be completely topless without even wearing pasties.
I might have done it, but the thought of walking around under the burning noon day sun and being out there for six hours bare-breasted just sounded like a potential recipe for disaster and terribly painful sunburn. So I opted to create a Mermaid bra t0p for myself instead.
I took a nude underwire bra, cut up the sea shell bra and glued the gold clamshells onto the more supportive bra top. I embellished it with tons of gold glittery starfish.
I got my goal of being supported and not worrying about being sunburnt in sensitive places, and my gold clamshell top matched my mermaid tail.
The Face Of A Mermaid
The most elaborate part of my costuming turned out to be my make-up. I decided that a mermaid would be glitzy and glamorous and covered in glitter.
I love dressing up and being glamorous and I always have. When I was a little girl, I spent countless hours playing with my Grandom's make-up.
My Dad's Mom was the kind of woman who never left the house with being "done-up," hair perfectly coiffed, eye shadow, purse, shoes and scarf matching, pink lipstick freshly applied. I loved playing with her rainbow palette of eyeshadows, lipsticks, and blush as a girl.
And I loved trying on her dozens of pair of high heels in every color of the rainbow. I remember her having a dozen pairs of heels in just about every color – not just pink heels, but nude, blush, salmon, carnation, hot pink, fuchsia, every single big Crayola box color you could possibly imagine.
So naturally I was going to be a glitzy, glamorous Mermaid. It took me a while to put my face together, but ultimately by the time I was ready I had applied three shades of eyeshadow – green, blue, gold –  two sets of false eyelashes – black and gold glitter – and had affixed glittery starfish to my face, above my eyes to the side of my eyebrows.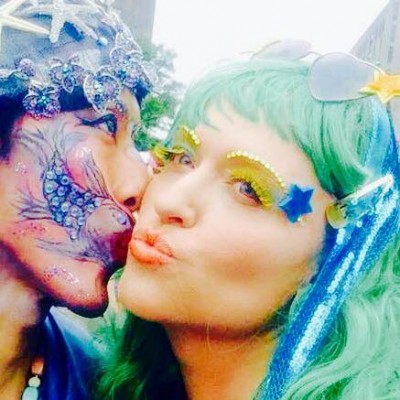 I also decorated my eyebrows with gold crystals, and brushed gold powder all over my face and décolletage. I was shiny, sparkly and happy!
Next year, I may have a professional make-up artist like my friend VaVa Voon, pictured above, help me to make my "Mermaid Game Face" even more jeweled, gorgeous and elaborate. His jeweled "Fish Face" was spectacular, as you can see as he plants a kiss on me in the photo above.
I am already plotting out next year's Mermaid costume, which will remain a surprise until I unveil it here next year! I am now a Mermaid for life!
What Is It Like To Be A Mermaid?
If you are wondering what it is actually like to be a Mermaid, it is like being Beyonce. You have paparazzi!
I had my photo snapped by literally thousands of parade-goers lining the sides of the road and the boardwalk. Random strangers stopped me to take my picture or pose for a quick shot with me, and I got my photo taken by Newsday and some other major publications.
It was a day of swishing my fish tail, dancing, blowing kisses at the crowds and posing for pictures constantly. Since I am a natural born performer and love to ham it up for the crowds, this was heaven for me!
I highly recommend that everyone become a Mermaid at least once in your life. I can pretty much guarantee that I will be there every summer solstice weekend from now on, dressed in a sequined Mermaid tail and covered in glitter, swishing and shining and sparkling my way through the crowds.
Mermaid for life!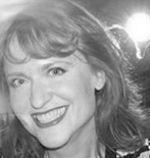 Lisa P. Graham is an inspirational writer, life coach, TED motivational speaker, and globe-trotter whose passion is to help others to find happiness and meaning in their daily lives. A political activist at heart, Lisa would like to empower more women to run for political office as a way to create positive change in the world. You can find her on her website or watch her TEDx speech on YouTube.
Note: Articles by Lisa may contain affiliate links and may be compensated if you make a purchase after clicking on an affiliate link.