Last updated on January 22nd, 2019 at 02:08 pm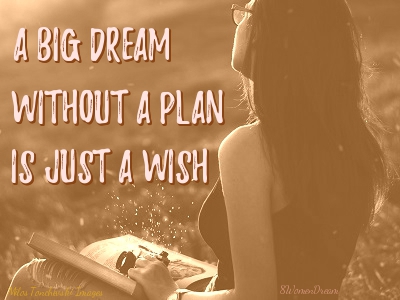 One of the more difficult aspects of pursuing a dream is staying inspired while remaining organized with the work involved. You'll have new skills to learn, new habits to form, small dream goals, big dream goals, and milestones you'll want to document along with your dream journey.
Previously I've kept a hodgepodge of journals, planners, notes on my phone, emails, and notes on my computer. Add in a busy schedule and hating my iPhone calendar. Now I believe inspirational planners are the best way for big dreamers to stay inspired and organized.
Besides, I've missed being inspired by a paper planner.
I remember the lesson I learned in middle school that writing something writes it to your brain. It was art class (the beginning of my artistic passion), and I'd forgotten to write down the homework from the night before. I sheepishly told my teacher that I'd had to draw homework in homeroom because I thought I'd remember it but when I got home it had left my brain and I didn't have the backup note. She chuckled and said its a law of the universe and that the very act of writing it down is what helps you remember.
I've browsed office supply stores, and I've looked through planners available, but I wanted something more. Or something less. They didn't inspire me and made my dream goals feel like one big chore. I'd pretty much resigned myself to be treading water for the time being. Then I decided to ask around, do a little online research and I came up with what I feel is an excellent list of inspirational planners to help dreamers dream big.
8 Inspirational Planners to Help you Dream Big: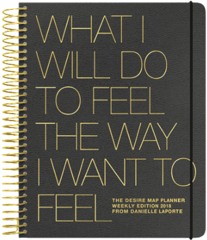 Created by Danielle LaPorte, bestselling author and member of Oprah's Super Soul 100, The Desire Map Planner is for female dreamers who want to put their passion soul on the agenda. "What I will do to feel the way I want to feel" is the daily declaration you make with this inspirational planner. And with fresh daily Soul Prompts like, "What do you want to revolutionize?" "How do you want to feel in your body?" and sections for Gratitude notes and a weekly Stop Doing List–this planner is where inner attunement meets outer attainment. And it's unlike any planner on the market. Over five million people a month head to DanielleLaPorte.com for her advice and daily #Truthbombs. The Desire Map Planner Collection already has a raving fan base of women who want an agenda that includes all of who they are, not just another to-do list. (Source: Amazon)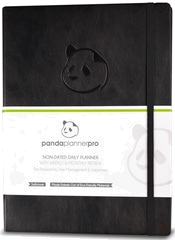 Panda Planners utilize a scientific approach to productivity and happiness. With 12 months, 26 weeks, and 230 daily pages you can get organized and prioritize your dream journey in writing to help you easily achieve dream work and life balance. It's not intended to plan out every single day (thus the life balance part) so if you are one of those dreamers who need to plan every single day, then you may need two of these planners. The Founder and Creator of Panda Planner, Michael Leip, spent over five years of his life hampered by Lyme Disease, a Traumatic Brain Injury (TBI), and cancer. He was desperate for a system that could help address his depression and anxiety, as well as his day-to-day productivity needs, so he created Panda Planners. Leip wants the planner to provide you with the motivation, the inspiration, the system—or whatever it is that you need—to set aside your stress and challenges, start living a more fulfilling dream life and crush your big dream goals. (Source: Amazon & Panda Planners)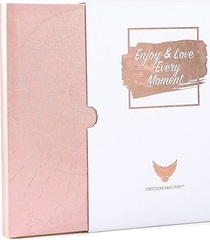 Imagine an inspirational planner that will help you plan every part of your dream life. This planner is intended to help you handle your dream big questions, like finding your life purpose. Then, in a few easy steps, it guides you with crafting a dream vision, setting big goals, and creating a step-by-step plan to guarantee you will reach your dream objective. Next, and this is a crucial area most people miss, this inspirational planner makes sure you stay motivated every day. It shows you the natural way of creating a strategy to keep you focused and driven. You can set priorities for your goals and follow a schedule for appointments, as well as for creating positive habits to boost your self-confidence. The habit building process designed into the planner leads you through the same process NASA used for reprogramming astronauts, proving that it will work for you! This will help you reprogram your mind for success, and eliminating any obstacles holding you back. You will feel yourself being more focused and applying the Law of Attraction for making the universe deliver the life of your dreams–quickly, naturally, and joyously. (Source: Amazon)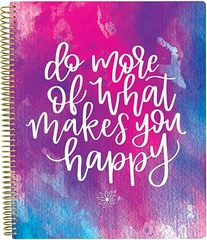 Bloom Daily Inspirational Planners All-In-One Ultimate Monthly/Weekly Planner and Notebook is more than just colored ink on paper. It's created by women for women. Bloom's mission is to inspire and empower women around the world to bloom into the best possible version of themselves. This inspirational planner is "mash-up" of all of Bloom's most popular items. The planner features monthly views of a calendar, but with extra room to write to-dos, take notes, sketch, grid, and/or color. For this reason, the planner's dimensions are 9″ x 11″ with Clear Frost Plastic Cover. Your planner purchase includes access to Bloom's library of printable materials and downloads designed to help you bloom on your dream journey. Resources include to-do lists, bill tracking, frame-able inspirational quotes, phone and computer backgrounds to help you match your electronics to your planner, and more. (Source: Amazon)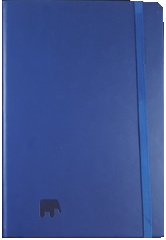 The un-dated Simple Elephant planner is designed to last for a full 12-months. It contains 12 monthly view spreads (pages 5-28), and 52 weekly view spreads (pages 29-132). This inspirational planner includes a Gratitude Journal, a Mindmap and Vision Board with bonus Stickers and eBooks. Papercode is an independent maker of inspirational planners, organizers, and anything else that relates to productivity, success, and gratitude. Their mission is to bring your dream goals into reality and fulfillment into lives. Papercode's eccentric in-house team creates products and develops planners from the ground up–ensuring exceptional quality and functionality. From sending love with thank you cards to writing down your dream goals for the year, Papercode excitedly welcomes all fans to join the adventure of organizing the mind, body, and soul to make your big dreams come true. (Source: Amazon & Papercode)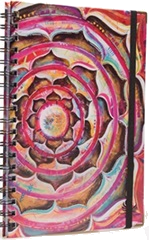 As dreamers, you know how the simple act of getting clear, setting dream goals, planning your steps and taking action can save you time and get you everything you want to do, be and have. Not random to-do lists, or watching more law of attraction videos. The un-dated Freedom Planner Gratitude Enlightenment and Goal Journal Plus Organizer planner will help you transform yourself into a super-human dream big productivity master and create your dream life like clockwork. Whether your big dream involves financial prosperity, personal growth, professional success, physical health, mental clarity, spiritual ascendancy, or any other big dream outcome, these are just some of the areas in which the Freedom Planner is helping people like you around the world obtain more freedom and live their dream life. Catherine, the founder of 8WomenDream, has used this planner herself and loved it.
(Source: Amazon)
7. Me & My Big Ideas Create 365 The Happy Planner.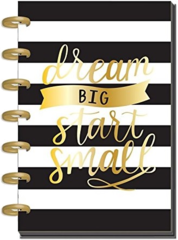 Are you a dreamer in love with all things mini? The Dream Big Start Small Happy Planner is an un-dated 12-month mini planner and is filled with creative and inspirational artwork to help make you a happy dream big planner, The Happy Planner is an expandable, disc-bound planner system that combines your love for creativity with your need for organizing while on your dream journey. Confidently toss this baby into your purse, and call it a big dream day. Plan for your happy dream life. This mini-Planner's dimension for covers are 5.125-Inches by 7.5-inches and for pages are 4.5-inches by 7-inches. Me & My Big Ideas started in 1998 with a mother-daughter team that recognized the growing scrapbooking trend as a big dream opportunity and produced 12 sticker designs specifically for scrapbookers. Now, Me & My Big Ideas is one of the most recognized creative brands in the world. (Source: Amazon & Me & My Big Ideas)
8. The 5 Second Journal: The Best Daily Journal and Fastest Way to Slow Down, Power Up, and Get Sh*t Done.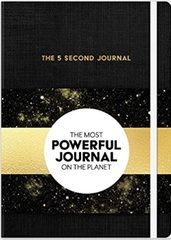 In The 5 Second Journal, best-selling author and famous Ted Speaker, Mel Robbins guides you step-by-step through a simple research-backed daily journaling method that will help you become the most productive, confident, and happiest dreamer. Mel feels this planner is the most potent journal on the planet because it uses science to unlock the most significant force in the universe–YOU. Using this journal and productivity planner, you won't just get more done to advance your big dream–you'll do it in half the time. Your big idea is way too important to spend it procrastinating. Invest a little time in the journal every day and in return; you'll get the best tools psychology, organizational behavior, and neuroscience have to offer. Mel believes that self-confidence is a skill you can build. Yes, even you. And it's not as difficult as you may think. Every day this journal will give you a chance to step outside your comfort zone so you can feel proud of yourself and watch your self-confidence grow along with your big dream. Catherine, the founder of 8WomenDream, has also used this dream journal and planner. (Source: Amazon)
Research supports that people who write down specific goals for their future are far more likely to be successful than those who have either unwritten goals or no specific goals at all. And of those people who write down their goals and then send weekly updates to a friend or an accountability partner enjoy an even higher rate of success than those who keep their intentions to themselves. (Source: Dominican.edu)
My suggestion would be to get an inspirational planner for your dream goals and once a week check in with someone about your progress. The research on goal success by the Dominican University of California psychology professor, Dr. Gail Matthews, was what the founder of 8WomenDream, Catherine Hughes studied before starting this dream project. She made each of the dreamers write a blog post about their weekly dream progress as a form of "checking-in" much like emailing an accountability partner.
You wouldn't believe the number of dreams that have been accomplished and shared on this website thanks to being held accountable for our dream goals!
This week, consider using an inspirational planner for your big dream. If you aren't sure about these recommendations then get some colored pens and paper together and create your own!
Get to it, dreamers. You have big dreams to achieve!
Iman Woods


Iman Woods is an American artist who specializes in pin-up photography. Through a unique and therapeutic process, she's spent over a decade in perfecting, Iman helps women undo the damage from a negative self-image and unrealistic beauty industry expectations. She helps women embrace their own style of beauty and see themselves in a new light. You can find her on her website, ImanWoods[dot]com.
Note: Articles by Iman may contain affiliate links and may be compensated if you make a purchase after clicking on an affiliate link.