Last updated on January 22nd, 2019 at 01:58 pm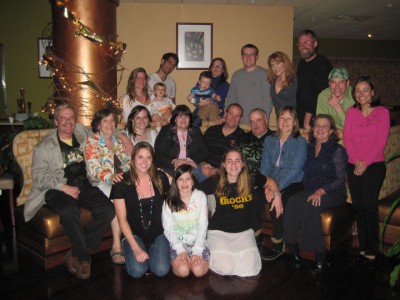 Over the past few weeks, I got to spend time with my extended family during a couple of special occasions. I am so blessed to have a big, wonderful, crazy and fun Irish family.
Sometimes happiness is just about getting to spend time with people I love.
It was my Uncle Steve's 60th birthday two weeks ago, and a number of family members gathered from around the Northeast for a celebration at a small pub in Natick, MA. My parents, brothers Michael and Shanti, and sister Margaret who was visiting from Montana, were all there to celebrate, along with a number of my cousins.
Steve, whose nickname is "Big Dog," is a lobbyist and attorney, but could have been a stand-up comedian in a second career. He's larger than life, both physically and in terms of his over-the-top personality. He has always been my funniest, most boisterous and wild uncle.
My Dad is one of seven, the oldest of five brothers and two sisters. There are sixteen grandchildren in this Irish-American clan (I'm the second oldest).
My family has always been a little on the loud side, always throwing rollicking parties. My father and uncles are all veterans of bar fights, and still sometimes love to regale us with crazy stories from the years when they were growing up in a hardscrabble neighborhood near Atlantic City, New Jersey.
My Dad and his brothers and sisters remain close, as do the cousins. We're scattered mostly around the Northeast, with an uncle in Portland, Oregon as well and one in Minnesota.
My Aunt Peg, Aunt Terri and cousin Teresa had all driven up from New Jersey for the occasion. Peg and Terri are my father's two sisters, and Teresa is Peg's lovely youngest daughter, who is now 25.
Uncle Steve's daughter, my cousin Jesse, just got engaged in the past week, so we got to hear the romantic story. Her fiancé Alex decorated their apartment with rose petals, created a photo album full of memories and letters about their six years together, and left them for her to find.
He left the diamond ring in a box, with a note that said to meet him by the bridge a few blocks from their Boston apartment if her answer is yes! She rushed to get there, in the rain, and he got down on one knee to officially propose.
It was a beautiful, romantic gesture, and she was overjoyed. She gathered all the girl-cousins around here to excitedly share the story.
My cousin Will was there too, and he's truly Steve's son. Will is tall, bearded and handsome, funny and charismatic, and he does interesting work, often designing sets for theater companies.
He's on the road often for various projects, up and down the East Coast, and has been an extra in movies too. He's headed back down to Tampa, Florida, where he went to college, to land some gigs, and plans to hang out in New Orleans along the way there.
We all got the treat of spending the week with my sister Margaret, who lives and works at Purple Frog Farm just outside Whitefish, Montana. She's 28 now and has always been my most naturally Zen sister.
We've had a running joke for years that I've spent thousands of dollars over the years on Buddhist teachers, meditation classes, yoga classes and retreats in order to learn to become more Zen, and Margaret is just naturally a chill, relaxed, Type-B person.
We all call her the "informal mayor" of Whitefish, since she just seems to know everyone, and everyone loves her. Margaret is mostly likely to be found wearing plaid flannel and her girlfriend, Annie, often "dresses" her, advising her on fashion because Margaret cares a lot more about making a difference in the world than about clothes.
It's always a joy to spend time with Margaret. I'm so fortunate to be part of a family that genuinely enjoys spending time together, and in which the adult children look forward to gathering for vacations with our parents.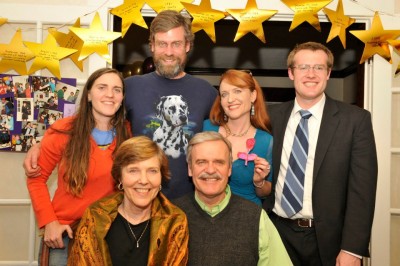 We've traveled together to Argentina, where my sister Carrie lives with her husband Pablo and their three beautiful children, my niece Luna, six years old, my nephew Nico, four years old and my baby nephew Lucas, who is only nine months old.
We've vacationed in Spain, and Hawaii. We get to spend a few weeks most summers at my family's beach house in Southern Jersey, in the Atlantic City region where my father grew up.
And we all just have a ball being together, cooking meals together, and enjoying life and adventures together. My family is the best.
It wasn't until after college and well into my 20s and 30s that I realized just how lucky I actually am to have a family that genuinely cares about each other and likes spending time together. I think I used to take that for granted.
Now, I don't. It's important to count our blessings, and I feel like I am so lucky to be a part of this family. I appreciate them more than ever.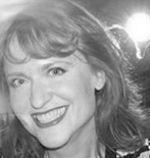 Lisa P. Graham is an inspirational writer, life coach, TED motivational speaker, and globe-trotter whose passion is to help others to find happiness and meaning in their daily lives. A political activist at heart, Lisa would like to empower more women to run for political office as a way to create positive change in the world. You can find her on her website or watch her TEDx speech on YouTube.
Note: Articles by Lisa may contain affiliate links and may be compensated if you make a purchase after clicking on an affiliate link.