Last updated on June 28th, 2014 at 12:32 pm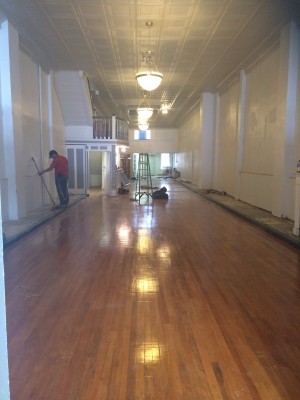 As I shared in last week's blog post here, it was a redheaded angel who lured me into buying a downtown building, and she is now on display in the window of the 9,000 square foot gorgeous historic property that I am now honored to call my own.
Once again, I am finding happiness through living a long-held dream, as I renovate a glorious historic building in downtown Troy, New York.
It is the Next Step!
This feels like the next step in my evolution as a property owner in historic Troy, which has some of the most incredible Victorian architectural stock in the United States. I have owned homes in Troy for fifteen years, both as an owner occupant and as a landlord.
This building is my first venture into commercial property development. And I love it!
In my last post, I started to share the story of how I ended up buying a big commercial building. It started out with following the impulse to make a long-time dream come true, since I have always wanted to invest in more historic properties in downtown Troy.
Troy is "happening" now, and I believe we have crossed over the "tipping point" and will simply be a vibrant college town with a hopping downtown from now on. I knew this day would come when I moved to Troy in 1997, but at the time I was an "urban pioneer" with a vision, and others could not see it yet.
Tipping Point!
I believe Troy's "tipping point" was when my partner on building renovations, Vic Christopher, and his wife Heather LaVine opened up the Lucas Confectionery Wine Bar in downtown Troy. This hopping downtown joint, opened over two years ago, quickly became a destination spot, and is positively overflowing with people every weekend night.
I head there sometimes in the early evenings to work on my laptop while sipping on a glass of Pinot Noir. Vic and Heather had the foresight to install free Wifi for customers, and outfitted the space with plenty of outlets so those like me who pop in to work in a social environment can plug in our laptops and iPhones.
It's a notch above a normal cafe, as a working space, because the interior is classically historic in character with modern elements, and because I can drink wine instead of coffee and indulge in truffles at the same time, and because I know everyone who works there, and friends often wander it. It is my "Cheers."
Vic and Heather weren't content with just opening a wine bar, however.
In the building they own, which is four stories and which takes up a good part of a city block on the corner of Second and Broadway, they opened up a small boutique grocery store, with fresh produce, cheeses and meats, and gourmet chocolates and condiments. You can sip a glass of wine or beer while grocery shopping, which just adds to the fun of being a customer!
Now, Vic and Heather have moved on to establishment number three, which is The Tavern Restaurant, a pub-inspired space which will feature a more extensive food menu than the Confectionery. These two are unstoppable, and their vision became an anchor for downtown Troy.
And I Get to Partner with These Stars!
I am just about the luckiest new commercial property owner ever, surely, because Vic came on board as my partner in making the renovations happen in the new space. I am working with someone who has already been there, done that; who has assembled hard-working and reliable crews who actually show up to work, and enjoy creating a beautiful finished space (as anyone who has worked extensively with contractors knows all too well, it can be challenging to find reliable contractors!).
Every day, since just a few days after closing, his team has been in the building tearing up old carpeting, removing thousands of staples from the floor that were used to tack down the carpeting, patching walls, repainting. The space is evolving quickly, and it is already spectacularly gorgeous.
Vic is also helping me to shape the vision for the space, as we brainstorm ideas for all that it can be. I really love this time of just sitting with all the possibilities, and deciding what we want to create in the building.
Speaking of which – we will be hosting the After Party for Troy's last Friday of the month arts event, Troy Night Out, on June 27th in the building at 38 3rd Street near the corner of Broadway in historic downtown Troy, with building tours from 5 to 9 p.m. and free champagne, hors d'oeuvres, an art show and DJ for dancing from 9 p.m. until we decide to close the place down!
More next week on the crazy race to the finish line to buy this amazing building….!
Lisa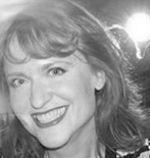 Lisa P. Graham is an inspirational writer, life coach, TED motivational speaker, and globe-trotter whose passion is to help others to find happiness and meaning in their daily lives. A political activist at heart, Lisa would like to empower more women to run for political office as a way to create positive change in the world. You can find her on her website or watch her TEDx speech on YouTube.
Note: Articles by Lisa may contain affiliate links and may be compensated if you make a purchase after clicking on an affiliate link.