Last updated on March 18th, 2023 at 08:35 pm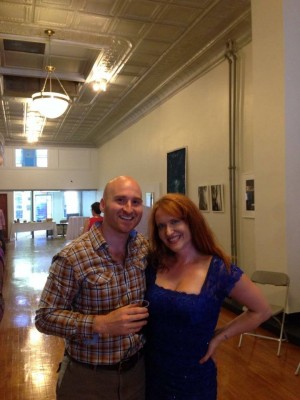 Last week, I celebrated a huge milestone in a dream achievement: the grand opening of my new downtown commercial property in historic downtown Troy, New York. These days, I find happiness throughout the ups and downs that are an inevitable part of living any big dream.
I've been sharing my dream adventure of purchasing a 9,000-square-foot commercial property in my walkable historic city and embarking on the journey of renovating it and renting it out. Real estate development is my new line of work, and I love all the challenges and surprises on this path.
Celebration Time!
Last week was vital because we miraculously finished the renovations needed to showcase the beautiful first floor, 2,600 square foot commercial special on the first floor of my new building. My partner on the upgrades, Vic Christopher, runs the wildly popular Lucas Confectionery Wine Bar and "The Grocery" boutique grocery store in Troy and also heads up Confectionery Construction, LLC.
He and his crews worked their magic in my building. In two short weeks, we were able to transform a space that was formerly a pawn shop, with carpeting and astroturf on the side platforms and a partition wall dividing the space, into one glorious vast open space that stretches back 130′ with white walls, gray and black trim, and silver tin ceilings up above.
I just closed on the building on June 9th, so it was a mad race to get the space ready and to get party planning details handled before the June 27th "Troy Night Out" event, when everyone flocks to downtown Troy to sample the local restaurants and galleries, to enjoy art shows and live music.
We worked hard to open the doors to showcase this beautiful space. I am still seeking tenants, and it seemed like the perfect way and time to welcome everyone through our doors.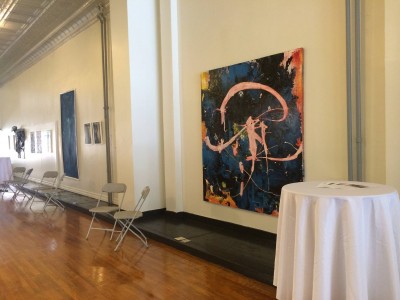 Happiness Through Event Planning! 
Not everyone loves event planning. It is highly detail-oriented and can be stressful if you have a short period of time to throw together a big event.
Since I closed on the building on June 9th and decided just a few days later to showcase the space during Troy Night Out on June 27th, the pressure was on to throw an outstanding Grand Opening event in just two weeks.
Luckily, my professional background includes event planning. I have planned countless fundraisers for nonprofit organizations and also used to plan events for Hillary Clinton in Troy when she was our U.S. Senator.
After handling planning a fast-paced, high-pressure event for Hillary with only 48 hours' notice, I figured I could easily pull off a fantastic Grand Opening event in just two weeks.
And luckily, I have a fantastic team. Vic and his crew are amazing, and another few beloved friends stepped up to the plate to help as well. My dear friend Ray Felix is the curator of the Fulton Street Gallery in Troy, and he offered to curate an art show for me.
He pulled together an eclectic, beautiful mix of influential art in less than two weeks and insisted on hanging and labeling the show himself as well. Many who toured the building during Troy Night Out said it was the best art show they had ever seen in Troy.
My friend Samantha Parker, a consultant to restaurant owners working part-time at Lucas, offered to help me pull together all the final details for the evening. Usually, I am a pro at making lists of event details and checking them off. Still, the craziness and fast pace of the past few weeks, plus the fact that Mercury was actively in retrograde, made June especially challenging for me.
Sam was a lifesaver, talking me through all the possible items we might need to make the party work. She offered to stop by late Friday afternoon to help me with setup.
With my brain as fried as it was from all that is happening for me right now, I really needed the help and gratefully welcomed it. Teaming up with Sam meant bringing our unstoppable Goddess energy together to rock the event. And we did!
Stepping Up At the Last Minute
A few other friends stepped up to help when most needed. My friends Sean Burton and David Gibson were the bartenders for the evening, pouring free wine and champagne for guests. I don't know what I would have done without my awesome crew of friends who helped make everything come together for the event guests and me at the last minute.
Vic was also a total hero, jumping in to save the day when a few balls dropped. The DJ we were counting on did not end up being able to make it, so he found us a DJ at the last minute who was available that very night. He also found us a truck to pick up the tables and chairs we rented Friday and ensured that it was taken care of. He was the pinch-hitter, troubleshooting and pulling it all together for me.
I could not have worked with a better team, and together they all helped me make it through the craziness and bumps in the road during a wild few weeks.
It was, in fact, my incredible team that made working on this event such a total joy, despite the challenges along the way. I do find happiness in creating a great event for people that makes for a memorable evening and, in this case, also showed off a gorgeous newly renovated downtown commercial space.
My tried-and-true formula for making it through ups and downs
1.  I remind myself, "Nothing is impossible if you don't have to do it yourself!" I also like to say: "With God and love, anything is possible." Because I had a great team that I could count on and because others stepped up to take care of important details that I could not handle alone with all that I'd been juggling, we pulled off something extraordinary in a short time frame.
2. I stay focused on the vision and the end goal. This event was dual purpose: a) to showcase a beautiful new commercial space, which will hopefully help us to find the ideal tenants we are seeking, and b) to entertain people and bring them together to enjoy experiencing a historic space being brought back to new life. Keeping the end goal in mind always makes riding out the bumps in the road along the journey easier.
3. I make sure to have fun along the way. I love the people I work with and saw so many friends and neighbors during our Grand Opening celebration. I was not shy about sipping some champagne myself when offering some complimentary bubbly to friends. After the event, I also went out with dear friends, and we split a bottle of wine at Lucas. You have to remember to have fun. I enjoyed myself immensely, despite the last-minute pressures and despite having to play the role of "hostess" all night.
I am truly fortunate to be doing work I love and to be doing it with people I enjoy and respect immensely. I wish everyone the same kind of fun while working on their biggest dreams.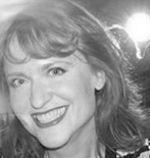 Lisa P. Graham is an inspirational writer, life coach, TED motivational speaker, and globe-trotter whose passion is to help others to find happiness and meaning in their daily lives. A political activist at heart, Lisa would like to empower more women to run for political office as a way to create positive change in the world. You can find her on her website or watch her TEDx speech on YouTube.
Note: Articles by Lisa may contain affiliate links and may be compensated if you make a purchase after clicking on an affiliate link.