Last updated on July 7th, 2022 at 01:44 am
I recently held a workshop on Living Your Dreams for some amazing women. This is one of my favorite things to do. We meditated, did some role-playing, and spent time writing down visions and dreams for our lives. Everyone was totally game to participate, gave it their all, and poured heart and soul into it.
I was so happy, at peace, relaxed, feeling like there was nowhere else in the world I would rather be. I truly love helping others to tap into their heart's desires and clarify their visions, goals, and dreams for their lives.
Dreaming In A Mansion
We were lucky enough to host the workshop in a lovely historic mansion on Washington Park in Troy, New York. I think the 15-foot high ceilings, gilded mirrors, and carved wooden ceilings add to the sense that "anything is possible."
It is perhaps easier to feel expansive and full of infinite possibilities in a glorious historic space. Being surrounded by awesome beauty can help us see beyond the "ordinary every day" and transcend our own self-perceived limitations. We had fun, dreamt big, and played out scenarios of what it would feel like to live our dreams.
Afterward, I visited with friends on the back deck of my best friend's apartment, which is located just across the street from where I live. We drank Coronas with lime, sipped coconut juice, ate fruit salad, strummed guitar, and sang along. It was blissful.
And Then, The Dip…
Sunday, I had plans to go hang out at a lovely lake house on Taconic Lake with my ex-boyfriend Sean's sister, Kathy. She'd recently gotten married, just two short weeks ago, and I had taught her and her sweet husband Kevin dance lessons, helping them choreograph their first dance. The wedding was on July 2nd.
Kathy had more pictures to show me, including some of me with my ex-boyfriend, Sean, as we tore it up on the dance floor. I'd secretly given Sean dance lessons before the wedding so he could surprise Kathy with his new dance moves!
She watched, mouth agape, as we danced. And said it was a moment she would never forget. Totally worth the time we'd put into it!
Love at the Lakehouse!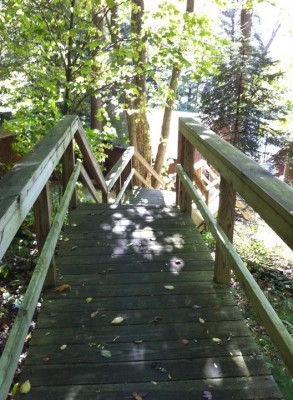 The magical lake house where we visited Sunday afternoon was the same one I'd been staying in when I completed the draft manuscript of my book last October. I jumped into the lake to celebrate it, even though it was chilly because it was a moment I wanted to remember forever.
The lake house is a little slice of heaven for me and has been ever since I first went there, just about a year ago, for my first date with Sean.
I immediately felt at home there, and fell in love with the hillside property that slopes down to the lake, with a zig-zagging staircase that I can the "Stairway to Heaven."
Of course, the fact that our first date together was one of the happiest moments of my life adds to its emotional appeal.
A delicious vegetarian dinner home-cooked by a handsome man, a bottle of wine, a campfire, a dip in the lake… It was one of those perfect moments in time when you wouldn't change a thing. A perfect memory.
Life doesn't always unfold exactly the way we hope, however, and the relationship didn't last. I'd moved on, but being with Sean again at the wedding brought the memories, and the feelings, flooding back.
It can be challenging to spend time with someone you have loved when you're not "together" anymore, but still feel the feelings of attraction.
It All Comes Flooding Back…
Being at the lake house brought beautiful memories back. I didn't expect to feel so sad, but it opened the floodgates. I spent an hour or so hanging out with Kathy and her adorable little boy, Arlo before she had to leave for work. We sat on the beach at the lake, ate fruit salad, chatted, and watched Arlo play.
After she left, I looked at wedding photos again with her husband, Kevin, then headed out. But my heart wasn't ready to leave the lake house, just yet.
The lake house is located just down the road from the Grafton Peace Pagoda, which is coincidentally where I met Sean last summer. I was there with my spiritual teacher Nithya Shanti, who is visiting Troy from India later this week to teach workshops here. Sean volunteers at the Pagoda, and he happened to be there that day. We ended up chatting, hit it off, and the rest, as they say, "is history."
Bittersweet Sunset
I stopped by the Pagoda to pray and decided that where my heart really wanted to be after all was back on the lake house dock. I knew the sun would be setting soon, and the sunset over the lake is divine. I drove back and walked down the "stairway to heaven." I grabbed a Sam Adams from the fridge and headed out to the back.
I sat on the dock, dangling my feet into the cool water. Slowly, the sun slipped behind the trees, stripping the sky first with pink and yellow then white and blue. I took pictures. It was stunningly beautiful.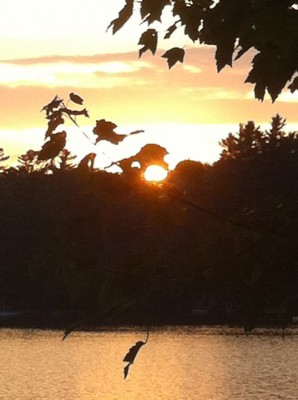 Tears in my Beer
And I cried, for the love I'd shared with Sean that didn't last, and for the beautiful memories we had created here. My greatest heart's desire, the even bigger dream than completing and publishing my book to great acclaim, is to find a partner and have a family.
I'm divorced, and live a very happy life generally, full and active, with amazing family and friends.
I still long for that special someone to share my days and nights with, however, and with Sean, there was a period when it really felt possible that that person was him.
Oh well. Life doesn't always conform to our whims and wishes, and I believe that when something doesn't work out it's because the universe has something even better in store for us. "This or something better" is one of my favorite mantras about life.
Yet sitting on the dock, I felt all the sadness in my life piling up, as if the one loss triggered all the other thoughts of "this is not what I want." Like iron filings to a magnet, one negative thought attracted the others, until I was having a regular pity party for myself.
I fell briefly into that emotional black hole which is me feeling sorry for myself, lamenting all that I wish were different about my life.
Snapping Out of It
Luckily this trip into the black pit of "woe-is-me" -ness only lasted for one day. Years ago, I'd sometimes fall in there and stay in there for months at a time. Now, at least, I have the presence of mind to return quickly to gratitude and to remind myself of all that I love about my life.
Which is a lot. My family, my friends, my good health, my beautiful home. Writing. Building my successful life coaching business. Coaching amazing women from around the world. Fun adventures regularly, from Harry Potter movies to trips internationally to mini-adventures around the U.S. In the grand scheme of things, I really have no complaints, because I have a fun and abundant life, with so many blessings.
And if something is not the way I want it to be in my life, I am the only one who has the power to change it. I am also the one who can still choose to be happy, and love this life, in all situations. That said, perhaps it is just normal to give me a little space to grieve a relationship that is not working out. Perhaps it really is for the best to give our hearts space to heal when they need it.
A happy life is an authentic life, full of real experiences and real emotions, and the range of human emotions includes sadness. I think I just needed to cry it out on the deck of the lake house in order to feel ready to move on again.
Why It's Especially Important to Take Action On My Dreams Now
Last week, I wrote about pushing forward with completing my book even though it feels difficult. I am doing just that, and will be submitting a book proposal to a Transformational Author Contest in just twelve days! Am working on the draft now, and plan to share a final draft with other writers from my writers' Masterminds group next week before the proposal is due.
Especially now, when I am feeling a little bit of sadness about Sean, I think it's extra important to keep moving forward on my dreams, and doing the things that bring me joy.
And to follow my own recommendations from the Saturday "Living Your Dreams" workshop.
Here are 6 Ideas:
Choose happiness as the path, rather than the destination. Choose to be happy now.
Take baby steps toward your dreams.
Reward yourself for the progress made along the way.
Remember that this is "just life," and life is an experiment and an adventure.
Don't be afraid to make mistakes!
And have fun!
I choose to live my life with great gusto and great love. Maybe that is the best we can do in the end.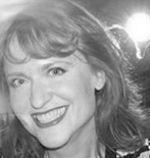 Lisa P. Graham is an inspirational writer, life coach, TED motivational speaker, and globe-trotter whose passion is to help others to find happiness and meaning in their daily lives. A political activist at heart, Lisa would like to empower more women to run for political office as a way to create positive change in the world. You can find her on her website or watch her TEDx speech on YouTube.
Note: Articles by Lisa may contain affiliate links and may be compensated if you make a purchase after clicking on an affiliate link.