Last updated on October 31st, 2019 at 02:04 am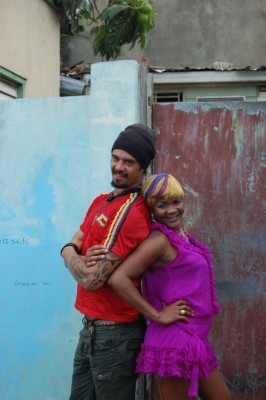 "Hey, smiley," Michael Franti of Michael Franti and Spearhead said to me, as he leaned down with his lanky 6'6" frame, wrapping his tattooed arms around me in a warm hug.  I'd asked him to autograph the CD cover of his new release called, The Sound of Sunshine, and to autograph my T-shirt.
He signed the left sleeve of my yellow shirt, the lyrics of his song "Hey I Love You" printed down the left side, with a sharpie. A peace sign and an "MF." The CD cover was signed, "For Lisa."
Dinner With The Rock Star
"I won the cook-out with you," I told him.
I'd submitted a bid in a silent auction to raise money for Michael's two current favorite charities, CARE and The Hunter's Point Family. The winning bidder would win a private cook-out for two with singer, Michael Franti, who would do the cooking.
Shockingly, miraculously, much to my surprise, I won! A private dinner cooked by one of my favorite rock stars of all time, just for me. Really?! I'll take it!
Following Your Intuition Towards Your Dreams
This all came about because I'd happened to fly into San Francisco on the weekend that Michael Franti's 12th annual Power to the Peaceful concert was taking place in Golden Gate Park.
As the Website states,
"Power to the Peaceful is an international destination located in the heart of Golden Gate Park – One of the largest free annual music, art and action events bringing together over 50,000 attendees, 200 exhibitors, social, environmental and humanitarian orgs, vendors, DJs, athletes, artists and speakers."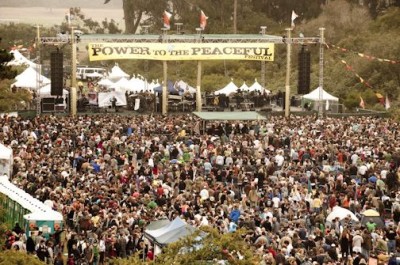 I had flown into town for my last "official" meeting of my Memoir in a Year class with best-selling author, Ellen Sussman.
It was a bittersweet meeting.
Twelve of us had been gathering for a year at Ellen's palatial Tuscan-inspired estate to write, dream, and talk about how exactly one goes about writing a book in a year.
How To Write A Book In A Year
I had learned so much in that year, including the fact that writing a book is a big investment that takes a tremendous amount of commitment and work; that in order to write 300 pages in a year you may have to loosen up your anal every-word-must-be-perfect-and-inspired tendencies that writers-trained-as-poets-first like me often have.
And, that living any big dream really does require a team.
My "dream team" includes this 8WomenDream website, that has helped me dream bigger, keep the faith, keep my focus, and live my dreams out loud; my supportive family and friends; my writing group in Ellen's class; Ellen herself; and countless other friends, writers, artists and teachers along the way who have inspired me and believed in me.
A Sweet and Savory Ending
For our last class together, Ellen had arranged to serve a lovely lunch for us, featuring mushroom and ham and cheese quiches, salad greens with a homemade champagne and mustard vinaigrette, a few bottles of red and white wine, and a plate of cookies.
Sitting in Ellen's lovely back yard by the pool and gardens, the lattice overhead dripping with vines, we toasted each other and our accomplishments, proud of ourselves and sad for this chapter in our lives to end.
It really is amazing to realize that you have made a lifelong dream come true. Now, I still have about 30 pages to go to hit page 300 in my book, and then need to edit, edit, edit.
It is still very much a first-draft manuscript. But, my God! I have written a book!
I always knew since I was a very little girl that this was something I wanted to do, planned to do, would inevitably do. I just didn't know when. So a year ago, I finally took my own dreams and destiny into my own hands and made it happen, the only way we ever can–by taking action.
Taking Inspired Action – Saying YES Again and Again
A year ago, I made a commitment to myself to write this book. A week or two later, I stumbled onto an email from Ellen, who I'd met at literary readings in the San Francisco Bay Area, saying she had a few spaces still left in her "Memoir in a Year" class.
I was feeling overwhelmed about diving in to write a book–a whole long actual book–and this felt like fate.
I wrote out the check and signed up. Just weeks later, I was perusing ads on Craigslist when I spotted an ad seeking a "fun, fearless female writer" who was living the dream of writing her first book to a blog called "8WomenDream." They are looking for me! I thought. I wrote an email right away telling them so and submitting writing samples.
A few weeks later, I was on a plane to San Francisco to meet with my writing coach and interview live with the women of 8WomenDream in person. The rest, as they say, is history.
Yes I said Yes I said Yes I said YES
The process of living this dream, like the process of winning a private cook-out with a favorite rock star last weekend, was all about following my inspired impulses, taking inspired action, and just saying yes and again yes and again yes and again yes when door after door after door opened for me.
It might seem like I'm simply "lucky" or have "fate" on my side, and yet I would say that my "luck" also has to do with the fact that I am 1000% committed to living this dream fully, am willing to do what it takes, being in action seeking ways to make it happen, and did not hesitate when the universe presented ways to help me fulfill my dream.
After all, any big dream takes a dream team to fulfill it. None of us really lives our dreams alone. And the bigger we dream, the more we need a "dream team" to make it happen.
Dream Big and Big and Bigger Yet
The wild thing, I find, is that the more I dream big, and the more I am in action on my dreams, the bigger my dreams get, and the more "real" those big dreams are.
They are coming to life–they are happening.
It makes me wonder why I was so fearful about pursuing a big dream for so many years, including writing this book, because the rewards of living the dream, and just enjoying the journey along the way, are greater than I ever could have imagined. I am proud of myself for doing it. I am grateful to 8WD and everyone who is standing up to offer their support to me now, as I round the bend into the home stretch of finishing draft one of my manuscript.
The final draft manuscript must be postmarked by October in order for Ellen to edit it. My amazing friends on Facebook, from around the world, have pledged to spend 30 seconds a day saying prayers and wishes for me to write an amazing draft effortlessly, and to finish on time or early.
What a gift.
Are You Saying YES to Life?
If you truly are committed to living your dreams, it requires saying yes sometimes to opportunities that arise on the dream path, even if they feel challenging, daunting, scary or inconvenient. In fact, especially if they seem to be all of these things. Our big dreams do not just "come true" magically without putting some effort into it. The universe, I have found, supports those who take inspired action in favor of their dreams, who say 'Yes!" to opportunities as they arise.
Lisa Powell Graham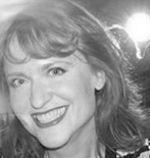 Lisa P. Graham is an inspirational writer, life coach, TED motivational speaker, and globe-trotter whose passion is to help others to find happiness and meaning in their daily lives. A political activist at heart, Lisa would like to empower more women to run for political office as a way to create positive change in the world. You can find her on her website or watch her TEDx speech on YouTube.
Note: Articles by Lisa may contain affiliate links and may be compensated if you make a purchase after clicking on an affiliate link.