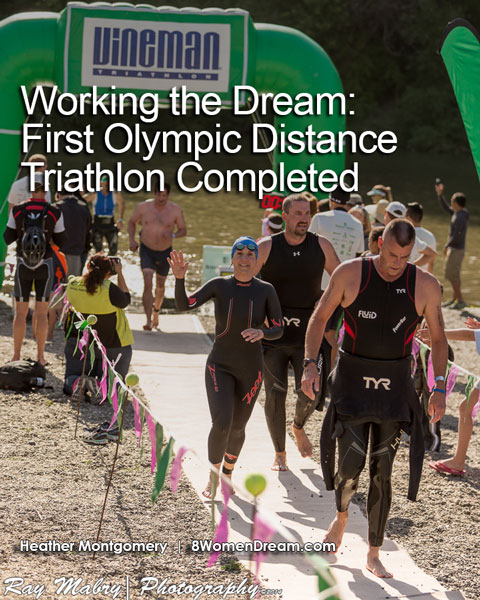 It feels like a long time ago for this fitness dreamer. My first triathlon was just over one year ago. My latest triathlon adventure took place last week on a gorgeous Sunday afternoon in West Sonoma County.
There have been a lot of changes with my life over the last year. The changes are exciting and are taking my life toward the path of being more involved in the fitness industry. The side effect is less time for training as much as I used to.
Let's start with this reality: You can not expect to comfortably complete an Olympic distance triathlon without preparing.
I know this seems like an simple observation. Of course you wouldn't wake up one day after not running for years and decide to run a marathon, right?
Being prepared takes practice. Practice in the actual training to swim, bike and run. Practice in understanding how the logistics work in a race like this. Practice in knowing that there will be times during the race when your brain might try to convince you to stop.
Not fitting in all your workouts has more than a negative effect on your body physically, but an also impact how you think about the race. I had a little of this myself at three distinct points during my race. They are never fun.
Race day is when the event happens, but plan for it to be a "Triathlon Race Weekend"
The pre-race check in took place on Saturday, which meant we headed to Monte Rio once again. I had already drug my husband and official photographer Ray out twice before for training and checking out the race route.
Logistics for the race meant delivering and setting up my bike the day before. It also meant less to pack up and manage on the morning of the race, as the parking was about 3 miles away from the event start.
I am lucky that the event was held close by. I would be happy to take an 45 mminute drive through the Redwoods than a 2 hour stress filled rush to try to get to San Francisco. I love the city and have raced there several times. Sleeping a few hours more wins.
Be ready on your Olympic distance triathlon race morning and plan ahead. For everything.
I've figured out a few things with my previous races that have saved me some major headaches on race morning. I'm all for sharing!
Click here for a checklist to get you ready for your race: Triathlon Race Checklist
Driving out to the race parking was easy as it was still early. Big yellow school bus shuttles took racers back and forth on race day. When was the last time you were on a school bus? I started doing the math on my last school bus ride, but the coffee had yet to kick my brain into gear.
The day was going to be a toasty 85 degrees but at 6:45 a.m. you still felt the chill of the ocean breeze from Jenner. My bike was right where I left it, but was now surrounded by over 500 other bikes.
The goal with setting up for triathlon is to have everything ready for when you need it. This helps when you are frazzled, trying to get out of a wetsuit quickly and you need to remember to have everything with you on the bike ride.
You get to set all your stuff up in a 2×2 foot space. If you're lucky.
I squeezed between everyone else madly getting ready and got to it. There's a lot to do before the race even starts:
Set up all your transition stuff
Get body marking for the race
Keep an eye on the time so you aren't rushed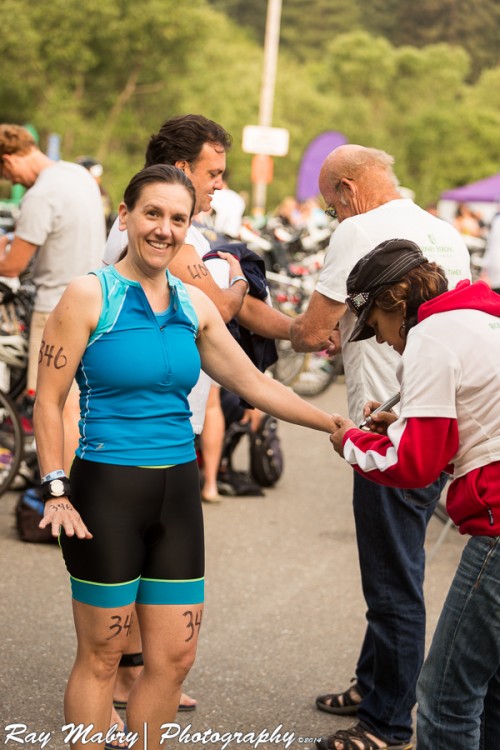 I ran into a swim buddy at the race that I haven't seen in a year. She is hardcore in my eyes, racing several triathlon races a year, and about ready to step up to the big leagues of the Half and Full Triathlon. I drooled over her carbon fiber race bike and we chatted about race plans. I told her to enjoy kicking butt and we parted ways to finish get ready.
Was that a swim or run warm up?
In case you haven't heard, California is officially in a drought. The race location took place in Russian River which is a little low. To get to the official race start we walked through the starting gate to start our race timing. The weird part was that we continued walking over the slimy river rocks until the water was about knee deep.
It was a strange swim start and although I did warm up a bit to avoid any cold water issues, I still had a small panic at the start. It's hard to describe how chaotic the start of a race is. All the splashing and kicking can be a little freaky.
It took a few hundred yards for my rhythm to kick in. Unfortunately there were few sandbars during the race you had no choice but to walk over. Made it hard to keep the momentum going. I kept up as far into the finish as I could but it was another 100 yard walk to shore.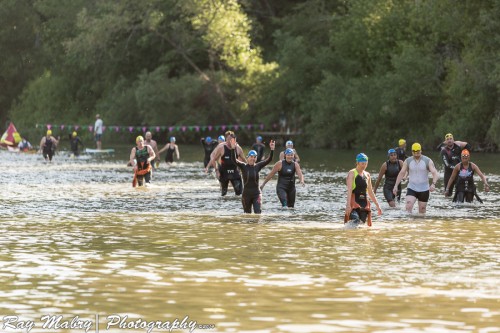 There was a bit of a trek back to the transition area and I worked on getting the wetsuit peeled off on the way. To be honest, there's not much you can do with getting a wetsuit off while you are running.
I made a decision after the last triathlon to upgrade to a two-piece race suit for one simple reason. Pit stops. I've tried peeling off a one-piece race suit when I needed to use the lovely port-a-potties. It's not pleasant and can be time consuming. Especially for those waiting in line waiting for the bathroom.
I pulled off my suit and grabbed all my bike gear heading out for the ride. Walking out the transition I looked for Ray and caught him out of the corner of my eye as I pedaled away.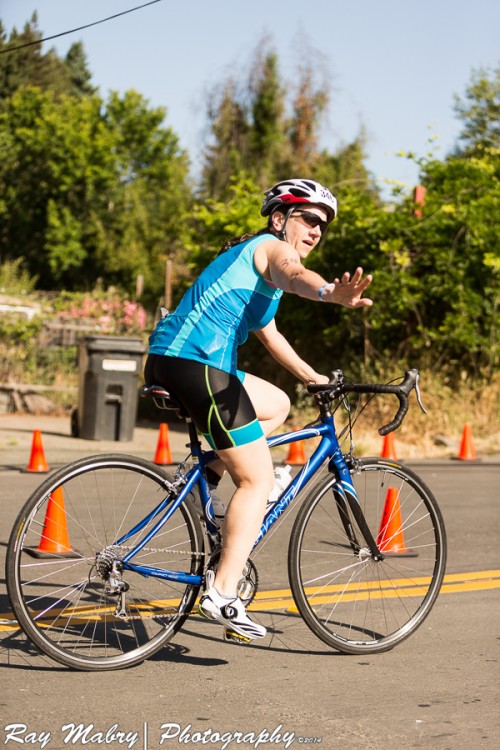 I had practiced this ride a few weeks before the race so the course was familiar enough to push the pace a bit. Unfortunatly I had no idea what my pace truly was. One of the gadgets I typically take with me for the bike and run portion of the race and training is my handy GPS watch. The GPS watch gives me the feedback on how fast I'm going. I can't always go as fast as I want, but at least I know where I am at.
Halfway through the bike part I started having a shooting pain down my right leg. I took breaks by standing in the pedals but sitting was killing me. Shifting around the saddle I tried to find a sweet spot that would relieve the pain.
Toward the end of the ride I was crossing my fingers that whatever this nerve pinch was would be cool once I was running.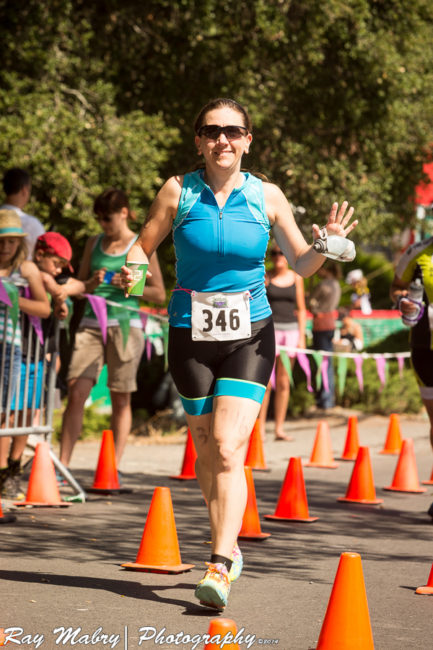 Another pit stop at transition I strapped on my running shoes and headed out. My legs felt like noodles but I worked on finding my groove. The course was shaded and flat as the day was warming up. About a mile in my swim buddy passed me heading in and we cheered each other on. I did mention she is a triathlon beast, right?
Just finishing the Olympic distance became a task in persistence
The run slowed to a walk a few times with a side stitch and blister forming on my little toe. The course was thinning as the fast racers were already finishing. I know because I could hear the announcements as they were crossing the finish line.
I truly wanted to be there right about now.
Taking is a curve at a time, I focused on landmarks to get me back to the finish line. I was extremely happy to see my Ray waiting at the end of the bridge to greet me at the finish line!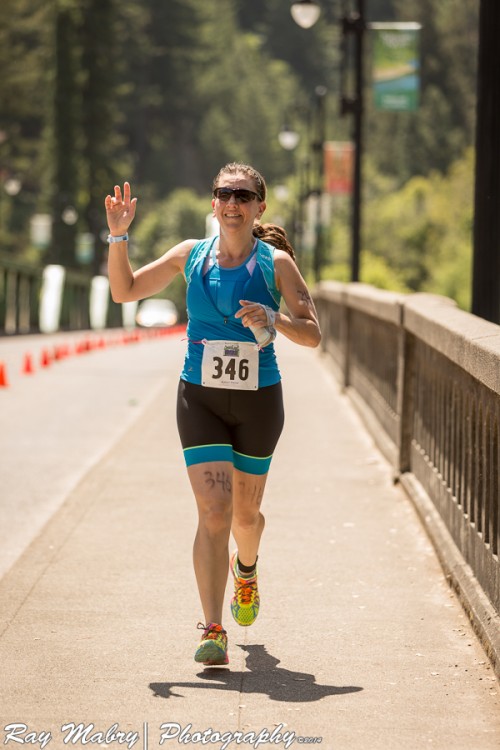 My small souvenier, besides the shiny medal proving I finished the race, is a small blister on my little toe. In the days that followed the event, I was a little amazed that I wasn't too sore in general. It almost makes it seem like it didn't happen.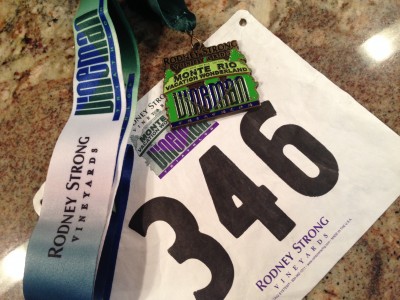 This dream achievement feels surreal.
The after effects of working at a pace and driving forward for over 3 hours weren't expected. Trouble sitting down to have my complimentary breakfast highlighted how fatigued my muscles were.
That's when I had to stop myself from bursting into tears. All those moments on the race course when the pain kicks in gets pushed aside for the positive mantras that keep me going.
Stopping let the armor drop and I had to take a moment to let myself process mentally what my body had taken on physically for the last few hours. Another side effect you may experience? Complete loss of small motor skills.
I had the ability to hold and carry a plate of food outside, and managed to sit down without collapsing. Attempting to open the small packet of utensils, and then peel back the pat of butter for my toasty pancakes became an issue. When the adrenaline wears off, you might be a little shaky!
Is your fitness dream leading to more fitness challenges
After every race there is this moment of "Never doing that again!" typically followed a few hours later by "When is the next race?".
Here are my times for this Olympic Distance Triathlon race:
Swim 1 mile: 40 minutes
Bike 24 miles: 1:24 hours
Run 6 miles: minutes
With this latest experience, that process took a few days but it did happen. I found myself looking up the next races, in both Sprint and Olympic distances on Tuesday this week.
Your dream fitness challenge is next! Add your comment below with your fitness dream. We can get you there!
Go get your fit on – Heather

Heather Montgomery is a fitness writer, triathlete, and serial entrepreneur who is devoted to sharing what she has learned about becoming a triathlete after age 40. She uses her Metabolic Training Certification to help other women struggling to get fit in mid-life. She lives and trains in Santa Rosa, California, the new home of the Ironman triathlon. You can find her biking the Sonoma County wine trails.
Note: Articles by Heather may contain affiliate links and will be compensated if you make a purchase after clicking on an affiliate link.