Last updated on October 25th, 2023 at 03:44 pm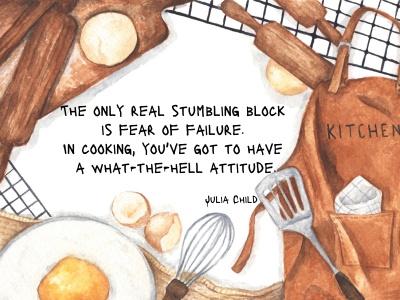 When I was younger and first launching my dream to become a chef by attending culinary school, my primary apprenticeship was in hotels. I intended to gain a comprehensive culinary education encompassing various aspects of the culinary arts. Indeed, it did, but it went beyond that; it became an educational journey tackling all the tasks nobody else wanted.
Unless you were fortunate enough to be taken under the wing of a top chef, you were essentially free labor, often referred to as the 'kitchen apprentice' or 'kitchen b****,' regardless of gender.
The phrase being thrown to the wolves is a well-known culinary expression because chefs usually find themselves in the weeds, a phrase also commonly used in the industry for someone who is really busy and having a hard time keeping up. This is especially true in the hotel scene, where it seems like the restaurant pace never slows, operating like a 24/7 convenience store.
My apprenticeship led me to work in a central downtown hotel during Mardi Gras in New Orleans, Louisiana. The parades passed right in front of the hotel, making it a focal point for revelers and partygoers.
On one particularly eventful day, I started my shift at 8:00 a.m. Amidst the whirlwind of activity, I stole a quick glance at the clock. It was 1:30 a.m. I couldn't help but ask, "Um, when do I get to go home?" I was handed a key and informed, "You don't. You go to that room to sleep for 3 hours until you get a wake-up call to return to work." It was undoubtedly a wake-up call for me.
Three hours later, I returned to the kitchen as instructed. There, I found multiple rolling carts piled high with leftover trays of sandwiches, bowls of pasta salads, and fruit and cheese trays, all remnants from the night's festivities. My task: start recycling what you can salvage.
As a young culinary student, I dreamed of becoming a renowned chef. Like all dreamers first embarking on their big dreams, I was convinced I would rapidly ascend the ladder of success, believing I was already good enough. The reality, however, was that I was just one of many dreamers striving for the same goal. I respected my boss at the hotel, a down-to-earth executive chef. It was evident from his weathered appearance and the golden crust on his crème brûlée and fried chicken that he had put in countless hours in the culinary field, facing monumental challenges.
One chaotic work night, the restaurant was overbooked, and orders poured in overwhelmingly. I was assigned as a station chef on "The Line." In the middle of the insanity surrounding me, I heard the executive chef scream, "What's the matter with you, you stupid woman?!" I continued working on my food, but I knew the comment was aimed at me. I yelled back, "Nothing is wrong with me! You *&%$#@!!"
The kitchen fell silent, and people suddenly needed to use the restroom. Drenched in sweat, the executive chef stared at me while I continued to work. At the end of our shift, he approached me and said, "Maria, come with me." We walked into one of the walk-in coolers. He instructed me to clean the walls and shelves of all three walk-in coolers.
I got to work right away. I completed the first cooler. I spotted a 5-gallon bucket of iced Heineken beer on the floor as I entered the second one. I moved to avoid it, and my boss grabbed two beers and handed one to me. He said, "You're finished cleaning. Let's go to Lenny's." Lenny's was a bar across the street from the hotel where everyone congregated after work. We sat at a table away from the others. He looked at me silently and said, "Woman, you have guts." I wanted to smile, but I refrained.
He asked me why I had chosen a culinary career. I explained that my big dream was to be a chef, although cleaning the coolers wasn't part of it. I apologized for yelling at him earlier, but "stupid woman" had crossed the line. It didn't matter to me that I was just a student in his kitchen.
We ended up talking for hours. I asked him why he became an executive chef–if it had always been his dream. He shared, "I came here from Vietnam, not speaking a word of English and terrified on the plane to America. My father was a cook, and that's all I knew. It was the only thing I could do, and I needed an opportunity, so I left my country. My wife works in the medical field. Why do you do this and endure abuse when you could easily work in that field and make good money?"
I told him that pursuing my culinary dream was essential, even though my current apprenticeship was a temporary stop on my path to success. On my last day working with him, I returned home to find a vase containing a dozen yellow roses on my dining room table. The card read, Follow your heart and always have courage. Stay in touch. I couldn't help but cry.
Recently, I was offered the executive chef position at a nationally renowned historic restaurant. The new owner who extended the offer had been following my journey online, even though I had no idea who he was. During our meeting, I had doubts about the position, thinking, "I must be crazy. I don't want this. I enjoy cooking for my private clients." But he listened to me, and I listened to him. I met the hotel management, and they treated me with respect. It's been a long and challenging journey from those hotel days in New Orleans. I never expected to accept the position, but I enjoyed the process of hearing why they wanted me to be their executive chef. I realized how far I'd traveled on my culinary dream journey.
It also made me realize that the path to your dreams is never straight. Sometimes, your dream accelerates, slows down, or even comes to a standstill, making you feel like nothing is working. You cry, make promises to the universe, and sometimes even contemplate quitting and walking away. I encourage you to carry on. I promise you will eventually reach your dream life with the creative freedom and courage to live fully.
Here's my Grilled Shrimp Remoulade Wrap Recipe for Big Dreamers:
Ingredients:
Raw, decent-sized shrimp
Romaine or iceberg lettuce, finely chopped
12″ spinach tortilla
Remoulade (mayonnaise, ketchup, horseradish, fresh lemon juice)
Olive oil
Salt and black pepper
Marinate raw shrimp in olive oil, chopped garlic, salt, and pepper, then grill quickly. Do NOT overcook. It will take about 1 minute to grill shrimp on both sides.
Have your remoulade ready — Combine mayonnaise, ketchup (2 parts mayo: 1 part ketchup), horseradish (to your personal taste), and fresh lemon juice.
Roughly chop shrimp, throw into a bowl with shredded lettuce, and toss with remoulade. Place it on the tortilla closest to you with enough tortilla to start rolling. Fold the tortilla once over the shrimp mixture and ensure it's tight. Fold in each corner of the tortilla. Continue rolling the tortilla until it's a tube.
Cut the wrap on a sharp diagonal. Wrap foil or wax paper around the end (if the bottom opens and stuff falls out) and munch away.
—–
Maria Vieages
When not cooking as a private chef, Maria Vieages resides in New Orleans, filming cooking segments with the Hallmark Channel, HGTV, and the Food Network, and occasionally working as a guest chef with Celebrity Cruises. You can find out more about Maria at her website RealMaria.rocks

Enjoy this special 8WomenDream Guest Contributor story submitted by new and experienced big dreamers throughout the world, edited and published to capture a dream perspective from different points of view. Do you have a personal dream story to share with 8WomenDream readers? Click here to learn how to submit dream big articles for consideration.
Note: Articles by Guest Post Contributors may contain affiliate links and may be compensated if you make a purchase after clicking on an affiliate link.