Last updated on April 27th, 2014 at 12:47 pm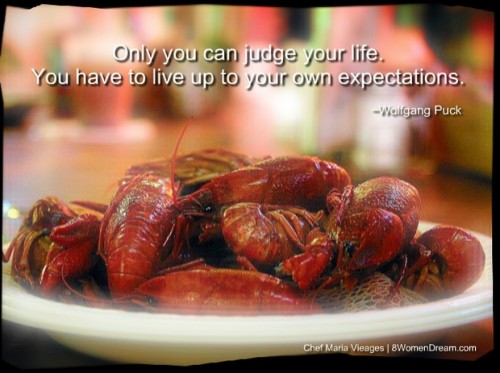 This week my celebrity chef dream has me buried in private dinners and filming of videos for E-How.
My garage is disorganized from the move and I am still settling into my new home. Because things are so crazy for me I am going to leave you with some culinary contests that some of you foodies or budding chefs may want to try.
Contests are a great way to launch your chef dreams and gain feedback on your culinary skills.
8 Chef Contests that Could Make you a Celebrity Chef
Can you create a concise and coherent winning recipe? If you're a young Canadian chef, under 28, have Red Seal certification and are working full-time with a professional kitchen, then you can enter the Hawksworth Young Chef Scholarship competition.
To apply you must create a recipe for a main course dish that only uses ingredients sourced from a common table. The recipe must serve four people and be completed within two hours. Submission deadline is September 21,2013.
To apply – click here for more details.
The prize: A $10,000 bursary, provided by the Chefs' Table Society of BC, and a stage at a leading international restaurant.
This contest is 47 weekly contests, each with its own theme and prizes, a Readers' Choice and an Editors' Choice. At the end of the 47 weeks, the weekly prize winners compete for the Grand Prize in each division.
To apply you must enter your best original recipe that fits the theme for that particular week (this week is Best Appetizer Ever). Themes may call for a specific ingredient, cooking method, or dish. Each week has a weekly deadline with the final contest for "Best Soup Ever ending November 30, 2013.
To apply – click here for more details.
The prize: 47 Weekly winners get a $250 American Express gift card. The Readers' Choice Grand Prize is a $1,000 check and the Editors' Choice Grand Prize is a $10,000 check.
The VIII annual Americas Chef Competition (ACC), featuring Olympic international teams from the Americas takes place at the 17th Americas Food & Beverage Show, October 28-29,2013 at the Miami Beach Convention Center.
The two-day Competition pit US and international teams in a culinary battle for the coveted position of "Best Chef of the Americas" where cash prizes and ACF medals are awarded.
To apply – click here for more details.
The prize: First place – $4,000. Second place – $2,000. Third place – $1,000
It's your chance to win and cook with the pros at the 2013 World Food Championships. It's the "Joes v. Pros," and you could walk away with 75,000 dollars. To apply you must post a recipe to the Just A Pinch website in one of the following categories: bacon, burgers, chili, deserts, pasta, or sandwiches. Winners must be able and willing to travel (at their own expense) to Las Vegas, NV for the 2013 World Food Championships (WFC) November 7-9, 2013.
To apply – click here for more details.
The prize: Invitation to prepare and and compete with their winning recipe November 7-9 at the 2013 World Food Championships (WFC) in Las Vegas, NV for the championship prize money of $75,000.
Do you dream of becoming the next network TV star? Then sign up and audition for MasterChef season 5. It is open to open to amateur and home chefs. You will need to pre-register your profile here and your profile and pick your open call location in advance of the open calls in October & November 2013. The open-call locations are in: Chicago, Illinois; Columbus, Ohio; Denver, Colorado; Houston, Texas; Kansas City, Missouri; Los Angeles, California; New Orleans, Louisiana; Orlando, Florida; and Philadelphia, Pennsylvania.
To apply – click here for more details.
The prize: The prizes are not announced until the contestants are revealed. Typically they can be anything from becoming the executive chef at a famous restaurant to hundreds of thousands of dollars in cash prizes to start your own culinary business.
Just a stones throw away from me, Geyser Peak Winery is holding a Jarlsberg Cheese recipe contest.
To apply, you must submit a recipe using Jarlsberg Cheese as an ingredient.
The winner will be based on: Originality (50%) and Simplicity of Preparation (50%). The contest is running now through September 30, 2013.
To apply, click here for details.
The prize: Now winning this contest, may or may not make you a celebrity chef, but they do award $2,500 to the winner.
The Food Network is in search of those chefs with a creative and unique food perspective who can inspire and entertain others with their passion for food and cooking.
Do you have what it takes to host your own show on Food Network?
If so, then trow your culinary hat into the ring and apply to audition for the Food Network Star Season 10.
To apply – click here for details.
The prize: You become a celebrity chef … is that a dream-come true?
This week's recipe is Foot Network's Barefoot Contessa, Ina Garten's Mac and Cheese Recipe because I am still working on my videos and dreaming of comfort food. Plus I want you to be inspired to stretch yourself as a budding chef and try out for The Food Next Network Star.  Maybe I'll see you there!
The Ingredients
Kosher salt
Vegetable oil
1 pound elbow macaroni or cavatappi
1 quart milk
8 tablespoons (1 stick) unsalted butter, divided
1/2 cup all-purpose flour
12 ounces Gruyere, grated (4 cups)
8 ounces extra-sharp Cheddar, grated (2 cups)
1/2 teaspoon freshly ground black pepper
1/2 teaspoon ground nutmeg
3/4 pound fresh tomatoes (4 small)
1 1/2 cups fresh white bread crumbs (5 slices, crusts removed)
The Directions
Preheat the oven to 375 degrees F.
Drizzle oil into a large pot of boiling salted water. Add the macaroni and cook according to the directions on the package, 6 to 8 minutes. Drain well.
Meanwhile, heat the milk in a small saucepan, but don't boil it. Melt 6 tablespoons of butter in a large (4-quart) pot and add the flour. Cook over low heat for 2 minutes, stirring with a whisk. While whisking, add the hot milk and cook for a minute or two more, until thickened and smooth. Off the heat, add the Gruyere, Cheddar, 1 tablespoon salt, pepper, and nutmeg. Add the cooked macaroni and stir well. Pour into a 3-quart baking dish.
Slice the tomatoes and arrange on top. Melt the remaining 2 tablespoons of butter, combine them with the fresh bread crumbs, and sprinkle on the top. Bake for 30 to 35 minutes, or until the sauce is bubbly and the macaroni is browned on the top.

Enjoy this special 8WomenDream Guest Contributor story submitted by new and experienced big dreamers throughout the world, edited and published to capture a dream perspective from different points of view. Do you have a personal dream story to share with 8WomenDream readers? Click here to learn how to submit dream big articles for consideration.
Note: Articles by Guest Post Contributors may contain affiliate links and may be compensated if you make a purchase after clicking on an affiliate link.