Last updated on June 4th, 2018 at 11:49 pm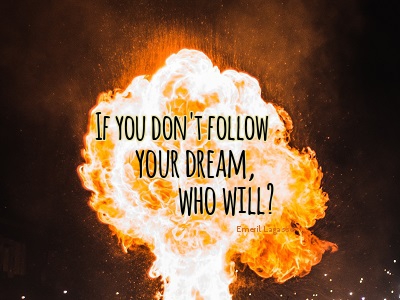 Years ago, after surviving Hurricane Katrina and moving to Northern California with my two cats, Yin and Yang.  I left everyone and everything that I knew back in New Orleans — forty-four years of family, friends, and connection.  I sweated, I cried, I drank, I had anxiety attacks, and I questioned the move every single day for well over a year.  I was petrified and lonely.
My prized culinary possessions were my one chef coat that smelled like mold and a skillet that I salvaged from above ten feet of flood water.
Fast forward to 2013.
I am now one of the top private chefs in the Northern California Bay Area.  I have met, and continue to meet people, from all over the world who appreciate my work and respect me as a professional.  This type of reverence doesn't come easy in the culinary world.  Usually, a chef is rarely recognized for their creative work — if at all.  They are used as a "warm body" to feed to the hungry masses and all too often treated like "just the help".
Help that can easily be replaced.
During these seven years of working hard to regain my career, I have received many so many blessings for taking that big leap of faith and moving to a place where I only knew one person.  One of my more recent blessings was being contacted by Demand Media.  They own Livestrong, E-How and a piece of Rachael Ray's cooking video empire.
I am happy to report to all you fellow culinary dreamers that I just finished filming ten videos for the E-How website.  The filmmaker who worked with me was one of the lead camera guys on The Cosby Show as well as on the team at CNN and Fox to name a few.  Never in a million years would I have imagined this happening to me right now in my life — even though this has been my dream and considering that I came from a place where I spent my first night in Northern California curled up in a fetal position scared for a future unknown.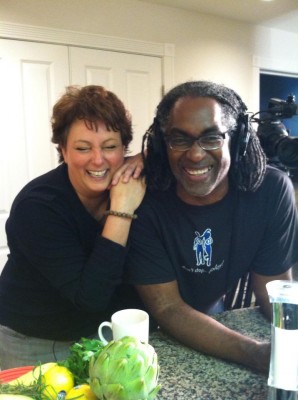 The E-How videos were filmed over two separate days.  On the very first day of filming my old fears and anxieties suddenly came rushing back to me.
Although it was only the two of us and a camera, for some reason the camera was scaring the crap out of me.  There were people behind the scenes whose sole job was to help me be a success.  They were to be my moral support, but for the first few hours in my mind, they didn't seem to exist because I was so wrapped up in talking at a camera lens about how to cut an artichoke heart.
The thing was that the glass lens could potentially lead to millions of people seeing me and making me a household name.  The thought of this had me all freaked out like crawfish feel when they're being dropped live into the cooking basket above a boiling pot.  This was unusual for me because you can drop me on to a stage at a stadium packed with a million people and I'd be stoked to be the entertainment.
Put me in front of a single glass lens — I'm suddenly mush.
It took about two hours for me to get through the filming of the first video.  I felt like a child being caught misbehaving.  Bright lights beamed down upon my face leaving me feeling exposed and vulnerable.  It took me back to when I was in the closet in New Orleans when I couldn't tell a soul that I was gay. Talk about terrifying!
Suddenly, something snapped inside of me.
I said to myself,  "Screw this!  This is ridiculous. What am I afraid of?  I am happy to show people how to cook because this is my dream. I am living it."
Well… and the few glasses of wine helped…
I began to roll through filming the videos until we got to the "how to cook duck" presentation.  I was demonstrating how to cook a duck breast in a marinade and create a sauce.  I was laughing and making jokes by this time.  Finally, I'd found my groove.  I hit the skillet with some red wine and flamed it.  It's one of my favorite things to do.
Except… every smoke alarm in the building suddenly went off.  The owner of the building raced out of the room, out the doors and down the street to meet the fire department (it's a very small town) to tell them "please do not come — it's just Maria cooking duck."
Talk about becoming an instant celebrity chef in a very small town.
That was the most fun part of it all.
With my dream finally taking off,  this week I learned that I need to accept the reality that my own dream success has started to happen. I must get better organized and manage my time more effectively.
Most of all, I have to set priorities and take better care of myself.  You have to meet your dream success where it lives, or your success will be short-lived and you'll end up right back where you started.
Being a chef is not easy.  Those of you who want to live the dream of a celebrity chef should talk with me first.  I will tell you everything about life in the culinary industry and to be careful what you wish for.
You could be setting things on fire.
Instead of a recipe this week, I'll leave you with an inspirational video.  It inspires me every time I watch it and it's my favorite when I am feeling down and tired.  It makes me think about the many people I know — those in the culinary industry and those who feel like they must live without happiness.  The video is by a young man who used to perform a silly dance for his co-workers to try and get them to get up from their desks and go to lunch, or take a break.  They never left their desks.
He went on vacation and at a suggestion from a friend, he decided to video himself in each of his locations doing his little "please stop and take a break dance."  Little did he anticipate that people would begin sharing his video and it turned him into an Internet sensation.  Now he now works with Stride Rite and tourism agencies, getting paid millions (I am guessing) to simply dance all over the world.
Talk about a dream come true!
This is all proof to me that you never know when your life will tip into awesomesauce and videos can get you there.
You just have to let go of the fear and light a fire. Just make sure you notify the fire department ahead of time.
– Maria

Enjoy this special 8WomenDream Guest Contributor story submitted by new and experienced big dreamers throughout the world, edited and published to capture a dream perspective from different points of view. Do you have a personal dream story to share with 8WomenDream readers? Click here to learn how to submit dream big articles for consideration.
Note: Articles by Guest Post Contributors may contain affiliate links and may be compensated if you make a purchase after clicking on an affiliate link.