The autumn leaves are on fire with red, gold and orange, and I am beginning a class for women about Setting the World on Fire: Living with Passion, Pleasure and Purpose.
Living with passion is how I roll, and has been for years. I have followed my instincts to create a life that is full of my passions, and overflowing with joy.
I want this for everyone. Passion, pleasure and purpose. I want all women to feel like they are living a life that is filled with pleasure as well. And a life that feels on purpose.
Some Passionate Adventures
My passion for making a difference and for learning has resulted in journeys and adventures around the world. Just this morning, I was rereading my journals from a trip to India in 2011 in which I followed my passion for Buddhist teachings and traveled to India to teach with my spiritual teacher, Nithya Shanti.
Here is a journal entry about that time:
"And so it has begun: a ride that will drop me into the riot of colors, cacophony of rickshaws and shouting voices, eyes of beggars oceans of sorrow and throngs deep, elephants and tigers, happy children and families bathing for ablutions in the Ganges, bindis and saris and shawls and scarves and salwar kameez in a frenzy of brightness: golds, orange, cardinal red, forest green, persimmon, cardamom, turmeric, rainbow and spices, women wrapped in silk finery, more lush than a rainforest or a row of spice jars, colors that are deeply alive. Vibrant. Orgiastically alive, life in all its multisplendored radiance, historic, festive, raucous, heart-searing India…"
The month I spent there was transformational, and awakened my senses more than ever. India bombards the senses with bright colors in the women's clothing especially; savory fragrances; colorful spices; spicy foods for the palate and loud sounds: noisy traffic, Bollywood music, the voices of the millions of people thronging the streets of Delhi.
Living my passions has also led me to go ziplining and surfing in Costa Rica; to admire the art and architecture in avant-garde, beautiful Barcelona, Spain; to sunbathe topless on the beaches of San Sebastian; to dance the tango in Buenos Aires; to study salsa in Cuba; to live in Russia for a month studying the Russian language and culture.
Living the Pleasure
For me, dancing is one of the activities that brings me the most pleasure and joy. Over the years, I have taught and performed swing dancing, performed belly dancing and burlesque dancing, and studied various dance styles including salsa, Argentine tango, flamenco, hip hop and more.
I want to help women find the activities that bring them the most joy, and to make sure to include these in their lives regularly. And, pampering ourselves, taking care of our bodies, doing, eating and wearing things that bring us pleasure.
This is something that I was able to practice during a lot of my travel adventures, pampering myself with lying in the sun, swimming in the ocean, wearing fragrant lotions, eating savory foods. Of course, sensual pleasures are a whole additional level, and I want all the Goddesses to feel sexy and alive in our bodies.
I'm excited to create a community of Goddesses to share ideas about ways to live with more pleasure, and to practice it. Living in these bodies, which I call Goddess temples, is such a privilege and a joy. I intend to help other women make the most of it!
Being On Purpose
This is perhaps the most challenging level of what I'll be sharing in this class. Living on purpose of course means defining what purpose is for you, and finding ways to make your life align with this. This could  be your work, your relationships, your daily activities and/or how you interact with everyone you meet.
This is what makes us wake up in the morning feeling like we have a reason to be awake and alive. I love working with people on their purpose and mission statements. It brings such clarity to who we are and what we're here to do.
For me, passion, pleasure and purpose all go together. When we live a passionate life, we are more likely to do things that bring us pleasure. And for me, living passionately is part of what makes me feel on purpose!
I'm excited to share all of these in a class that will provide coaching tools for women, and ways for us all to work together to make the most of our time together, and the most of our days.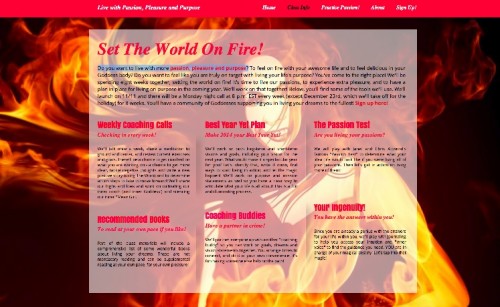 World on Fire
I love the idea of doing something that has never been done before, and setting the world on fire. When we are living our passions, we're contributing something unique to the world.
I love to imagine how inspired and powerful a world it would be if everyone were living their passions. My goal is to help other women to feel unstoppable in what we are creating.
The more of us who align in doing what we love, the more we light up the world.
3 Tips for Living with More Passion, Pleasure and Purpose
We'll go in-depth into all of this and a lot more in the class. For now, here's are a few quick tips that could serve as a teaser. For those who want to dive in more deeply, join the gathering of Goddesses to truly experience living with passion, pleasure and purpose.
1. "Let yourself be silently drawn by the strange pull of what you really love. It will not lead you astray." ~ Rumi 
I have always loved this quote and I think it speaks to living with passion. When we follow the tug of our heart in whatever direction it leads us, whether to a new job, a new relationships, or a new country, we are bound to grow, expand and live at a deeper level. We will learn about ourselves, and receive the gift of doing what we love, which is also a gift we give to others when we glow with passion and joy.
2. Make pleasure a daily, conscious practice.
Savoring a delicious meal or piece of chocolate, indulging in a bath or a massage, listening to favorite music, even just asking someone we love to share what they love most about us – there are so many ways to treat ourselves well and to experience real pleasure. We'll dive deep into the practice of pleasure!
3. Play with summing up your life's purpose in one word (joy, love, success, happiness, beauty, etc.!).
We'll work on longer purpose and mission statements that feel good and help define why we do all that we do.
Who doesn't want to live with more passion, pleasure and purpose? Hope you'll engage in some of these practices and consider joining a community of Goddesses to dive in deeply and really focus on passion, pleasure and purpose.
You can check out more details here. Here's to setting the world on fire with love!
Lisa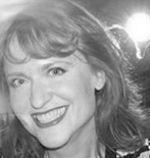 Lisa P. Graham is an inspirational writer, life coach, TED motivational speaker, and globe-trotter whose passion is to help others to find happiness and meaning in their daily lives. A political activist at heart, Lisa would like to empower more women to run for political office as a way to create positive change in the world. You can find her on her website or watch her TEDx speech on YouTube.
Note: Articles by Lisa may contain affiliate links and may be compensated if you make a purchase after clicking on an affiliate link.